Nerf by Hasbro is one of the best Nerf guns premium manufacturers of toy guns, blasters, and crossbows. Blasters are their top selling products and are sub divided into ten division line. They have a wide diversity of blasters and are one of the first companies to have a separate exclusive line of blasters for girls.
Some of their leading Nerf guns are: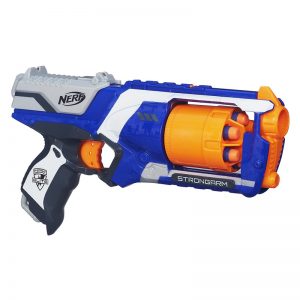 With almost 3000 + reviews on Amazon, Nerf's Strongarm blaster from N- Srike Elite line is one of Nerf's best-selling line. Also, it fires up to a distance of 90 feet and has a barrel opening for ease of operation. It has a quick, rapid firing action and six darts can be fired per loading.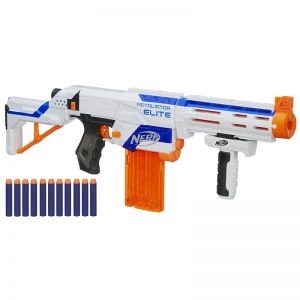 Yet another offering from Nerf's N-Strike Elite brand line, Retaliator Blaster comes with four different configurations. Also, Its other attractive features include a rapid-fire action, easy handling, firmer grip and nine darts that can go to a distance of 90 feet.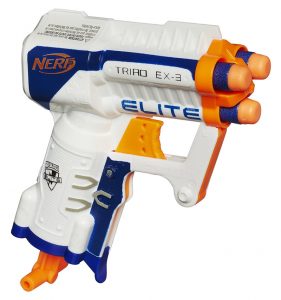 Nerf's N-Strike Elite Triad EX-3 Blaster may be small in size but its performance is still on par with its other blasters. Also, it can shoot darts up to 90 feet, has a cocking handle and comes with three darts. Good things sure do come in small packages!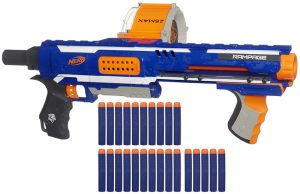 Nerf N-Strike Elite Rampage Blaster comes with 25 darts and can fie to a distance of 75 feet. Also, it fires continuously, leaving a storm of darts everywhere through a slam fire handle. As the name suggests, experience true rampage of darts with this blaster.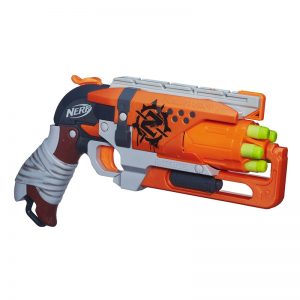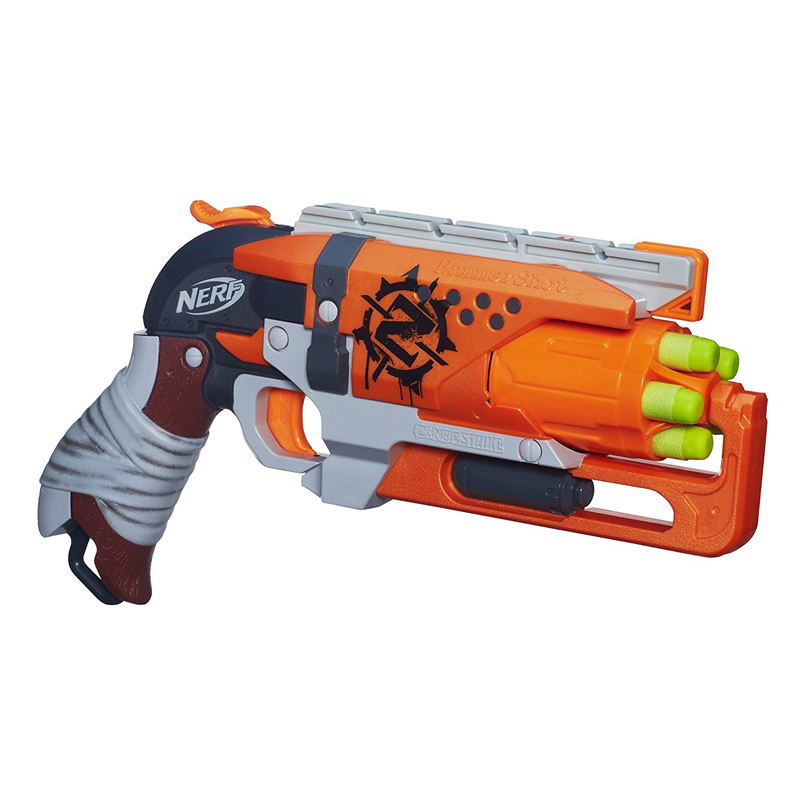 Nerf's Zombie brand line has introduced Hammershot blaster that has a rapid-fire action through its hammer head. Also, it can hold up to five darts at a single time, which are fired by one hand blasting. Along with five darts, zombie stencils are also included in the package.
Nerf's Zombie Strike Sledge Fire Blaster is yet another exciting blaster from Zombie brand line. It has a fire blaster with three reloading shells. The blaster also has a dart holder attached and comes with nine Zombie darts.
7. Nerf N-Strike Elite Rough Cut Blaster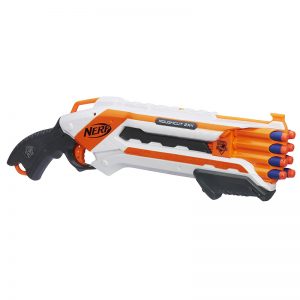 Nerf's N-Strike Elite Rough Cut 2X4 Blaster has a double barrel, which means it can fire two darts at a single shot. It also comes equipped with eight darts and they can fire to a distance of 75 feet.

Nerf N-Strike Elite Centurion Blaster comes equipped with six whistle darts, which make a whistling sound as they leave the blasters. This also shoots darts at a very long range, that is at a distance of about 100 feet. There are other accessories included too like a bipod and a Mega dart clip.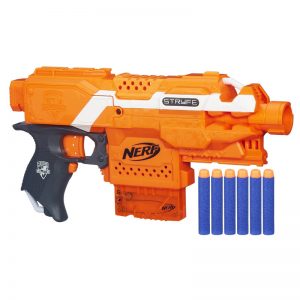 An addition of an acceleration trigger makes Nerf N-Strike Elite Stryfe Blaster different from other blasters. It fires darts up to a distance of 75 feet and comes with six elite darts.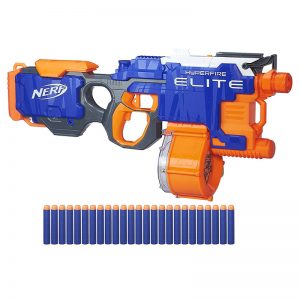 Nerf N Strike Elite HyperFire Blaster comes equipped with a drum dart holder that can hold twenty-five darts (included with the blaster). The blaster can fire up to a distance of 90 feet and has a smooth firing action.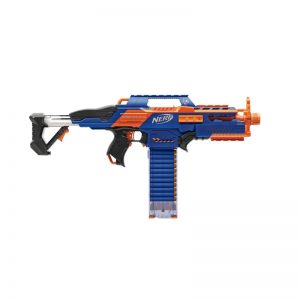 Nerf CS-18 N-Strike Elite Rapidstrike come with 18 darts, which can be fired to a distance of about 90 feet through this blaster. An accelerated trigger, fires up the motor for a quick firing session. A holder that can hold 18 darts is also included in the package.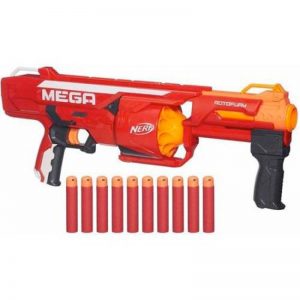 Nerf N-Strike Mega Series RotoFury Blaster comes with ten darts, which can be fired to a distance of about 90 feet from this blaster. Also, the darts are of whistling type, that means, they make a whistling noise, as they leave. A rotating drum helps in firing 10 darts at a single time without reloading.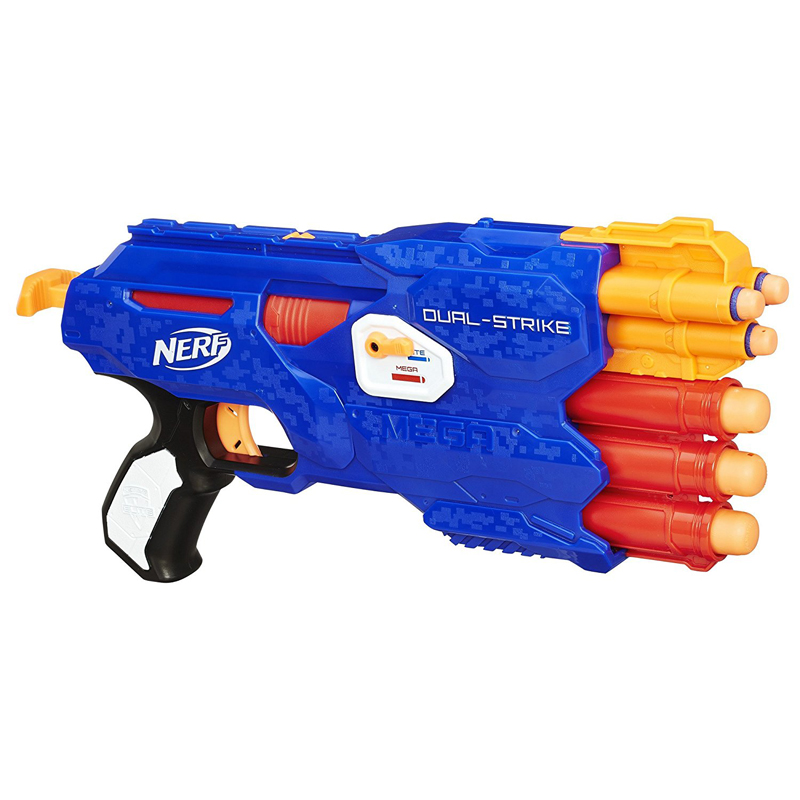 Nerf N-Strike Elite DualStrike Blaster comes gives you dual benefits in form of its darts. It comes with three whistles and three elite darts.Also, a single dart can be fired at a time, so plan your battles accordingly!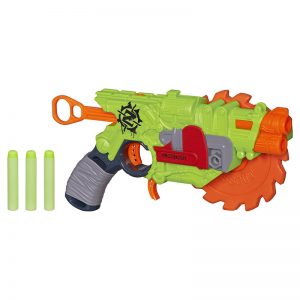 Nerf Zombie Strike Crosscut Blaster fires one shot at a time. With this amazing blaster, you have two ways of battling that pesky zombies-one is by firing darts and the other is through using the spinning foam saw like wheel, which gives you an extra leverage in any battle. Also, the blaster comes with four zombie darts.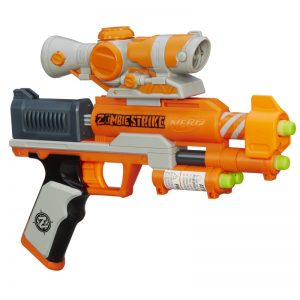 This stylish blaster from Nerf Zombie Strike, ZED Squad Clear Shot Blaster is not only good to look at, but also delivers perfectly on performance. Like its name, it fires clear shots and fires a single shot at a time. It comes with four darts and fires at a long distance.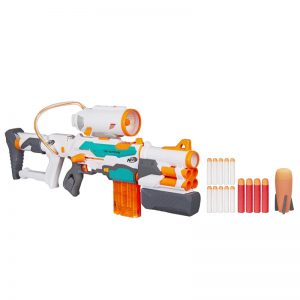 Nerf Modulus Tri-Strike is a mega blaster with a variety of functions. The possibilities are limitless with the many interchangeable accessories that can be combined with this blaster. A launcher stock, dart blaster, dart barrel extension etc are some of the components that can be attached or modified for a stellar performance.
Nerf Rival Apollo XV-700 comes in two colours-blue and red. It has a spring powered handle and fires rounds instead of darts. It comes with a magazine holder which can hold seven rounds.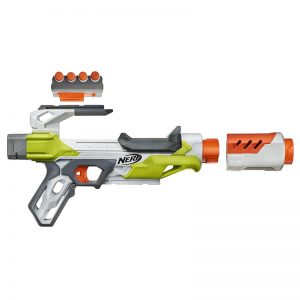 Nerf Modulus IonFire Blaster can be customized according to your preferred battles. How you ask? With a little help from its cool accessories of course! It comes with a barrel extension, four darts and two dart holders.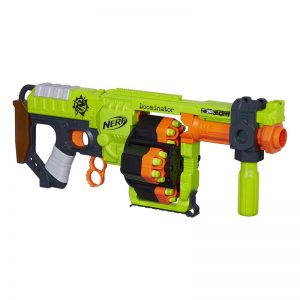 Nerf Zombie Strike Doominator Blaster is perfect for playing long Nerf wars against all those 'zombies' because it can fire up to 24 shots per loading. Also, four drum dart holders can each hold six darts, for a quick succession firing of darts.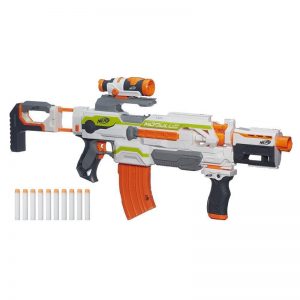 Nerf N-Strike Modulus ECS-10 blaster can be remodified to about 30 combinations with the help of its many accessories. It comes with ten darts, a banana clip dart holder, dual-rail barrel, a targeting scope and many more. The darts can fire up to a distance of 90 feet with the help of an ECS-10 motor.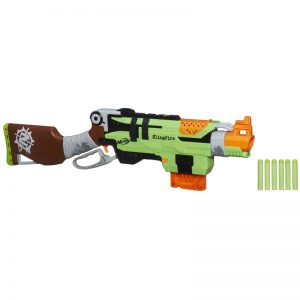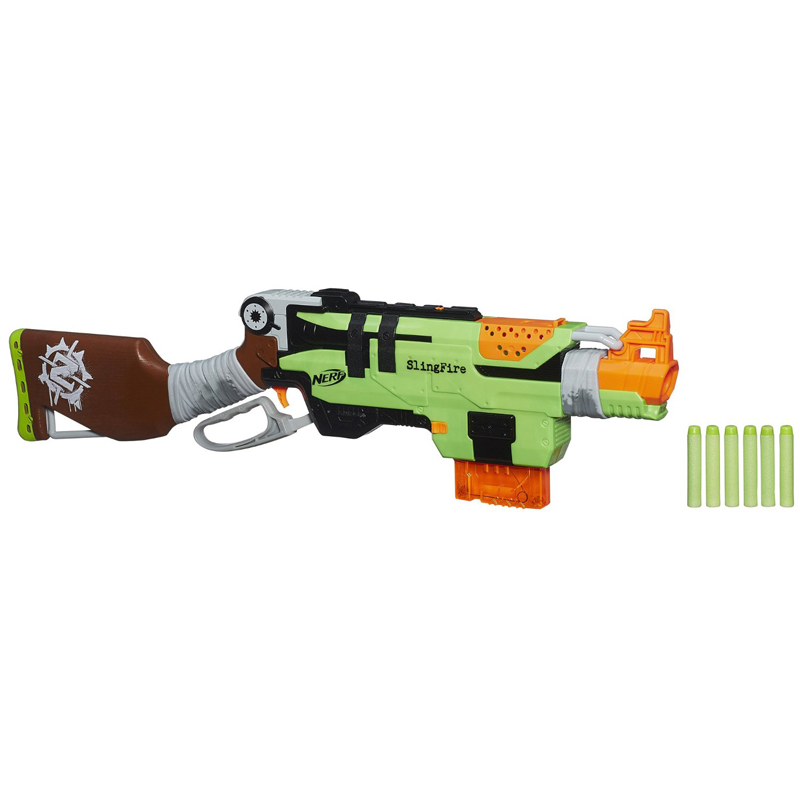 Nerf Zombie Strike SlingFire Blaster comes with six zombie darts, six dart clips and can be modified with the help of accessories (sold separately). It has two types of blasting actions: a swing lever action or you can also use the gun's cock for a firing single shots.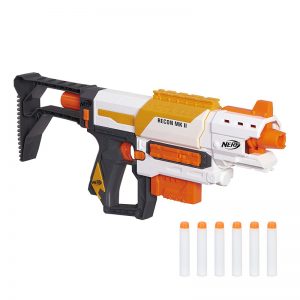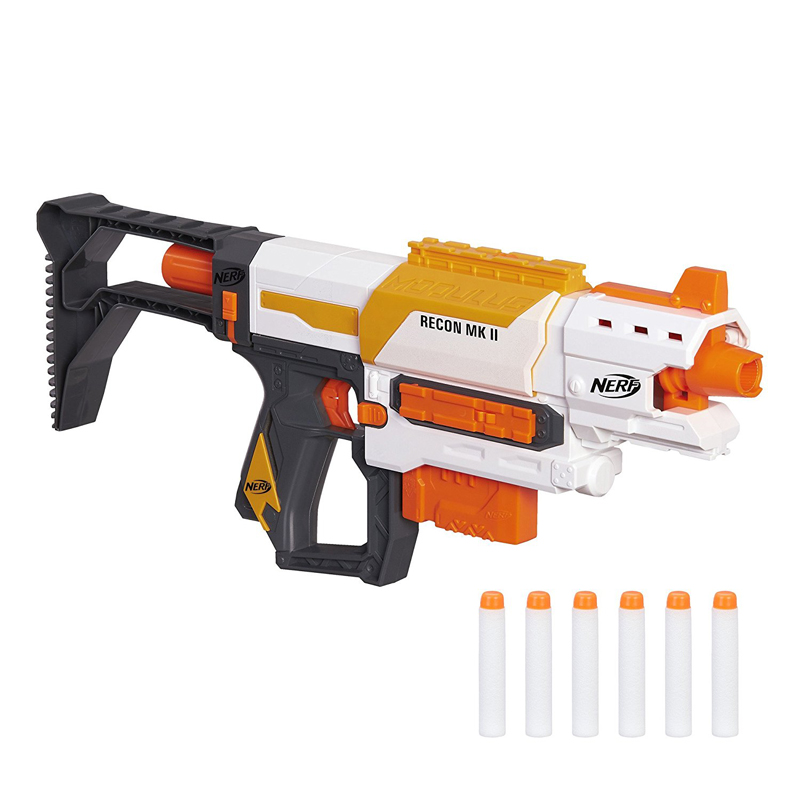 Nerf Modulus Recon MKII Blaster comes with many exciting features that will help to fulfil all your battle needs. It can also be rearranged to resemble four different types of blaster. It comes with six darts, a barrel extension and a dart holder.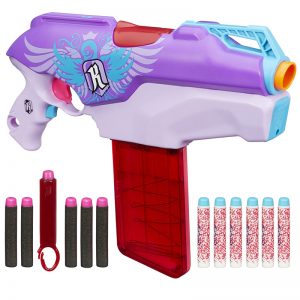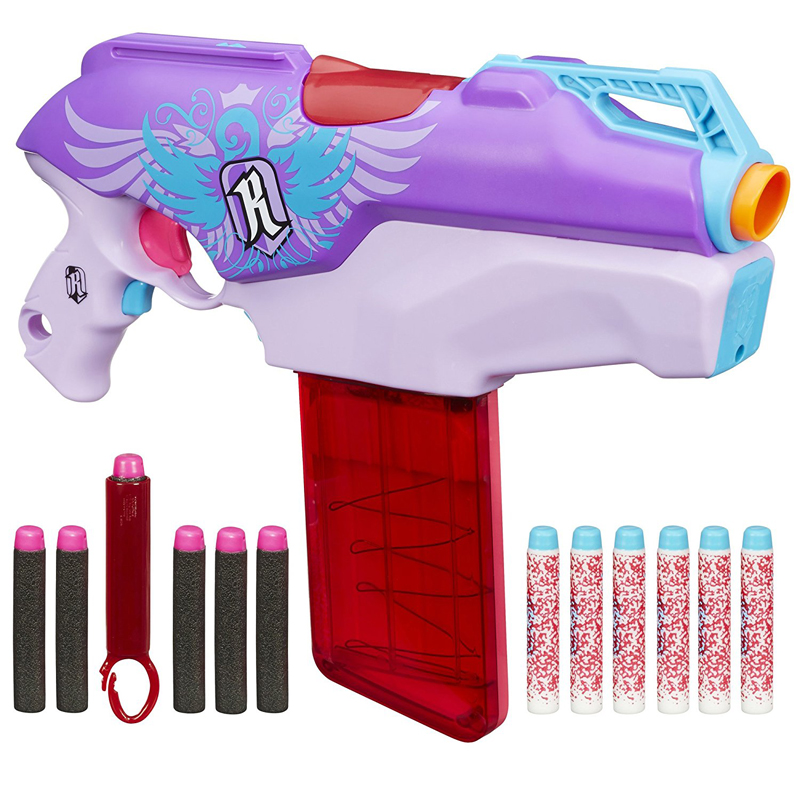 Nerf Rebelle Rapid Red Blaster is aimed towards a feminine clientele. Its performance also remains at par with the beat Nerf blasters and the only difference it has from other blasters is in its design and the inclusion of cool accessories. Message darts and a decoder are included with this blaster, along with six normal darts.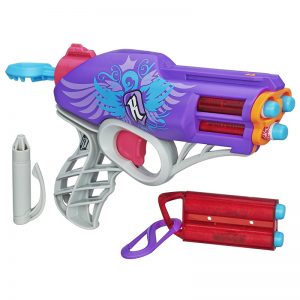 As the name suggests, Nerf Rebelle Messenger Blaster comes with message darts that can fly up to a distance of 75 feet. It also has five message darts and a decoder, along with a stylish pen holder attached to the blaster.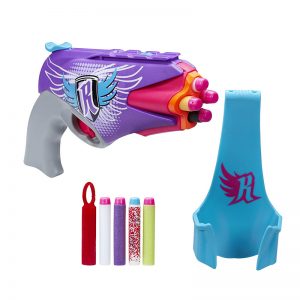 Nerf Rebelle Secrets and Spies 4Victory Blaster can fire up to four darts on a single loading to a distance of 75 feet. Also, a holster and a message dart are also included, which make your battles even more fun!
What are Nerf Blasters
Nerf Blasters are essentially a series of toy guns manufactured by Hasbro under Nerf. They can fire a number of foam based things like darts, balls, discs etc. They come equipped with whatever ammo they might use, the most common being darts.
These blasters are manufactured by Nerf through its product lines, the chief of them being: Zombie Strike, N-Strike Elite, N-Strike and Rebelle. It has also collaborated with other franchises for promotional purposes by manufacturing theme based blasters for Star Wars, Transformers etc.
History of Nerf Blasters
Nerf Blasters were first manufactured by the company in the year 1989. It was a ball blaster, through which balls were fired, through a simple lever action. Though now discontinued, Ball blasters gained a lot of popularity in the year they were released.
The next blaster innovation came in the form of Dart Blasters in the year 1992. These blasters used foam darts with little fins at the ends. They gained immense popularity and almost twenty-five years later, they are still loved by both children and adults alike.
A Buying Guide
There are wide range of incomparable Nerf Blasters present in the market due to their immense popularity. Choosing the perfect blaster for your needs is a tough task in a sea of so many choices and therefore this buying guide will give you a brief overview of what things, you need to look forward to, when buying Nerf guns:
Cost
The cost of the blaster is mainly determined by its product line, size and additional accessories. Most of the blasters are priced under 50 dollars, with Nerf N-Strike Elite Triad EX-3 Blaster being the cheapest as it is priced at 10 dollars (shipping exclusive) at Amazon. Nerf N-Strike Elite Strongarm Blaster, one of the most preferred blasters for beginners is priced at 12 dollars on Amazon.
Nerf N-Strike Elite Centurion Blaster which is priced at 80 dollars (shipping exclusive) is one of the rare exceptions, whose price exceeds 50 dollars.
Major Brand Lines
All the blasters manufactured by Hasbro under Nerf are divided into many product lines, with the chief of them being:
N-Strike Elite: Earlier called N-Strike, this line manufacturers the earlier versions of Nerf Strike blasters, but with improved mechanizations like an advanced firing system. These blasters are advertised to fire darts up to a distance of minimum 75 feet, a number much advanced than their predecessors. Blue, orange, white and grey are their chief colours. Only streamlined Elite darts work with these blasters.
Zombie Strike: It was introduced in the year 2013 and was themed around the popular Humans v/s Zombies outdoor game. Since its introduction, it has become popular, due to its theme, unique designs, eye popping colours and high firing performance, Zombie Strike has become a popular blaster line.
Rebelle: Rebelle is aimed towards young girls, as is very much evident by its design colours, which has a liberal use of purple, pink and reds. There are a number of cool additions too like, messenger darts, trendy dart holders etc.
Darts
Every blaster is incomplete without its foam ammo and because darts based blasters are the most popular, it is important to know about the different types of darts available in the market:
Micro Dart: Micro darts are in small size and limited use. They are only compatible with micro blasters like Nerf N-Strike Elite Triad EX-3 Blaster and are extremely difficult to find.
Mega Dart: As evident by their name, Mega darts are obviously large in size and are compatible with the blasters of N-Strike Mega line like for example Nerf N-Strike Mega Series RotoFury Blaster.
Whistler Dart: They make a whistling noise as they are fired from the blasters. They can come in different sizes (mega, micro or streamlined). Also, some of the blasters that come equipped with these types of darts are Nerf N-Strike Elite Centurion Blaster and Nerf N-Strike Elite DualStrike Blaster.
Streamlined Elite Dart: All blasters manufactured under N-Strike Elite use this type of darts. They are smaller than mega darts but larger than micro. Performance wise, they give the best results by covering longer distances and being more durable. They have many derivates too and they are popularly used in other product lines
Nerf Wars
Nerf wars are a type of flexible play that are played with Nerf Blasters. They can also be played in any type of setting-indoor or outdoor and by both children and adults alike.
Also, large level and much publicized Nerf wars are organized by NERF Internet Community (NIC) Wars, whose members are on many Nerf related forums like NerfRevolution, OzNerf etc. They have their own set of rules regarding the game and strive to make these events as enjoyable as possible.
Conclusion
Nerf Blasters are a popular means of play for not only children but also working adults. As proven by the viral video The Great Office War, Nerf guns are for everyone!
Last Updated: 4 August 2018