A good marker is the key to ensure an excellent paintball game. Though there are a large number of diversity in paintball markers.
Here are the best paintball guns which are currently topping all market charts:

Tippmann's Cronus Tactical Paintball gun is a semi-automatic marker and one of the most popular paintball guns on the market. It can also shoot up to 40 yards and comes at a reasonable price. The advantages of this marker are its durability and accuracy.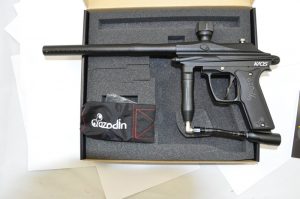 A 0.68 caliber, Azodin Kaos's Semi-Auto Paintball Marker gun is another popular paintball marker in the market. It is also ideal for beginners as it is really easy to operate and maintain. With a great value for money, this semi-automatic gun has all the features of a standard paintball gun, but at a cheaper price.

Another offering from Tippmann, U.S. Army Project Salvo .68 Calibre Paintball has many good features. It resembles US military guns and most of the parts like the receiver is made of aluminium. It has a 11-inch barrel and is gas powered. A good grip and foldable stock are some other features, that make this marker a good buy.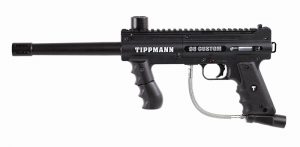 One of Tippmann's older and most popular models, it has gone many innovations in the recent years and has many improved features. It comes equipped with a patented anti chop technology, that prevents ball chopping. The receiver is made completely of aluminium and a stainless-steel gas line, increases its durability.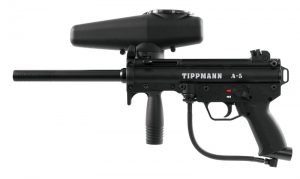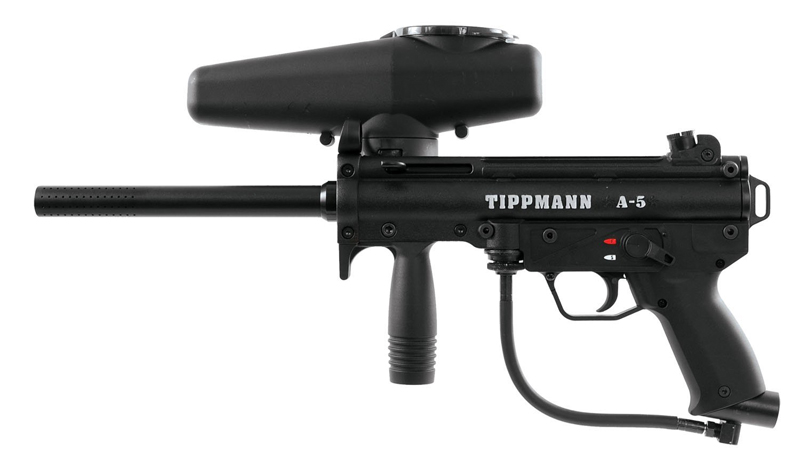 The distinguishing feature of Tippmann's A-5 .68 Caliber Paintball marker is the presence of a cyclone feeder, which fires fifteen balls every one second, without batteries. Also, a superior grip and compact design are some other features which make it a popular marker at its price range.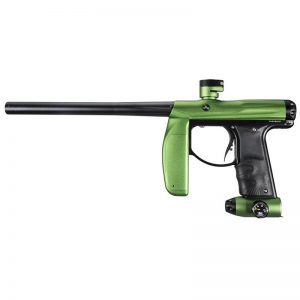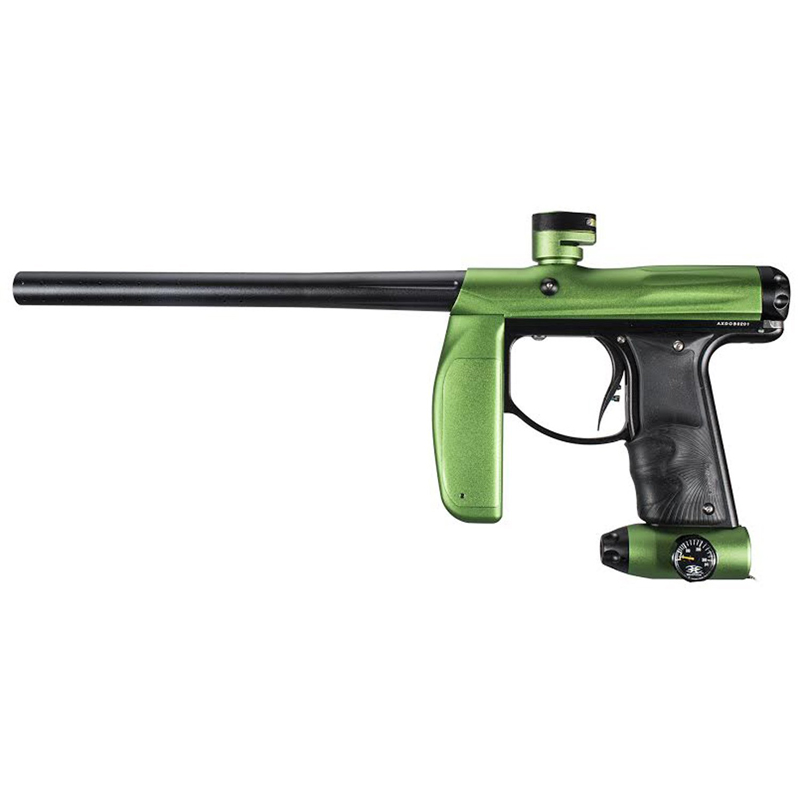 Empire's Paintball Axe Marker has an aluminium barrel, sleek design and easy to hold grip. Also, it is lightweight, has features to maximize grip comfort and is easy to carry. It can be adjusted to multiple firing levels and therefore is suitable for a wide range of paintball play.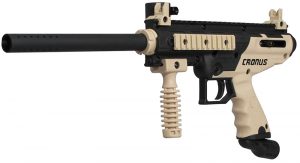 Tippmann's Cronus Paintball Marker Gun is similar to its Cronus Tactical Paintball Gun in many features. Also, it only lacks a mock silencer and a collapsible stock. This marker is light weight, has an internal gas line and multiple Picatinny rails.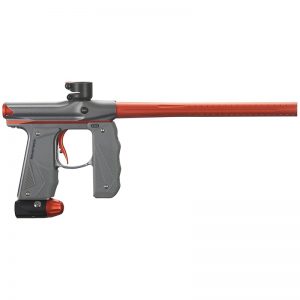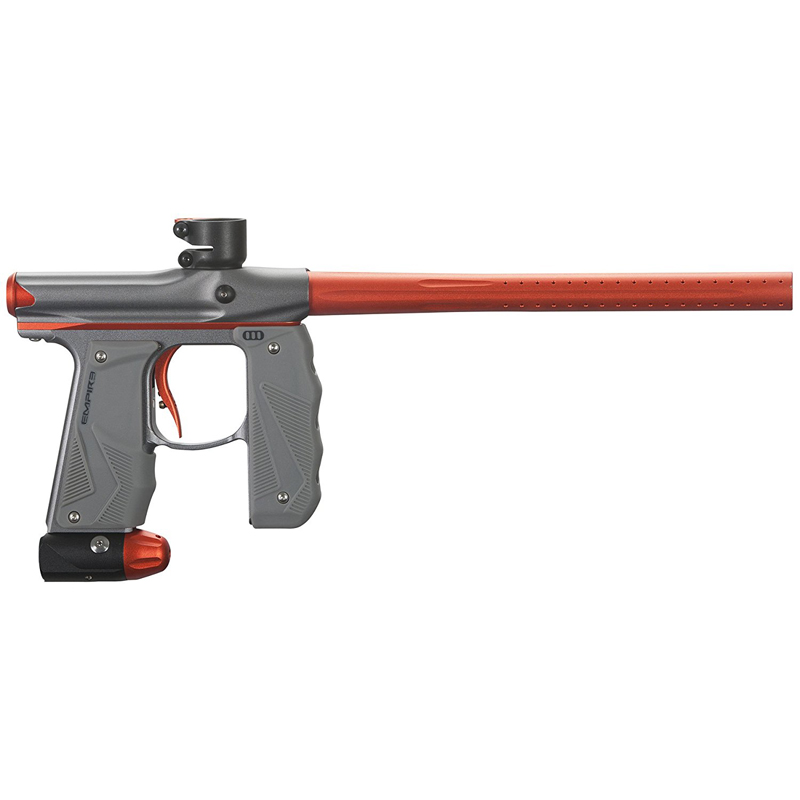 Empire's Paintball Mini GS Marker comes with an aluminium barrel, adjustable trigger, comfortable grip and a calibre of 0.68 inches. Also, this marker is multi-functional and can be used in a variety of plays. It can shoot 11 pods at a single time, without finishing the tank. Therefore, this is mainly used in paintball tournaments.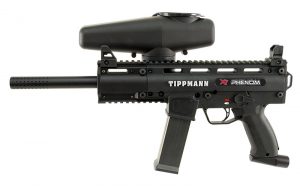 Tippmann's X7 Phenom Paintball Marker Gun comes with a feed hopper and has virtually close to no recoil. It shoots at a rate of 900rpm and is extremely accurate. It's high cost completely justifies its performance and it is a favourite of many experienced paintball players. A lightweight body makes it extremely easy to carry.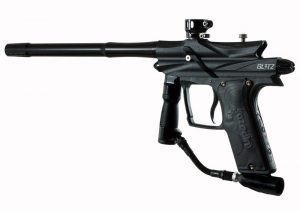 Azodin's Blitz 3 Paintball gun is one of the company's best paintball marker. It is extremely lightweight, has user friendly features, a streamline design and sensitive trigger. It comes equipped with three firing means- auto, semi-auto and pump action.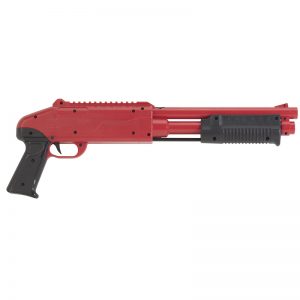 JT's SplatMaster Z200 Shotgun is a spring powered paintball marker and therefore any use of batteries or compressed gas. It is comparatively more hassle free and easy to maintain. It does not have many high-end features like other paintball markers but still works great at its price range.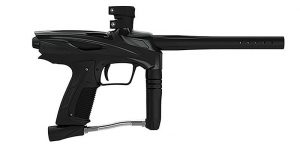 GOG's eNMEy Paintball gun is CO2 powered and has a safety valve to protect the inner components from pressure irregularities. It has an aluminium receiver encased in a polymer shell, making it extremely durable and even lightweight. A vertical regulator helps in minimizing the recoil to close to zero.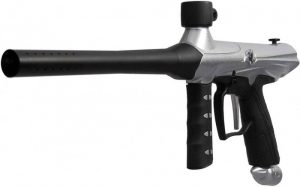 Tippmann's Gryphon Paintball Marker Gun has a centre feed line, internal gas line and a strong internal system to minimize any damage caused by paintballs. Its sleek design and superior grip size makes it a must have for any paintball lover.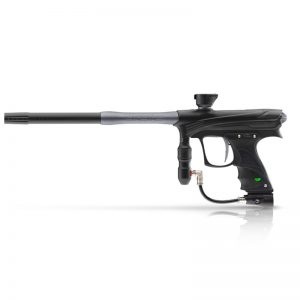 Dyes Proto Rize MaXXed Paintball Marker comes with many patented features and is increasingly becoming popular due to the same. It has a good grip, self-cleaning pipe, four tournament modes and a clamping feed neck. It also does not make a lot of noise while firing.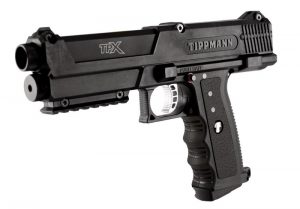 Tippmann's TiPX Paintball pistol marker gun is CO2 powered and has a lightweight design. It can be used as a side arm for emergency during paintball plays. Due to its small size and easy features, the maintenance is very hassle free.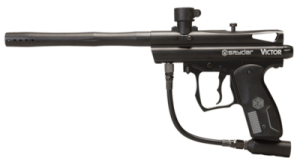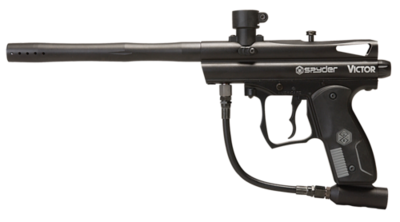 Kingman's Spyder Victor Semi-Auto Paintball Marker has a full aluminium body with a matte finish. It is perfect for beginners because it is easy to clean, and dissemble.

Planet Eclipse's ETEK5 Paintball Marker runs on ramping and semi-automatic modes. It has a clamping feed that is lever operated and is a mid-range marker. Its popularity can be denoted by the fact that, this marker is the fifth version of Planet Eclipse's ETEK5 paintball marker models.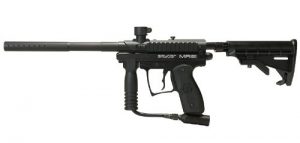 Spyder MR100 PRO Semi-Auto Paintball Marker has a military built and comes equipped with many admirable features. Its air efficient valve shoots 1500 shots a single time. It also comes with multiple picatinny rails for ease of operation and maintenance.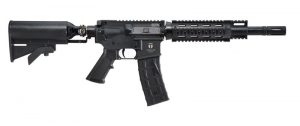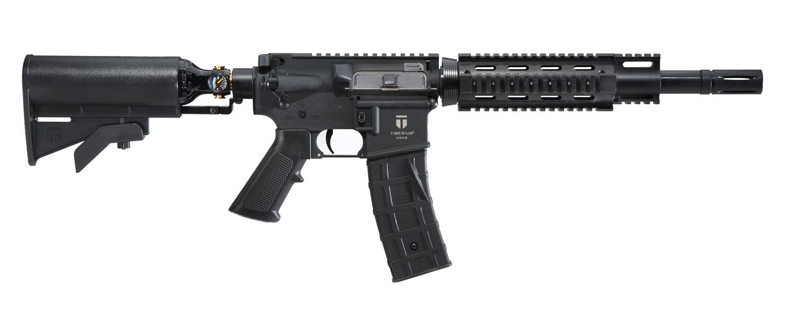 Tiberius Arms T15 Paintball Marker also has an aluminium construction and has both magazine and a hopper feed. It is easy and quick to dissemble and can work with any scope or red-light marker.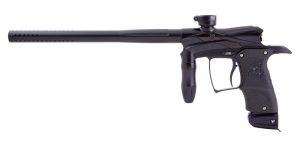 Dangerous Power G5 Paintball Marker comes with many features, that is seldom available at its price range. A powerful trigger, low pressurized stinger frame and a clamping feed neck. Users need to careful with maintenance because this gun requires regular rechecks before using and therefore is not recommended for beginners.
What is Paintball?
Paintball is a game where contestants try to get rid of players from the opposing team by hitting them with breakable pellets filled with dye/paint. First played in 1980s as an occasional recreational sport, Paintball has diversified and gained popularity as an important sport. Professional tournament leagues are organised all over the world, where professional paintball teams compete with each other. It is also used by many law enforcement forces for training and even for supressing suspects in a non-lethal way.
A Buying Guide for Paintball Guns
If you are a beginner, looking to dabble with paintball, you will need a good marker to get started. There a number of things you need to take care of, before selecting a paint ball gun, that will suit your purpose.
Cost
With reference to Amazon, you can get basic markers from 100 dollars or less. Brands like Tippmann offer great choices for beginners, at very cheap rates. For example, Tippmann Cronus Basic Marker is priced at 100 dollars (excluding shipping rates), JT SplatMaster Z200 Shotgun is available at $49. 95, Tippmann Gryphon Paintball Marker Gun is priced at $ 100.
There are many high-end paintball markers available too, which use improved technology and have more accuracy. They are generally used by professional paintball players. One example is Planet Eclipse ETEK5 Paintball Marker which will cost you around $549.95.
If you are somewhere in the middle range of the above two categories, then the following paint ball guns will be good for you: U.S. Army Project Salvo .68 Caliber Paintball ($159.95), Tippmann 98 Custom Platinum Series Paintball Gun ($119.00), Tippmann A-5 .68 Caliber Paintball Marker ($199.95). you can check different quality paintball gun for sale according to your requirement.
Types of Paintball Markers
Paintball markers are mainly defined by their operation mechanism. We mainly have two broad classifications:
Electronically Operated Markers: These work electro-pneumatically and have an inbuilt circuit board, a power battery, and a solenoid valve. When you pull the trigger, the circuit gets activated, which is further linked to a solenoid valve. This valve opens up to facilitate the movement of gas through various pressure chambers. The inbuilt gas pressure makes the paintball fire.
Mechanically Operated Markers: They work by mechanical methods like a pump action mechanism, a throwback semi-automatic action, blow forward semi-automatic mechanism or a pneumatically semi-automatic action.
Electronic Markers v/s Mechanical Markers: Mechanical markers are available at lower cost, is more hassle free and easier to maintain. Electronic markers are more accurate, give a better firing performance and are extremely lightweight as compared to Mechanical Markers.
Different Types of Feeders
Loaders, Hoppers or Feeders (as I call them), hold paintballs that are to be fired by the marker. A good loader is very important because a defective one can not only cause damage to paintballs but also to the marker. Markers use different types of loaders and they are generally classified in the following ways:
Stick Feed
This kind of feed is generally used in stock paintball play. It consists of a horizontal or vertical tube, which can store almost 20 paintballs. The player has to tip his gun forward before every shot.
Agitating
These kinds of hoppers use an agitator, which prevents any jamming at the feed neck and also helps in firing the balls at much faster rates. It is generally used for tournaments which require fast and efficient firing.
Gravity Feed
They are mounted on top of the markers are have a container attached with a feed tube. Paintballs slide down through these feed tubes to the marker. They have one of the simplest design in hoppers and are also the cheapest holder available. Loading too many balls can cause a problem in them and therefore they are mainly used for MilSim type of play.
Force Feed
It force feeds paintballs to the marker via an impeller. It uses a spring or a belt mechanism to move the impeller and has no reliance on gravity. They are the only type of hopper that can sustain the high pneumatic action of electronic markers and are therefore used extensively in all paintball tournaments.
How are Paintball Markers Powered?
Paintballs are fired through markers through the expansion of gases stored in compression tanks. The most commonly used compressed gases in these tanks are either HPA (high pressure air) or CO2.
Carbon Dioxide (CO2): When CO2 is in a liquid form when compressed and absorbs heat during expansion. Therefore, it stays in a liquid form in the compression tank and enters the marker in a gaseous tank. If not handled properly, liquid CO2 can enter the marker, causing internal damage. Many markers have safety precautions to counter this problem, for example, Tippmann markers have an in-line gas tube to prevent any damage. Many high-end markers recommend HPA instead of CO2 as a propellant.
High Pressure Air (HPA): They are an expensive but more efficient alternative to Carbon Dioxide. It comprises mainly of compressed N2 (about 79%) which remains a gas, even while compressed.
Firing Modes
Paintball markers have various firing modes. While semi-automatic has been the most commonly prescribed shooting method since the 1990s, with the latest improvements, a new mode called ramping has also become really popular.
Fully automatic: It continuously fires paintballs as long as the trigger is pulled. Almost all electronically powered markers have this feature.
Semi-automatic: A single shot is fired each time the trigger is pulled. This feature allows the player to set up his or her own pace while shooting.
Ramping: This is a new firing function, introduced recently. It automatically changes the firing mode to semi auto to fully auto or vice a versa, depending upon certain situations.
Types of Paintball Plays
Paintball can be played in a lot of different ways but the ones below are the most common and popular:
1. Woodsball
It basically is when paintball players play in a natural setting like outdoors in a forested area. The trees act as a natural barrier and the players try to eliminate their opposing contestants by marking them by paintballs through a paintball gun.
2. Speedball
This consists of an artificial setting like a soccer field with minimum of manmade settings. It is generally the play for almost all paintball tournaments.
3. MilSim
This kind of play mainly imitates the military style of gun combat and therefore a similar type of attack and defence style is employed here. In closer range, airsoft pellets hurt a lot and therefore paintball is a good alternative
4. Paintballs
Paintballs are spherical balls of nontoxic water-soluble materials with a dye. They are safe and non-irritant
Most paint markers paintballs of 0.68 caliber but their exact size can vary and may not be the same as mentioned.
It is important to buy good quality paintballs which have undergone a sufficient amount of quality checks. The price may be more but it is better to spend a few extra bucks on paintballs, than to risk any damage to your marker.
Precautions To be Taken
To improve accuracy and lessen the load of maintenance, buy paintballs from a trusted manufacturer.
Do not use any paintball or 'loose paint' that might have fallen to the ground.
Keep your paintballs away from excessive moisture and heat to make them last longer.
Marker Maintenance
It is important to do regular checks of your marker, preferably after every game, to ensure its durability and prevent any mishaps. Here are some steps how you can do the same:
Clean all the internal components by dissembling your marker and check if there is any internal damage due to paint chips.
Clean your marker with an appropriate lubricant.
Make sure there aren't any residue. This can be done by firing an unloaded marker.
Keep a pipe cleaner in handy during every game for an emergency.
So, these were the ways how you can ensure your marker remains as good as new for a very long time.
Paintball Gear
Here are the things you will need:
Paintball Masks
Perhaps the most important equipment after a marker, Paintball Masks are a must have before any play. They protect your face and most importantly, your eyes from any injury induced by paintballs. They completely cover your face and sometimes even your throat.  With the latest innovations, masks now come with a variety of features to ensure the maximum comfort of players.
Paintball Clothing
Different types of paintball plays have different clothes specifications. But they all agree on some common points. Paintball clothing needs to be durable but should not have excessive paddings. To prevent injuries, players should have knee, chest and elbow guards. A headband along with your mask is also helpful in saving your hair from damage.
Tips for Beginners
The first game of paintball is both exciting and terrifying, in equal measures. If you are getting Goosebumps before your first game, then here are some tips which might help you:
Be sure you have all the necessary protective gear (especially masks).
Follow all the rules of the game. The rules vary according to the type of play but some rules are common for all. Be sure you are not being problematic for other players by breaking rules.
A common problem beginners face is that they keep hiding behind the barriers to avoid being out. Lighten up! Give your best shot and remain engaged by firing shots. You will neither enjoy the game nor will you learn anything if you just keep protecting yourself.
If hiding is not right and exposing yourself at every chance is also something you must avoid. Try to maintain a proper balance.
The most important thing is to enjoy yourself and don't loose patience even if your team loses. It is just a game and remember- "Practice will make you perfect."
So, these were some tips that will surely help beginners when they are playing their first game. If you are one of them, then I hope this helps you and do tell me about the same by dropping a comment here!
Conclusion
The popularity of Paintball is increasing day after day and its popularity is very much evident by the ever-increasing paintball recreational centres. Many countries even have legal rules to ensure this game remains one of the safest mock war games. So, if you have still not dabbled in paintball then you should definitely start now!
Last Updated: 6 August 2018