The Dye Proto Rize MaXXed Paintball Marker is packed with features that are only found in high end paintball markers and that too at an affordable price. It lets you dominate the paintball battle and gives you a lot of advantages and freedom over your targets.
This paintball marker comes with features that are mostly found only in high end markers and yet it is easy on your pocket. This marker boasts of increased accuracy, ease of operation and is perfect gun for paintball battles. The innovative and unique design of this marker provides good control and stability that aren't usually found in mid-range markers. The maintenance and cleaning of this marker is also very easy and hassle free. Many innovative and unique features are added in this marker that make it an efficient and durable marker that lets you play for longer durations and is relatively affordable than the other markers out there in the market with the same features.
Specifications
Comes with the Precision True Bore Proto 2 piece 14 barrel that makes this marker more accurate and efficient than before.
An efficient Hyper 3 Regulator.
An on/off airport for DYE UL.
Improved RAMP solenoid.
Patented Rize Fusion bolt.
Adjustable aluminum trigger allows you to have better flexibility and freedom over your marker.
Self-cleaning M2 eye pipe makes it really easy and convenient to clean this marker.
Hourglass 45 frame provides better control and stability to the marker.
The marker comes with 4 different firing modes.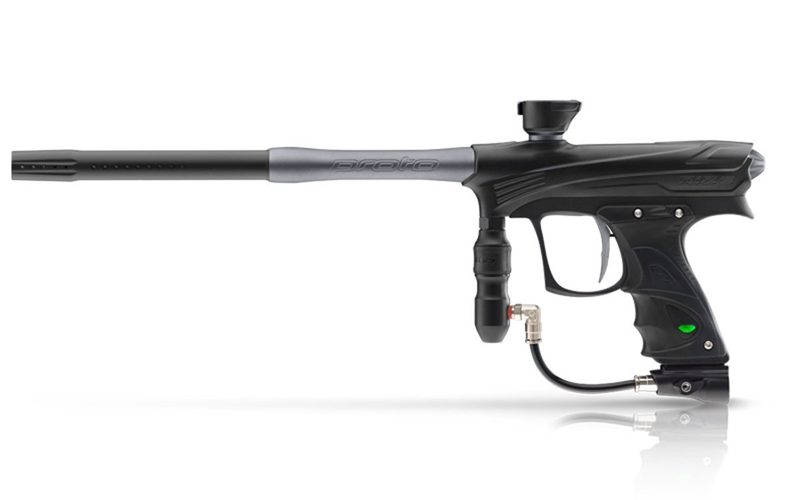 Construction and Design
The design and ergonomics of this marker is highly refined and innovative, making the marker more efficient and a better performer. The frame is quite sleek and sturdy namely the Hourglass 45 frame. The grips are quite good and sticky due to the dual density material used in the handle and this gives a better grip on the handle. The trigger is made up of aluminum and is adjustable so you can basically customize the position of the trigger according to your needs. The design is quite balanced and provides an overall control and stability over the marker in the fields.
Pros and Performance accuracy
The barrel of this marker is really accurate and high quality. The marker is quite accurate provided the paintball isn't defective.
It makes as little sound at it can on the field. Its unique and innovative design makes it really quiet. It is an overall added advantage during the battles.
It is really easy and convenient to clean this marker due to its design that makes it really easy to strip down the marker and clean it.
The velocity and range of this marker is also quite good and the marker shoots accurately up to long distances.
It is super light and smooth and that makes it really easy to control and move this marker in the fields.
The price of this marker makes it one of the best markers in this price range.
Tips for safe handling
Proper and regular cleaning of this marker is a must. It is advisable to buy a paintball barrel swab to properly clean the barrel of this marker. It will increase the efficiency and life of this marker in the long run.
Some users may face some issues with the battery of this marker. Though the issues tend to disappear after some time but if it still persists then you can try replacing the battery with a different one and that should solve the problem.
It is advisable to protect your eyes and other sensitive parts of your body from accidental shots from this marker as it shoots at 280fps and so you can buy a paintball goggle for better safety and convenience in the field.
Can it meet your expectations?
If you are looking for a affordable marker that shoots accurately and has a great and convenient design then this marker will surely exceed your expectations. It has great features and efficiency and yet it so affordable. Its accuracy and range will pleasantly surprise you and its easy cleaning mechanism makes it really easy to clean and maintain this marker. It works like a charm even after firing thousands of paintballs from this marker and is a durable companion on the field.
Also Checkout the Reviews of Other Paintball Guns: