Laser tag guns are perfect for indulging in an outdoor play without worrying about cleaning up the surroundings later on. There are no darts or bullets required – a stream of light through a sensor is enough to 'kill' your opponent.
Laser Tag has become widely accepted and vividly popular in a short span of time all because of its adaptability to your requirements. Inspired by the fighting arenas inside your popular virtual games like Call of Duty, Halo and Battlefield; if you have a bunch of people looking for some real fun – Laser Tag it is.
Here are the best laser tag guns of 2020 which deliver the maximum performance: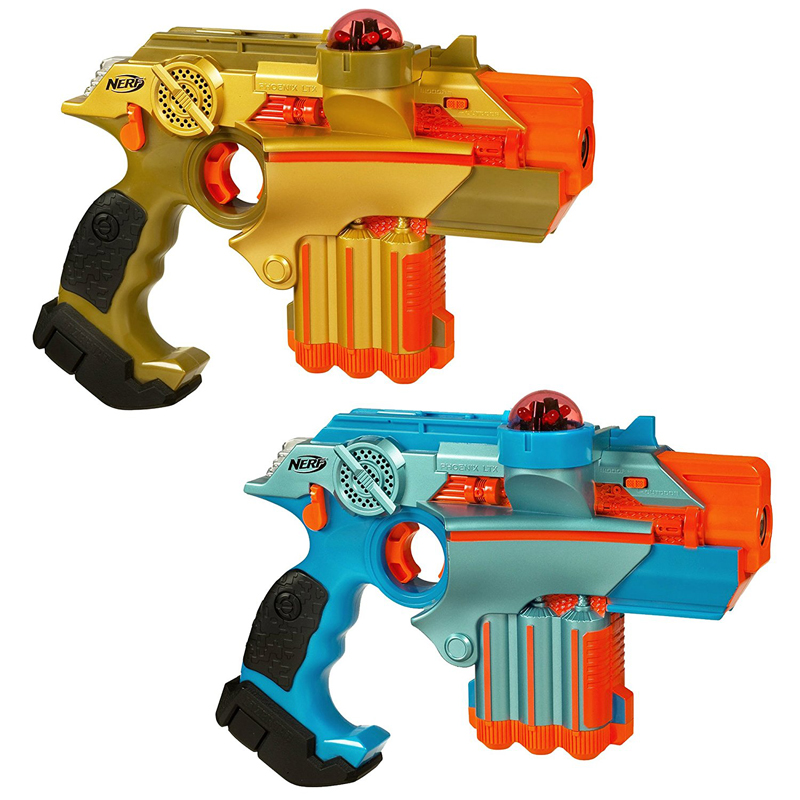 The Phoenix LTX Tagger comes in a pack of two. The light sensors when fired are accompanied with a multitude of lights and sounds. With cool designs, durability and high accuracy – this set of laser tag guns is a great steal.
The laser tag set by Dynasty Toys is a multiplayer gun for kids that will quadruple the fun. It is perfect for kid's birthday parties or any children gatherings. The best part is that you won't need a laser tag vest as the blaster itself serves as a target.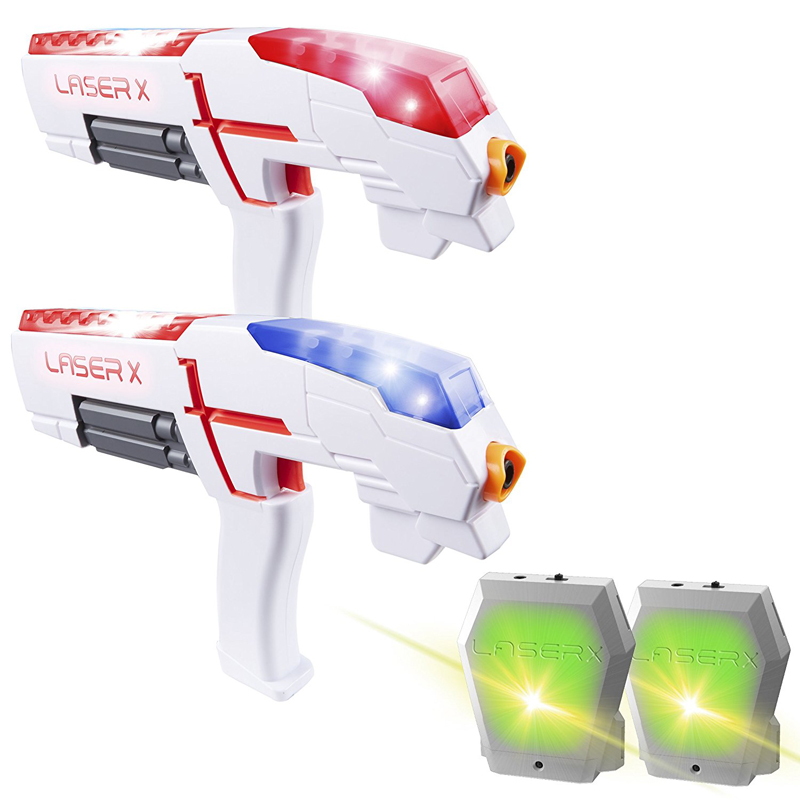 Laser X 88016 is available in a set of two and is perfect for all long-lasting laser tag wars. It comes with a voice coaching system which will guide you through all your battles. The photons can travel up to a distance of 200 feet.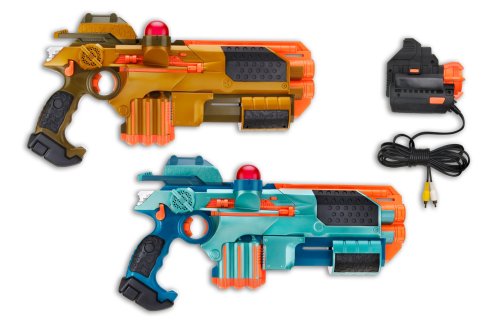 The LAZERTAG Battle System is available in a set of two and is manufactured by one of the leading toy companies – Hasbro. They include two shot blast attachments, one video game module and two pinpoint sight targeting systems.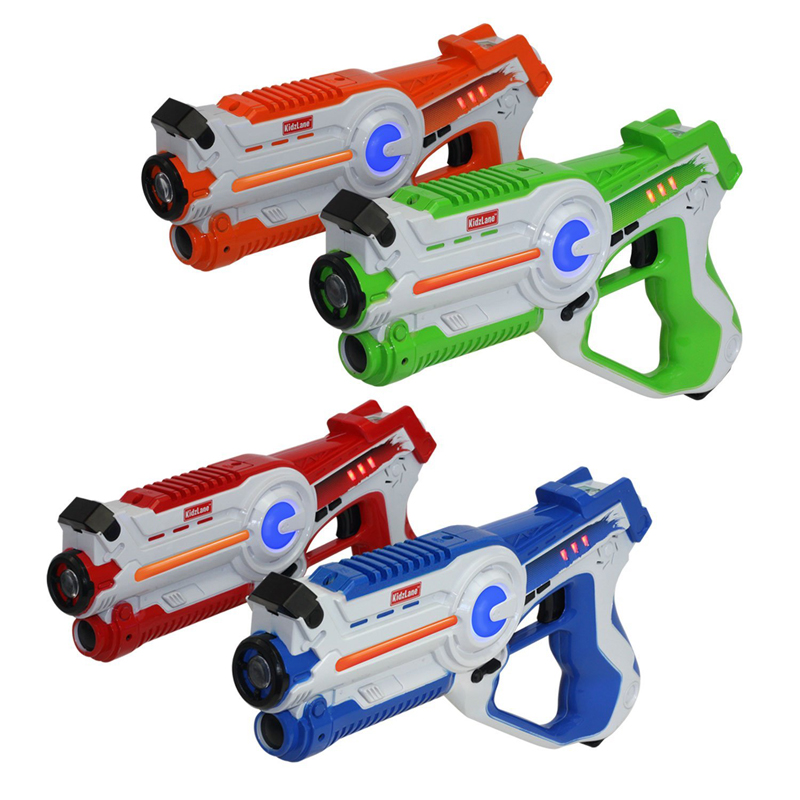 Kidzlane's Infrared Laser Tag is available in a set of four and is perfect for both indoor and outdoors. You can get the maximum value from these laser tag sets as the settings of these guns can be changed into four firing modes- rocket, shotgun, pistol and sub-machine.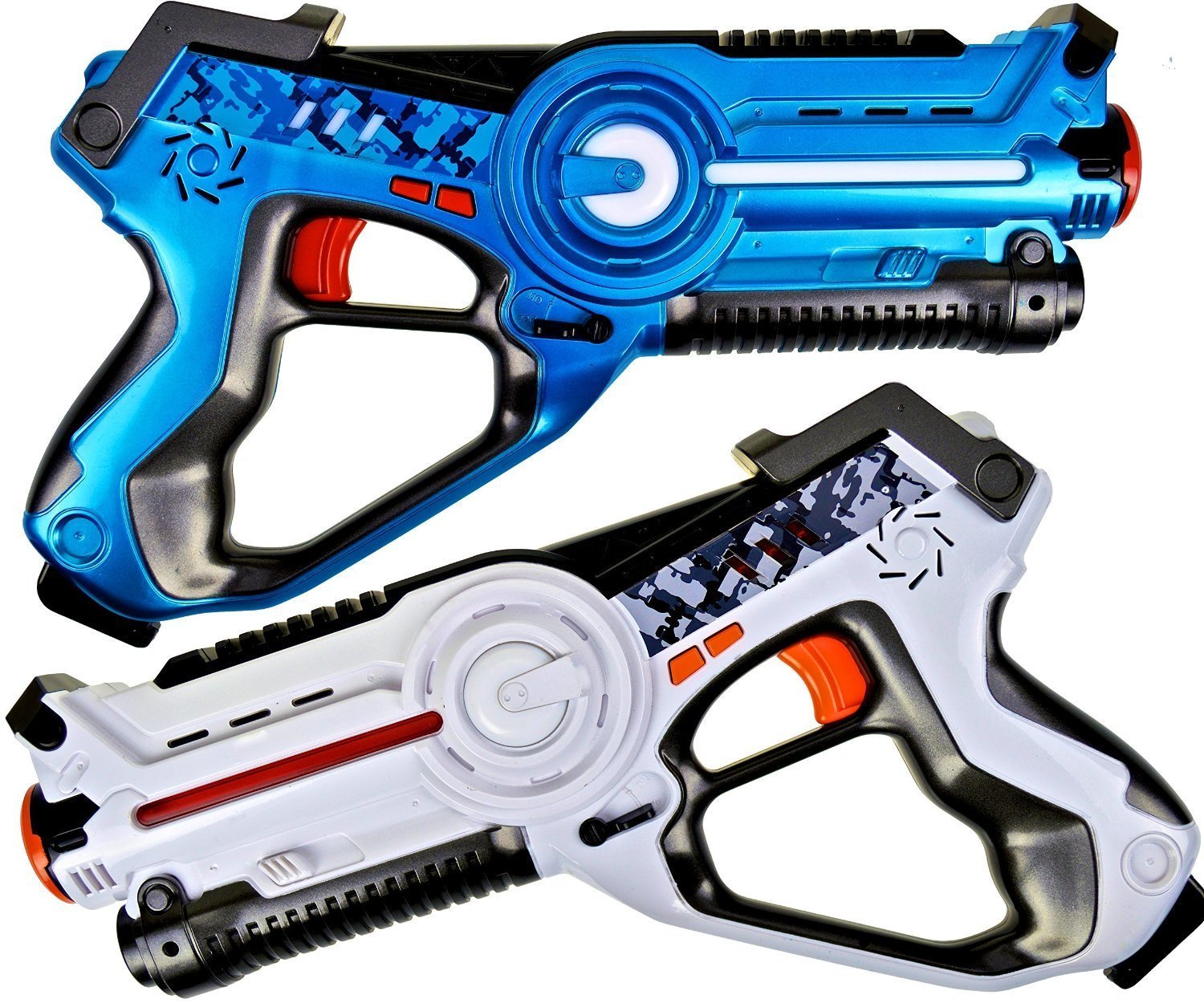 These Laser Tag Blasters are inspired from Star Wars and therefore come with a storm trooper backpack. This addition will make it easier for you to carry all your laser tags. The lasers can travel up to a distance of 120 feet.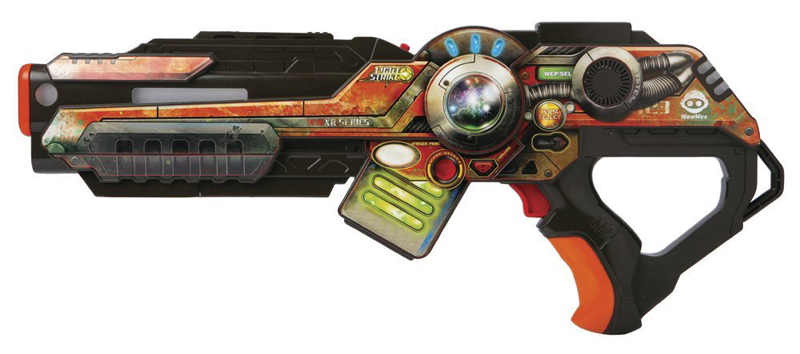 Wowwee Assault Striker is a single laser tag gun that can be used to practice targets or in laser tag fights (by buying more units). It is made of good quality plastic that increases the product's durability. Another attractive feature of this product is its unique design.
History of Laser Tag Guns
We can all thank Star Wars for the invention of laser tag guns. The earliest and simplest prototype of laser guns were shown in a populist setting in 1979 through the manufacture of Star Trek Electronic Phaser Guns set.
Later in 1882, the inventor of the first commercialized version of laser tag, George Carter III begin developed Photon, the first laser tag game after being inspired by Star Wars.
Best Laser Tag Guns Buying Guide
If you are looking for a fun activity to engage with your group of friends that isn't destructive but at the same time empowers your veins with adrenaline and gets you all excited – let Laser Tag be it. It isn't Barney Stinson's favourite obsession for no reason.
But if you are already a fan of this sport, chances are you know what the importance of a good weapon is. Your quest for the knowledge for how to chance upon the perfect laser tag gun ends right here.
How Do Laser Tag Guns Function?
Unlike paintballing where an actual paintball shot hits the target's body, the laser tag is free of stains on skin and clothes. And painless too.
A hit or a tag is supposed to have been achieved as soon as a ray of laser shot by the gun reaches the sensory area of the vest worn by your target. Every tag is registered as soon as it comes in contact with the sensors.
Know the Purpose of a Laser Tag Set
First off, before you proceed to spend all your money on this fun interactive game, you need to analyse and reaffirm the purpose of your lazer tag gun?
Are you going to play with it in an open camp field in the woods, or you are more inclined towards a mobile laser tagging experience just outside your veranda? Playing laser tag in corn mazes by the sun's brightness also seems fun while exploring houses known to be haunted with a set of friends and laser tag gun isn't all that weird anymore.
Whatever the case is, your laser gun needs will vary and so will the features of your gun. There are special knacks in all the different varieties of the gun especially designed to help you gain maximum leverage on the game.
The outdoor equipment is made in a way that it copes well within higher ranges and daylight abuses while your indoor equipment may not yield the same results.
What Laser Guns Are Allowed for the Event
There are rules for every competition in laser tag just like any other sport and sometimes they will not allow you to use your laser gun if it fails to adhere to the regulations. Your well researched purchase won't be much useful in this case if it doesn't follow the norms. Make sure you know all the rules to the competitions you'll be playing for before buying yourself a gun.
Most Important Laser Tag Gun Features
Material & Design of The Gun
The laser tag gun made from macro blended poly carbonated plastics should be preferred over other kinds as these ensure longevity and durability of the gun.
The casing matters too. Injection molded ones offer an extra edge.
Design is one of the important aspects of the gun. It should look futuristic and one that boosts confidence. Your laser tag gun shouldn't look like a teeny toy gun for the toddler in your house.
Programming of Your Laser Tag Gun
Check into what kind of programming is carried on in your gun. The programming with wireless and phaser technology is a better option in terms of convenience and efficiency.
Your laser gun should be such that even the person with least knowledge is able to repair it in case any damage occurs. Do not go for a laser tag gun whose spare parts are either outdated or not readily available. It will cause you great trouble at the time when something with your gun goes wrong.
Features of a Top Laser Tag Set
The phaser applied should be as light weighted as possible.
The operation mode of the gun should preferably be with both the hands to maximize throughput.
The battery life of your phaser should be commendable and at least 12 hours that does not hinder your play time abruptly.
Having said that, the charging system of your gun should be user friendly and efficient.
Additional Features
The presence of an optical trigger in your laser tag helps you stand a class apart than the rest.
Check for safety tugs. They are absolutely essential if the laser tag gun is for someone below 16 years of age. Big safety nozzles made from rubber can be handy in this aspect.
A shock detector should be in place that warns the user of any impending damage or misuse. If there are no LED lights that turn on to elucidate misuse or clanking noises – it is not a good choice to go for that particular lazer gun.
Features like LED lights to help you gain insight of which team color your laser tag gun belongs to. Alphanumerical LCD display boards and vibratory sensors that let you know the gun is active are innovative features to look for in your gun.
An inbuilt speaker inside your laser guns that enables you to hear shots of gun being fired are readily available today and you should go for them.
We hope this buying guide will help you narrow down among what features to choose from when it comes to selecting a good laser tag gun.
Beginner's Guide to Laser Tag – What's All the Gush About!
If you are a fan of adrenaline gushing sports packed with all the excitement of a war zone but at the same time do not want people to hurt themselves too much – well laser tagging has come to you!
If you are a novice in this sport and are looking for all information regarding this crazy way to bond and beat your friends, you've come to the right spot.
1. What is Laser Tag?
In simple terms, Laser Tag is basically an advanced version of the good-old tag game. It is played by using laser tag guns, which fire infrared beams. These beams need to hit the target your opponent carries or wears.
These infrared sensitive targets (in most cases a laser tag vest), when hit, will 'stun' the person for about 10 seconds. When the person is 'stunned', he or she can't use their laser tag guns and in many cases their vest will emit a sound or light denoting their predicament.
The game's end is determined by the type of laser tag you are playing. In most cases, it is when you have stunned your partner the maximum amount of times.
Contrary to its name, laser tag guns don't emit any lasers but a strong beam of light.
2. Now How Exactly Is This Sport Played?
There are two teams fighting to figuratively kill the other, their teammates identified by a specific colour code. Each player possesses a Laser Tag Gun and is recognized using a sensory headband that detects the laser.
They are usually shielded with a Laser tag vest especially designed for this game. Each player will try to 'tag' or hit the players of the other team with the help of their laser tag guns pointed at their sensors.
The team with least number of tags wins! The rules of the game are very flexible – ranging from very simple to highly complicated versions.
3. Types of Games To Play With Your Laser Tag Set
The basic type of laser tag game is to deactivate your opponent player by shooting at the targets. But with the mass commercialization of laser tag games, many different types of laser tag play have been introduced. Some of them are:
1. Character Based Game
Here every player on each team uses a different setting on his laser gun and has a predefined role.
2. Protect the VIP
One team has to protect a VIP player for as long as possible while the opposing team needs to take that VIP player down in the given time frame to win the game.
3. Elimination Matches
The most common laser tag game, here players have to laser tag their opponents for a set number of times to eliminate them.
4. Base-Centric Matches
One of the most popular type of play in many arenas – teams need to protect their base while trying to capture their opponent's base through continuous attacks.
4. Tips for Beginners
If you are just starting out and want the best experience from your first laser tag game in 2020, here are the key points to note:
Your target vests and headbands are the most important attire additions for all laser tag plays. Apart from them, it is recommended to wear dark colored clothes for better camouflage.
The best defensive strategy is to move sideways whenever you are in someone's target zone. Apart from that, it is always better to observe the basic layout of your playing arena so that you can strategize.
Attack your opponent's target continuously rather than taking a single shot. Try to move sideways as you are firing to avoid getting hit.
5. Laser Tag vs. Paintball vs. Airsoft
Laser tag differs from paintballing in a variety of aspects including the equipment used. The best advantage of laser tag is that unlike paintballs, laser tag doesn't scar your clothes or skin. Also, getting laser tagged is totally painless. Check out the table below to learn how laser tag is different from Paintball and Airsoft.
| | | | |
| --- | --- | --- | --- |
| Comparison | Laser Tag | Paintball | Airsoft |
| Ammunition | None Required. Infrared light fired in place of ammo. | Paintballs used as ammo, which burst in a specific color on impact. | BBs made of plastic used as ammo. |
| Preparation | Laser tag guns do not require any preparation before any game. | Paintball markers need to be prepped for a number of times before and during the play. | Airsoft guns need to be checked, loaded continuously during play. |
| Cost | You don't have to spend much to play. | A considerable amount of money is spent on paintball guns and paintballs. | The combined cost of all the equipment used here is cheaper than Paintball. |
| Maintenance | Do not require much maintenance. | Require a lot of time and effort to keep markers and paintballs in a good condition. | Require less maintenance as compared to paintballs. |
| Safety | The safest play of all three. Even a 12 year old can play this game. | Generally played by 16 yrs and above. Safer than Airsoft but paintballs fired at a very close distance will still hurt. | Many laws only allow 18 yrs and above to play. Safety rules need to be strictly followed for a safe play. |
6. The First Step – Laser Tag Gun & Vest
First off, you need to have the equipment, that is a laser tag gun and a laser tag vest. Most arenas provide a temporary one but if you are too invested into the game – you would need to get one for yourself. Do your own research and choose the best laser tag guns in the market. The manuals included in the equipment's will let you know how to set things up.
7. Commencing the Fun!
To start off with the sport, first distribute the players into two teams and make them stand on the two ends of the arena – opposite to each other. Now the laser tag guns will automatically let you know when to start the war. Depending on the mode of the game you are playing, the game may commence.
8. The Significance of Synergy Here
Laser tag can be the most haphazard game with a bunch of kids just scuttling about and having the time of their lives. There's absolutely nothing wrong with it.
But if you are the kind relying on this fun competitive game to boost you and your teammates confidence, you need to be prepared in terms of team efforts.
You would want to strategize, locate and relocate team players and remember how much synergy can help you win this game.
Steps to Help Synergize Your Laser Tag Game?
Depending on where you are playing, you could give some time to each team to explore the arena before the game – trying to come up with good hideouts or target spots that will give you an edge over the next.
Strategy can also be garnered upon based on the abilities of the different mates involved.
To incorporate all the feel of a war-zone and to achieve maximum benefits, you could also come up with a medium to communicate with your fellas.
Walkie-talkies, or Bluetooth earpieces can be handed out to a few good men of the team or everyone for maintaining minimal necessary contact during combat.
9. Targeting
Unlike in other sports where there's a direct output or a visible outcome of you hitting the target, in Laser tag there isn't a mark or spill. In fact, it is extremely quick and invisible. This can make things tricky when it comes to aim perfectly.
But you cannot just leave it at that. Learning to aim is essential in this sport and is what hands you victory.
To gain leverage, shoot from a myriad of stances and postures. Kneel down and try to hit the target, rollover on the ground while aiming, standing, sprinting, sitting or lying down postures.
Try them all! And practice well. You might want to initiate by first targeting the ground and then responsively raising up your phaser.
10. The Approach
After you've dressed all up, you need to start with the actual game. For this an individual may have his own strategies and tactics that he undertakes.
Most laser tag arenas are in low light ambiance. Make sure you don't wear a bright coloured clothing that can easily be spotted from a distance and tagged with.
Always thoroughly analyse the safe spots and the hideouts in your arenas. They'll come in very handy during the game.
Don't be afraid to go offensive over the opponents. Most newbies make the mistake of playing it safe. Keep a few things in the corner of your mind and start shooting. The easiest trick is to be aware of flashing lights that might be coming from the Laser vests. Whenever you see a light moving, shoot and woohoo!
Know your laser tag gun well. It is important to do a bit research and know what advantages your laser gun design has over others and utilize it fully.
Be alert at all times.
Know and differentiate your teammates from the opponents.
11. Finishing It Up!
If you get tagged out, according to the rules of the game you need to walk slowly towards a priory designated area with your hands raised (so that you don't get shot again) and restart or end the game (according to what your game rules say).
You have officially completed your training period in this sport and should now run off to conquering some good Laser tag battles!