If you are an action fan and do wish to indulge into some real warfare, then get hold of this Nerf CS-18 N-Strike Elite Rapidstrike a gun which will fulfill your desire of owning some real action.
Specifications
This gun uploaded with great deals of features is definitely one of its kind. Some of the astounding features which will make you love this gun are:
18 Dart capacity to ensure you have maximum firepower at your disposal.
Comes equipped with acceleration trigger, so harder you press the trigger, more rapidly the gun fires.
Offers a shooting distance of 90 feet and hence you can be sure of precision to a very
Operates with 3C batteries to ensure maximum power.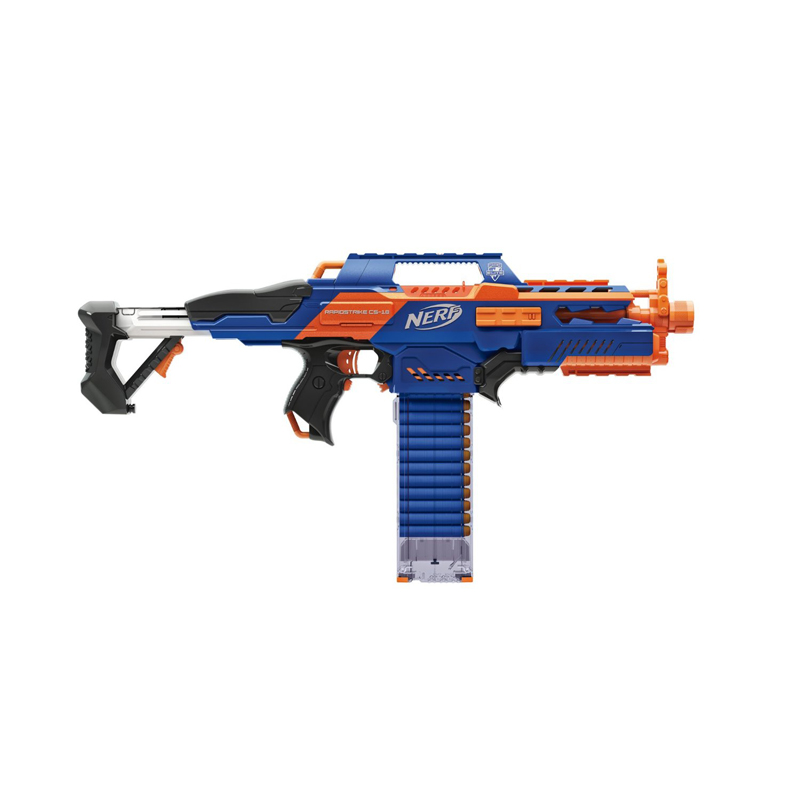 Construction and Design
The gun comes along with five rails which allow you to modify it by adding in accessories and hence making it look even cooler. There is an adjustable stock accompanied by a transparent clip which is a definite advantage.
The batteries of this gun are put in towards the front end which does give a comfortable grip and balance during firing. The plastic used also does appear to be of higher grade and hence you can be assured of its durability along with the design it has to offer.
Pros and Performance Accuracy
One of the most advanced NERF warfare guns, the Nerf CS-18 N-Strike Elite Rapidstrike is a good deal for any thrill and fun lover. It does offer the following advantages which set it at par with its competition.
The best part about this gun is its design and body which is extremely light weight and thereby making it comfortable for the shooter to use and play with. The material used is top quality however at the same time light enough not to cause your hands pain due to holding this gun for long times.
It has the battery slot at the front and hence giving a greater stability to the gun while the user holds the same.
There is grip provided for resting your hand comfortably without giving any strain or pain to the body.
5 tac rails attached to the body of this gun give the user a choice to customize the gun according to his choices. You can add in camera, laser or any other accessory which will make your gun cooler as well as exactly as per your requirement.
Tips for Safe Handling
Do make it a point only to use genuine darts which are in top shape.
If you are a fan of burst mode, then the 18 dart clip might prove to be highly insufficient for your use and therefore buy in some extra darts and clips.
Can it meet your expectations?
This gun which is lightweight is a boon for a Nerf fan. The blast mode, as well as single shot mode, allow you to switch fires and hence surprise your opponents with a variety of moves you make. The stock is adjustable, and hence you can easily move through tight areas and or adjust your grip according to your requirements.
The customizability of this gun doesn't end here. There are five tactical rails which allow you to add in any other accessory and hence make this gun completely as per your requirement and choice. There are molds provided for perfect grip, and then there is the transparent clip allowing you to know when you need to change the same.
Don't Miss Out the Following Nerf Guns for Exciting Play Wars: