Nerf Zombie Strike ZED Squad Clear Shot Blaster is made with the holding capacity for younger children to play with and is also strong and powerful enough to wage battles with the other Nerf Blasters!
Specifications
The magnificent Clear Shot Blaster
4 dart capacity of the blaster
Target has a great range to shoot blasters for.
Construction and Design
This Nerf Zombie Blaster is built as a spring fire dart shooter and characterizes of a total of four dart holders, first three in darter's muzzle and the other one in the handle of the blaster. There is also a tactical rail on the top of the shooter and an iron sight in the face to assist in directing the player. Wholly the construction is quite sturdy for children to play with and it is more of a light firing blaster to play with and hence perfect for small children.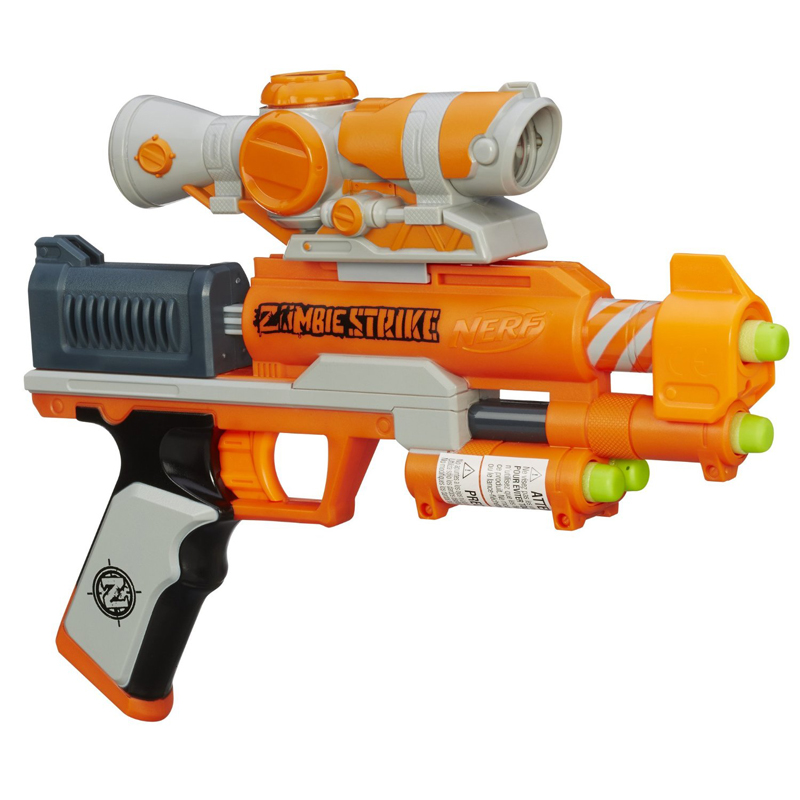 Pros and Performance Accuracy
The first pro about this Nerf Zombie Strike ZED Squad Clear Shot Blaster is that it is safe for kids.
Dart capacity is also quite good since it holds four darts at a time which are put in two different places.
The clear shot blaster is a new feature added by Nerf which makes this blaster a hit amongst Nerf fans.
The range for the shooting darts is pretty nice as well adding up to its overall performance.
Tips for Safe Handling
Also, while reloading put the darts into the muzzle of the gun and then there is a slide on the back which you have to trigger to prime the blaster. As the gun shoots one dart at a time, you have to keep reloading it continuously.
Can it meet your expectations?
This Nerf Blaster is a fun shooter for children and totally fulfills the expectations of all Nerf fans. Not only kids, but even adults can play with it without seriously harming anyone so that is another thumbs-up for this blaster.
Also Checkout the Reviews of Other Nerf Guns: