Thinking of some great gift for your child? Or do wish to buy some equipment which will make this Christmas of yours fun to celebrate? Get the new Nerf N-Strike Elite HyperFire Blaster a modern as well as cutting edge dart gun and indulge into a game of family war.
This modern equipment can shoot as many as 5 darts in a single shoot thereby giving opponents a hard time to beat you. Get that diehard fan within you a chance to unleash its wrath as you turn into a ruthless warrior with the most advanced weapons at your disposal.
Specifications
Designed creatively as well as keeping minute details in mind, this Nerf gun has some key features which include:
A fully automatic design capable of shooting 5 darts per second.
Comes in a durable body which makes it easier for the younger kids to hold this gun along with comfortably operating the same.
Can shoot up to a distance of 90 feet thereby allowing you greater coverage area with precision.
25 Dart Drum
Operates on 4D batteries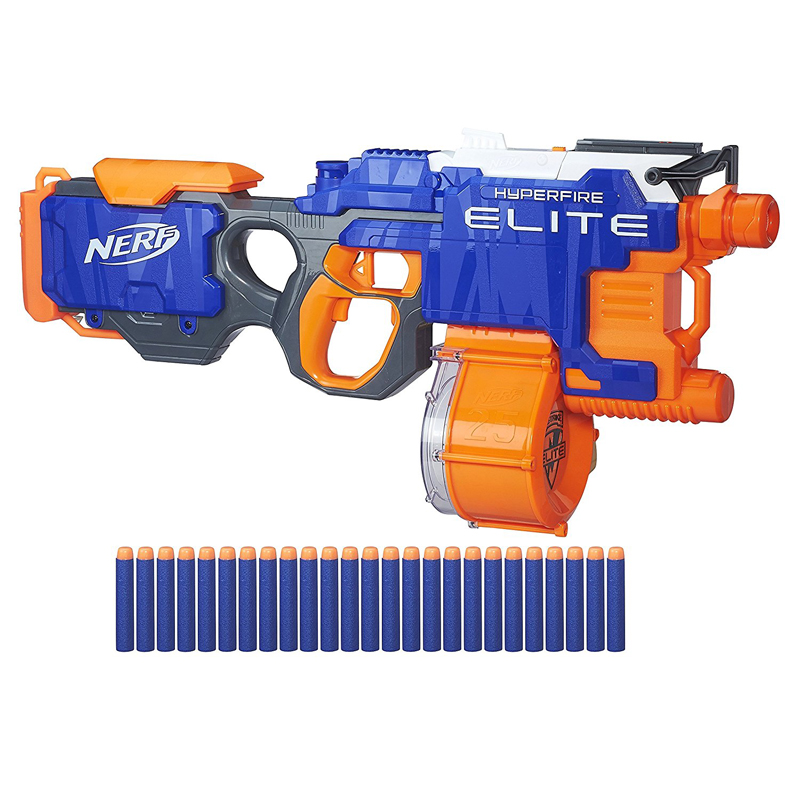 Construction and Design
The first and foremost reason to buy this blaster gun is to the design it accompanies. Although it has more of a sporty look to it, this gun sure does have a sci-fi appeal for children. The large front end of this gun gives it a lethal look, whereas the battery section at the back end does great in balancing the gun to the very best and powering it to the deliver max performance. It has a large dart drum which can comfortably accommodate 25 darts at a time accompanied by a stock which is very comfortable to have grips on.
Talking about the performance of this gun, the dart gun fire can reach up to a distance of 10 meters under manual mode, however under the automatic mode the same limits itself to 5-6 meters. This gun instead of being more about distance is more about speed. It can fire 5 darts per second which definitely is a feature which other models of similar range do not possess.
Pros and Performance Accuracy
Giving a tough competition to its counterparts this gun has features which will definitely amaze you to the very core. Some of it astonishing advantages are mentioned below.
The rate of fire is definitely the USP of this gun. This blast gun can fire up to 5 darts per second and thereby give you a tactical advantage over your opponent in the playing
The stock has a separate thumb, hand port as well as trigger which does make it extremely comfortable to handle and operate.
Accompanied with a 25 dart drum, this blast gun ensures you always have plenty of firepower at your disposal. There is a single pop in pop out switch for a magazine which allows you to change the cartridge with ease.
This blast gun instead of using the pusher stick system has an upgraded conveyor belt technology as found in most machine guns. Therefore, the darts slip continuously into the flywheel and thereby offer a greater fire speed to the users.
Tips for Safe Handling
As this gun follows a conveyor system of loading darts into the flywheel make it a point to ensure that the darts you load are not flat or damaged in any manner. This would cause the functioning of conveyors belt to be affected and thereby you wouldn't be able to have the most out of this gun.
As the gun offers an incredible speed of shooting 5 darts per second, it is but obvious that you would be out of ammo in no time. Hence in case you wish to have a long-lasting as well as untampered fun experience, do buy a few mags in advance so that you can quickly switch between the firing and surprise your enemy with this lethal weapon of yours.
Can it meet your expectations?
If you are a Nerf fan looking for some subtle experience to entertain you once in a while, then Nerf N-Strike Elite HyperFire Blaster is sure to surpass all your expectations. It definitely is one of the fastest dart guns you can ever find accompanied by conveyor belt technology which ensures a quick load and shoots experience.
You can also utilize this weapon in close quarters and along with this weapon you can rest assured of having sufficient leverage over your opponent as you stun them with the deadly speed.
Once purchased this gun doesn't require any additional investment apart from the cost and with its durable design is expected to last for at least a year or two. You might need to put in some money in buying the extra mags if you want hours of uninterrupted fun. Apart from that this gun is a definite recommendation for anyone looking for a quality Nerf gun.
You Can Also Try These Amazing Nerf Guns As Well: