It is time for the biggest Nerf battle. You have to win it to become invincible! It is your time to show everyone in the battle that you are the strongest and you can win this battle with the new Nerf N-Strike Elite Rough Cut 2X4 Blaster.
Get this new N-Strike Elite and become unassailable. This new blaster is strong and powerful. The performance accuracy of this model is beyond your imagination. It works smoothly and is just next to perfection. Below is some more information that will make you want to own this N-Strike Elite Blaster right now.
Specifications
This blaster double barrelled, which holds 8 darts at once and fires 2 darts at once.
The blaster only weighs 1.2 pounds.
By using the pump action, you can fire the darts steadily. The pump action is next to the trigger so it easily accessible and you can work it pretty easily.
The Tactical Rail on the N-Strike Elite can let you attach all kinds of Nerf accessories like scopes, shields, flip-up sights, grips, tactical ammunition storages and other accessories.
You can fire the darts from a maximum distance of 75 feet.
N-Strike Elite Blaster comes with 8 darts and instruction manual.
The darts are not only compatible with this blaster but also with another Nerf blaster.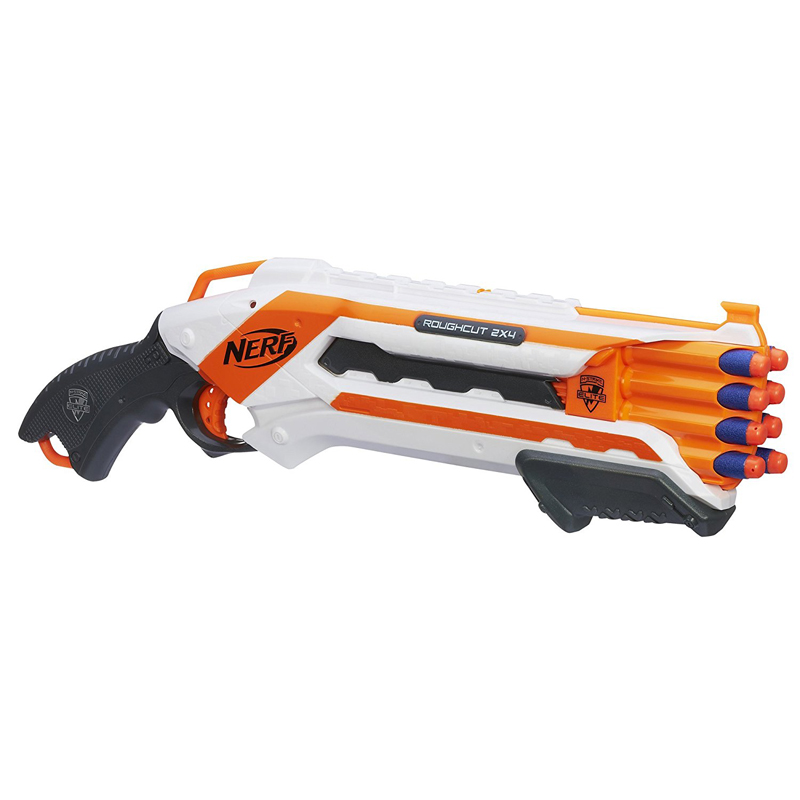 Construction and Design
The construction of the N-Strike Elite Blaster may look simple but it is actually very complex.
The little details that are out there are very helpful. The trigger works in two different ways itself. The dart chamber has 3 teeth or AR prongs that detect that if the chamber holds a dart or not.
The Blaster also has sling holders. You can always be battle ready with the sling holder and not lose grip on your blaster.
The pump action helps in steady firing but also gives a very realistic feel. The whole blaster is designed to perfection. This blaster is strong and looks really cool.
Performance
N-Strike Elite Blaster works in the most perfect and strong way.
The firing system works in 3 different ways.
1. Pull the trigger halfway and this will fire only a single dart.
2. Pull the trigger all the way and this will lead to the firing of 2 darts together.
3. Use the slam fire pump after pulling the trigger all the way one and fire all the six darts in a succession of two in mere 5 seconds.
In the Nerf battle, this blaster is going to help you at every step and kill everyone who will come in your way as it doesn't ever jam.
Use a sling over and get a better grip over it which will eventually help you in using the blaster better.
Important
Keep the darts out of the chamber when not in use as keeping the darts inside when not firing can lead to weakening of AR prongs and later causing problems.
Do not use any other thing to fire other than the darts.
Make sure you read the instruction manual perfectly well before use.
Compare the prices and offers on the websites and stores before buying the product. If you are not happy with the product, return it.
Can it meet your expectations?
The N-Strike Elite Blaster is everything that you would require in a blaster. You can totally rely on it in a Nerf battle.
The 3 mechanisms that it offers is very helpful and just superb. You can very fast and easily learn to use it properly with the given instructions.
This blaster may not seem too strong as it very light in weight but it actually works very strong. The whole model is really sleek and it works super smoothly.
Kids above 8 years are recommended to use it. This blaster it too good that even adults buy it.
You should buy it now or you may just not win your next Nerf battle. It is priced reasonably and lies in the middle-cost bracket as compared to other Nerf's blasters.
Also Checkout the Reviews of Other Nerf Guns for Exciting Play Wars: