Worried about your children playing with blasters and what if they hurt themselves? Nerf N-Strike Elite Triad EX-3 Blaster is secure and a fun blasting guns for kids as well as adults as they make sure you have the utmost play with safety by your side!
Nerf N-Strike Elite Triad EX-3 Blaster is a superior quality weapon for children ensuring their safety with its secure design and is devised with amazing features to let your kids enjoy the best out of it. Also, it is an interesting one to play with and its wonderful features can even lure adults to indulge themselves in fun shooting with their kids!
Specifications
Nerf N-Strike Elite Triad EX-3 Blaster is tiny but is powerful as it can aim up to 90 feet plus the small size can also let you hide it and then shoot with surprise!
Powerful in shooting, superior quality and fine durability.
Cocking switch makes your shot quicker.
For children more than the age of 8 years.
Three darts available in the package.
Construction and Design
Nerf N-Strike Elite Triad EX-3 Blaster is devised in a pocket size way but the power is maximum in it and the blaster itself can hold three darts at a time. Also, the blaster is designed in a way that it knows the barrel which is filled and shoots from the same. There is no tactical rail to this gun but it is manufactured with a superior air restrictor structure which makes the blaster shoot darts in a clockwise intelligent way.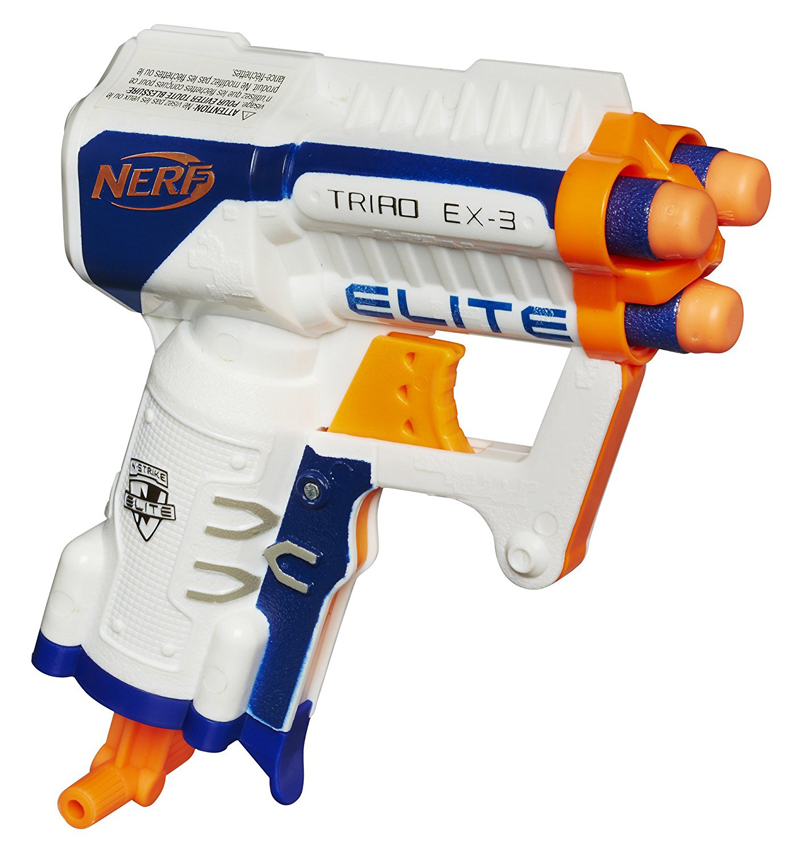 Pros and Performance Accuracy
Talking about the performance of this gun blaster, it can fire more than 90 feet and with its mega-power is quite effective in fun shooting.
The safety is another thumbs-up to it since when you give these guns to children it is the utmost concern that it doesn't hurt them in any way and this Nerf N-Strike Elite Triad EX-3 Blaster ensures their wellbeing by its safe material and the blaster which is quite simple to play with.
Its tiny size is another add-on as you can easily hide it in your hands and then fire at any sudden moment which is where the real fun lies in surprise!
The cocking handle is also a great feature as it prepares your shot and assists in firing.
Tips for Safe Handling
To fire, first insert the darts into the blaster and drag the bottom switch down which will ready the blaster for shooting and then you can aim to fire.
Always be cautious when giving this blaster to the children and makes sure to read the entire process before handing the guns to them.
Since this blaster shoots one dart at a time, you may have to lock and insert darts again after firing up all the three ones.
Can it meet your expectations?
With the mega power quality of this blaster, Nerf N-Strike Elite Triad EX-3 Blaster can actually impress you with its might which always overpowers its tiny size. The safety, power and durability are its top pros which actually come as thumbs-up for our expectations, hence this blaster can totally be effective in a fine way.
Moreover, these Nerf guns can not only tempt kids but adults too with their superior quality and mega power which is another positive point to astonish any customer with!
So, with the given features, the price is pretty good for this powerful blaster for kids as well as adults and it's a sure thing that you will not regret your choice after buying this fun Nerf Blaster!
You Can Also Try These Amazing Nerf Guns As Well: