Have always admired Nerf guns? The Nerf N-Strike Gun is a fun gun that is a hit amongst children. It is a fantabulous toy that can help children improve their shooting skills. The Strongarm blaster is easy to handle, hazard free and manufactured especially for children. But, if you have a hidden child in you, the Nerf N-Strike Elite Strongarm Blaster will not disappoint you either. It also makes for wonderful gifts for children as they seem to highly appreciate the playfulness of the multifaceted gun.
It is so engaging that kids will not bother you for another toy, so it ends up saving your money and time. However, before purchasing this blaster, going through this product review is recommended.
Specifications
The gun is equipped with new age direct plunger that makes shooting easier.
The Nerf can shoot darts up to a distance of 90ft.
Bright neon colors increase its appeal to children.
Compatible with darts of any kind.
Has up to 6 elite darts.
Darts compatible with both Nerf N-Strike Elite Strongarm Blaster gun and Elite blasters.
The gun fires rapidly by pumping the slam fire slide.
Easy grip to enable better aim.
It is lightweight and easy to handle.
The darts are easy to load.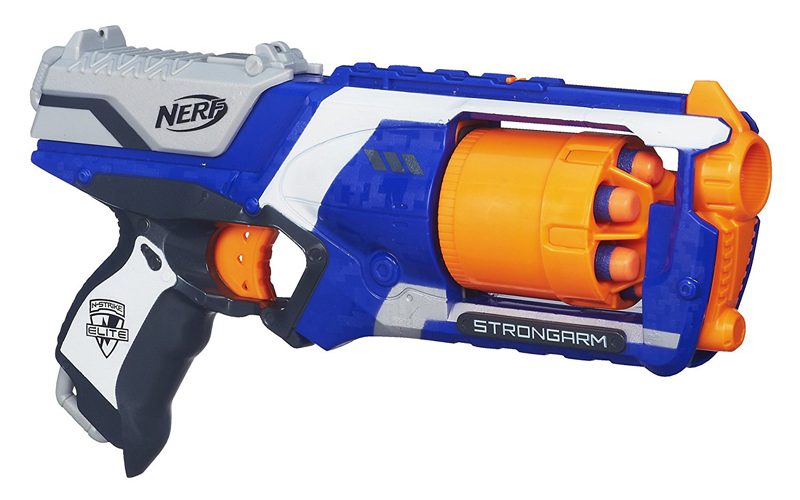 Construction and Design
The Nerf N-Strike Elite Strongarm Blaster is made of durable plastic which weighs moderate and is damage free even with rough handling. The chic neon look of the Nerf N-Strike Elite Strongarm Blaster gun coupled with a long shooting range, anywhere within a 75ft to 90 ft range, makes it desirable and sellable. The darts are compatible and easily loads into the gun, making the user experience faster and smoother. Nerf gun users can fire all six of the darts at a stretch during target practices.
Pros and Performance Accuracy
The high-quality, sturdy plastic, gives it a funky look and feel, making it durable even in the delicate hands of children. The plastic is of top-notch quality to avoid damages from tough handling.
Built for casual recreation, this nerf gun is designed especially for target shooting and target practice aimed at the children and can be used for training or playing without fearing any major injury.
The package that arrives is fully loaded and 'ready to use', hence, you can take it out for a test run or in the pretend combat zone as soon as it reaches your doorstep.
The gun comes equipped with its own set of darts and buyers do not have to invest on darts separately.
It also comes equipped with a rapid firing by pumping the slam fire slide.
The Nerf gun solves the purpose of target training and also is an engaging play-toy.
The Nerf n strike elite blaster allows rapid firing by pumping the slam fire slide repeatedly while holding down the trigger.
The trigger is flexible and easy to enable to faster launch without jamming the darts.
The gun features a hi-tech direct plunger that is capable of shooting high power projectile darts.
The slam fire slide makes it easier to launch the darts, one after the other with a simple push.
The Nerf N-Strike Elite Strongarm Blaster is designed to power smooth and fast loading by flipping open the rotating six dart barrel at the front of the actual blaster.
The darts do not hurt, so it absolutely safe for children.
The Nerf blaster does not require any batteries for operation.
Tips for Safe Handling
The Nerf Gun is not recommended for children below eight years of age as it may prove to be fatal.
Though the darts are harmless, it is always advisable to have parental supervision while children are playing with a loaded blaster or engaging in target practice.
If the darts get jammed, it is better to manually clear the clutter instead of trying to push it out of the blaster by continuously pulling the trigger.
Can It Meet Your Expectations?
If you want to live your childhood combat dream or desire one for your children or even your neighbor's children wait no more and order the trademark Hasbro Nerf N-Strike Elite Strongarm Blaster, which is durable and a value for money buy.  All you have to do is make sure that your target is not more than 90 feet away for yielding the desired performance as is expected of the Nerf blaster. It also shoots at a commendable velocity.
Don't Miss Out the Following Nerf Guns for Exciting Play Wars: