This amazing blaster by Nerf is the idyllic shooting guns to gift your kids with and is created with superior design to keep them busy playing for hours while you don't have to worry about their safety since Nerf has taken care of that too!
Nerf Zombie Strike Crosscut Blaster is not just a toy gun but a powerful combat blaster to play with and is devised with top-class technology to make your game even more powerful than ever. So, whenever you feel like engaging your kids in a great combat play this blaster is the way to go!
Specifications
It has both shooting darts and a saw blade to keep the zombies away.
Can shoot one dart at a time.
Rotating saw blade is another magnificent feature which this Nerf Zombie Strike Crosscut Blaster has.
Four zombie darts availed with the pack.
Construction and Design
This blaster is designed in a way that it is smooth to prime and the handle too has simple tools fit in it that makes it easy to hold for people of all ages. It has a two-darts holder and a blade to pull.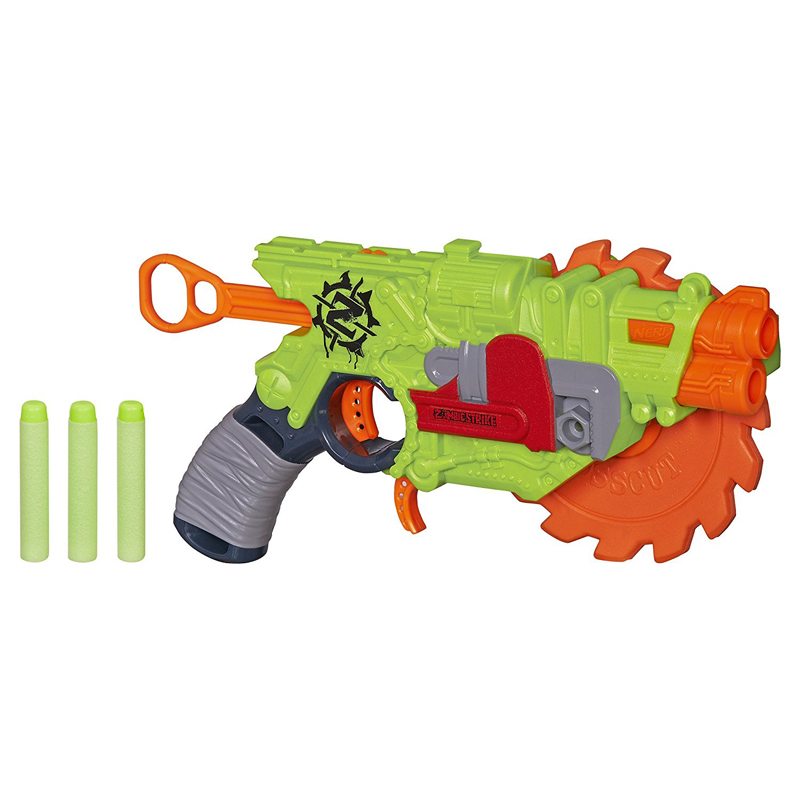 Pros and Performance Accuracy
The two-in-one action that this Nerf Zombie Strike Crosscut Blaster promises is true to its say.
The saw blade is an amazing specified design which is not only innovative but makes the blaster even more powerful to play with.
The trigger for both the blaster and the saw are comfy to hold and thus qualifying it for kids.
The whole blasting and spinning play is a great engaging part of this blaster.
Tips for Safe Handling
The trigger for pulling out saw can require more energy and in case your kid is younger at age make sure that he/she doesn't harm themselves with it.
For shooting, put darts in the two barrels availed and as the blaster can shoot only one dart at first, you can further take out the saw while you fill out the blaster again.
Can it meet your expectations?
Given that the innovative technology and the power that this Nerf gun possess, we can say that it meets what one expects from a blaster. The whole power packed action with shooting and spinning comes really handy at the simple price it is available for and that's what makes it a favorite of kids when it comes to Nerf Blasters. So, this Nerf Zombie Strike Crosscut Blaster is totally an amazing game-changer and will keep you engaged with your children for unnumbered hours while playing zombie combat, surely a great buy!
So, Nerf Zombie Strike Crosscut Blaster is a splendid one to get for your kids and you may be giving them some really amazing hours of combat play plus the blaster is made innovative enough for adults to play with creating a way to bond with your little boys at a simple price plus getting them an amazing Nerf Strike Blaster!
Don't Miss Out the Following Nerf Guns for Exciting Play Wars: