RUNNN! It's a Zombie attack!!
Run? Why should I run? I've got my awesome Nerf Zombie Strike SlingFire Blaster! I will attack the zombies!
This exciting action-packed toy weapon can reach distances up to 73 feet extinguishing all the zombies you can see and keeping you safe and sound. This gun is perfect for both young and mature Nerfers who are looking for pure self-entertainment. It is also the first Nerf gun with lever design as well as the first equipped with a clip system.
Zombie Whopping Features
Perfect Colour and size: 5 different shades of plastic and paint colours have been used to create the Nerf Slingfire's unique look including lime green, orange, black, brown and white. Extremely light to hold to so you don't have to worry about getting tired while fighting the zombies.
Lever-Action Blasting: The Nerf Zombie Strike SlingFire Blaster can fire up to 6 darts at a time with stupendous stability and lever blasting action. Loading is very simple on this gun. All you need to do is swing the lever down then up. Another way to do it is hold the lever and flick the blaster forward and back. or the lever action, you will need to pull it farther away from yourself and put in a little more force than usual when crocking. When in prone position, crocking is not all that easy. The gun is not fragile at all and can withstand any massive zombie attack.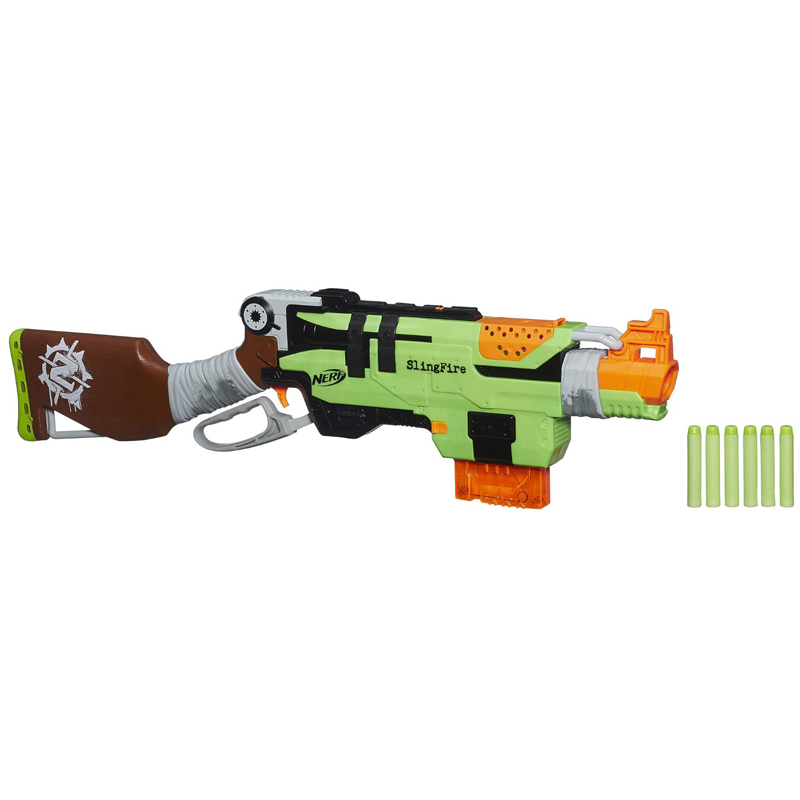 Reload on the Run: Running is an essential part of any battle. The Zombie Strike Sling Fire blaster features lever-action blasting so that you can quickly reload it when you are on your toes. The lever needs to be swung down to reload.
6-Dart Clip: Nerf Zombie Strike Sling Fire Blaster reads, distance accuracy and speed. When you need these three in concurrence, no other blaster will be the right one for you. Nerf Zombie Strike Sling Fire Blaster includes a 6-dart clip and six Zombie Strike darts. Load all the darts into your gun and rush out to save yourself from the zombies.
Quick Fixes
One small issue is that the lever has a tendency to bend a litt
le to the right side. This happens especially when the blaster is thrown in the downward position. Do not worry about it though, there is a very easy and quick solution to fix this. You will have to make sure the lever is all the way down pointing forward while getting the magazine in and out. Practice this a bit before you go out for an actual zombie war. You don't have to lose the war, do you?
Cool Tricks to learn
I shall let you in on a secret. When I faced the zombies with my Blaster gun, these cool shots helped me win. Try it out!
The first one is one I named the terminator trick shot. It is done by putting your middle finger in the trigger while holding the front of your gun. Then, spin it around your finger with force and fire away to a miraculous win.
The other trick shot is very simple. All you need to do is just crock and shoot. With one of them, just sling it forward then back swing to prime.
Practice makes one perfect. With enough time, you could be holding two blasters in your hand and heading out to battle.
Highlights
Lever-action blasting which provides excellent stability
6-dart clip included
6 Zombie Strike darts included
Main Technical Features
Product Dimensions: 2.1 x 26.5 x 10 inches
Item Weight: 2.1 pounds
Maximum Distance of a shot: 73 feet
Average distance of a shot: 55 feet
Manufacturer recommended age: 8 years and up
Tips for Easy Handling
Wear gloves while using the blaster as it will scrape your fingers otherwise. Also make sure that you are at least 8 years old. Otherwise the blaster may be a little too big for your tiny little cute hands.
Will It Meet Your Expectations?
Yes! Nerf Zombie Strike SlingFire Blaster is not only cool to look at but its attractive features combined with its long-lasting durability are enough to satisfy everyone. It is perhaps one of the best blasters in this price range.
You Can Also Try These Amazing Nerf Guns As Well: