Ever felt like going back to childhood? Need a cool way to hang out with your friends? Want to develop a bond with your child? Have an urge to get your child away from those eye eating screens? Search no more! Then this Nerf Modulus Recon MK all Blaster is the thing you've been waiting for!
So, great ready whether if it's a stealth operation or a close quarter battle with your friends to experience the real life first person shooter game. The Recon MkII is a blaster with its own aesthetic. It loads smoothly and you need to reload every time before shooting. Hence, during the time of showdown, you can pull yourself up to defend your mission and ensure a win.
Specifications
Unique design to make you stand out
Comes with a dart blaster
Contains 6 darts
Custom to the core
Long range capability (90 feet)
No battery hassle and in a short moment you can send up to 6 darts which is also pretty good.
The entire packaging comes with 6 darts, 6 dart clips, stock and barrel extensions.
You can also buy extended mags of 18 and you can attach that to it.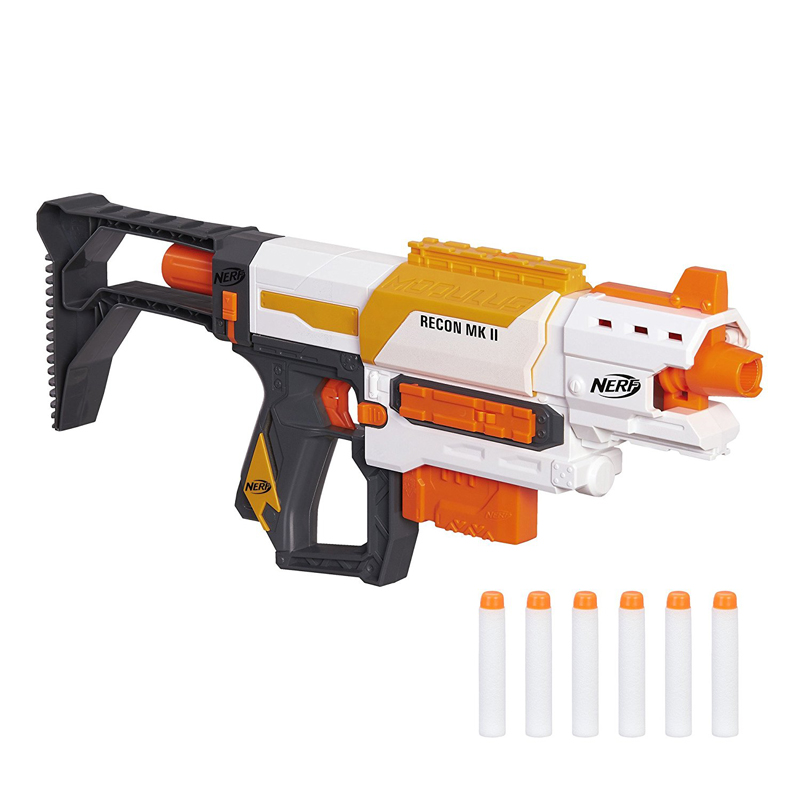 Construction and Design
The Nerf Modulus Recon MK ll Blaster is light in weight and is made from materials that are not only non-allergic but are also great to provide a better grip so that you never miss a target! Its unique design lets you customize it to your heart's content. The weighing is perfectly balanced since the batteries are placed at the center and that enables you to access your blaster smoothly with just a single hand. The handle is quite smooth and well curved as a result the grip is good. The plastic used in this blaster in of high quality and is durable. Its overall weight is but 1.6 pounds with the box!! The weight is low so that carrying doesn't be an issue. The large 18 clips mags don't fit fully but the clips of 6 and 12 are fully compatible out of the box.
Pros and Performance accuracy
The gun comes with a blaster, stock barrel, barrel extension, 6 darts and a dart magazine.
You can customize the blaster for each mission. Customize it in 4 different ways to suit your play area and the mood you're in!
4 is not good enough for your child's creative potential? You can modify it up to a 1000 ways by putting on the desired add-ons.
With a range of 90 feet, you could have no problem with its accuracy whether it's a short range battle or a long range. Just slip on the barrel extension and you're good to go!
You also get a barrel extension and 6 dart clips along with 6 darts.
You get a pretty decent range which is 27 meters.
Tips for safe handling
Now before you start your mission and get obsessed with it, here are a few points that you must keep in mind:
Do not aim at anyone's eyes as it can hurt badly and don't modify the darts use only the darts designed for this blaster.
Don't let children under 3 years play with it as there are small parts and they can choke without knowing.
Nerf has launched it keeping in mind every kind of buyer including all age groups and sexes, so a guy might feel the trigger portion a bit small, just remember girls do have smaller hands.
Don't feel hopeless if the automated dart firing chokes slowing you down, gather some patience and let your weapon cool down a bit so that you can hit fresh.
Maintain a moderate distance before shooting because the power is relatively high you surely don't want to miss out the target.
Can it meet your expectations?
The makers understood that your expectations evolve with time. You can evolve your gun with your expectations easy to fit add-ons are available in plenty to suit your needs. You can easily see the firing rate is precise and substantial making it worthy of your money. Compared to other blasters available in the market it is cheaper and easy to operate. In fact, the loading and reloading of the dart clips are very smooth saving your seconds pretty well. The motor of this flywheel blaster has a good potential and improves with more use. You will love the compact size and the rapid fire capability and the noise motor makes before shooting.
Get geared up for the next adventurous mission with Nerf Modulus Recon MKII Blaster.
Also Checkout the Reviews of Other Nerf Guns: