Thrill, action, entertainment, fun-paintball brings all this to you in a single game. Holding the rifle dodging your opponents, defending your tower, be all prepared to feel like a warrior even if you in your normal life aren't one.
The Tippmann X7 Phenom Paintball Marker Gun is a lethal weapon which will stun your opponents as you battle them in the war ground and its plentitude of features will support you in every manner possible.
Specifications
This black beast will cross all your expectations with its world-class performance which will make this your favorite in no time. Some of the key features you will find are:
A fully aluminum body designed as per the highest standards.
Single quick release button for changing magazines.
Added rails for customization
Cyclone feed technology which offers a firing capacity of 20bps
The fully metal trigger which allows for greater shooting experience.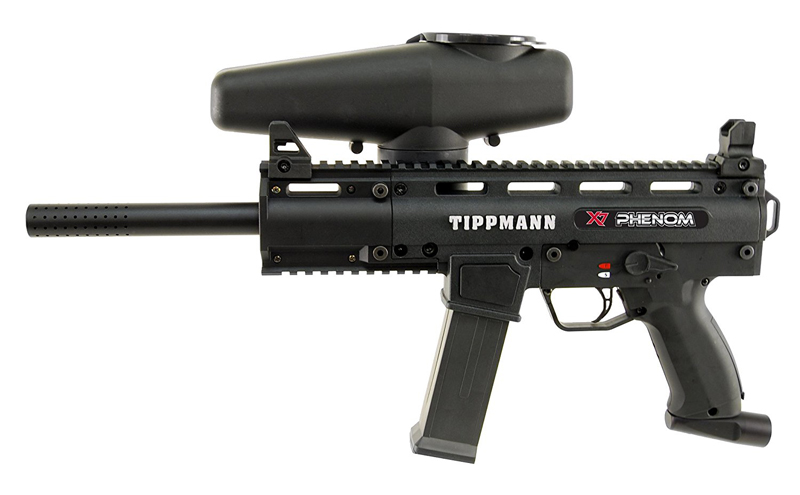 Construction and Design
The best part about this gun's design is the neatness with which it has been assembled, and there isn't any extra parts or molds which pose no use or have just been put to increase fashion. The complete aluminum body looks lethal in black, and the quick release barrel is an additional feature which you will love. There has been the addition of Spool valve which does tend to absorb the pressure and thereby offering nearly no recoil to the user's shoulder. This will increase your accuracy as well as offer you a fair advantage. There is the hopper which can store around 200 balls and can also shoot comfortably over a range of 170 feet.
Pros and Performance Accuracy
A gun of such class is made one in a year or so, and Tippmann X7 Phenom Paintball Marker Gun sure does have a lot to offer in terms of its pros. Some of the advantages you will find with this gun are:
A hopper with a capacity of 200 balls, each of which goes through cyclone feed system giving you sufficient firepower to neutralize your opponent and hence capture his tower.
A Spoon Valve layout is the latest addition to this gun, which has minimized recoil. Now there would be no excessive jerk as you shoot and hence you can be sure of hitting your target with precision.
It does run on batteries and or gas, so during a game, you shouldn't be worried about the battery dying or gas running out as you will always have an alternate power source available.
The magazine has tool slots available within it, so you can put in extra balls and or any other tool which you feel you ought to carry to the war zone.
Shooting capacity of 20 bps ensures you have the required strength to stun your opponent at any time and hence own his tower in no time.
The kit comes with a cleaning and maintenance accessory which allows you to clean up this gun yourself.
Tips for Safe Handling
People who have been using this gun have complained about the gun having gas leaks and or frequent breakdown. So please check once you receive the product about any such issue. If encountered call the customer service executive and they will be more than happy to help in such situations.
Always use good quality paintballs as poor ones may split in before shooting thereby choking the gun and not allowing it to work comfortably.
Do not shoot at anyone who is standing too close to you, or you might end up hurting them seriously.
Can it meet your expectations?
If you are looking for some serious game weapon which will make you truly the master of paintball, then this gun is a definite buy for you. The aluminum design combined with the sleek and clean outlook of this gun, make it a definite buy. With a hopper capacity of 200 balls and shooting speed of 20bps, you can very well in no time defeat your opponent with ease. So if you are looking for a gun with heavy design as well as offering your durability without compromising on performance, then this gun is a definite buy for you and your team-mates. This gun is a good buy for the mentioned amount provided it offers 5 shooting levels and or the aluminum body sure feels like durable. Coming with a 2 years company warranty as well as maintenance kit, there is hardly anything more you can expect out of this marker gun.
Checkout The Following Paintball Guns As Well: