Double Eagle guns are the best when you are looking for rifles that are worth the money you shell out. Now, they're back with a bang (pun intended) with the M85P, an entry-level, fully automatic air rifle. It's a full-sized replica of the actual bullet-shooting M85.
Technical Features
Product Dimensions: 32 x 4 x 12 inches; 6 pounds
Shipping Weight: 5.4 pounds
Batteries1 Nonstandard Battery batteries required.
Velocity (FPS): 260
Range: 80-130 Ft
Length: 32 "
Magazine Capacity: 50 Rounds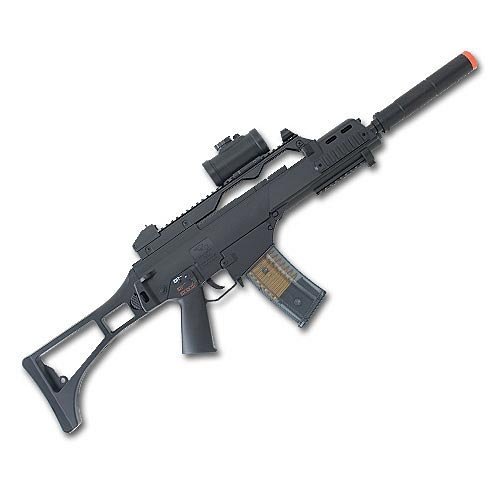 Pros
The M85P has a very impressive appearance. Since it's a full-scale replica, you definitely get the feel of a real gun. With zero metal parts, this gun is made completely out of durable ABS plastic. Since it is of this price range, metal parts cannot be expected.
All guns in this range are completely made of plastic. Due to this reason, it is very light to carry which is advantageous. It can easily be string on your shoulder and will not be too much of a bother when you are out shooting.
A multitude of accessories are included with the rifle. A magazine that holds up to 50 rounds, the battery and charger, sling, mock silencer, a vertical grip, an electric red-dot scope, an attachable laser, a tactical Blue LED Flashlight, barrel cleaning and clearing Rod, Ni-Cd Battery pack with charger, 3 Point Gun sling, starter pack of BB's, safety goggles and a screwdriver.
There are rails for mounting the accessories on both the top and bottom of the gun.
The gun itself is very powerful and pretty accurate. A heavier pellet will give an excellent accuracy. Anything lighter than a .20g is quite pointless as it will not be very accurate. With the heavier BB 80 yards distant targets can be hit with accuracy. The M85P is electric and produces a muzzle velocity of around 250 FPS. With the heavier BB, an FPS of around 200 will be possible.
Tips for Easy Handling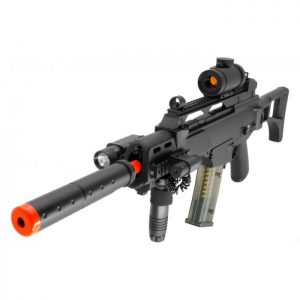 My suggestion would be use the silencer, agreed that it does make the gun bulkier, but it improves accuracy to a great extent.
The foregrip and carrying strap also simplifies things.
The only problem with the M85P is that it has a plastic gearbox. This means BBs need to be 100% polished otherwise they will jam. It is a low-powered electric rifle which makes it not so good for anyone who's got a bit of experience. Beginners will love this though.
To conclude, Double Eagle M85P AEG Electric Airsoft Gun Rifle is the best gun to get someone started off into the world of automatic airguns.
Can It Meet Your Expectations?
Double Eagle M85P AEG Electric Airsoft Gun Rifle is perfect for beginners. It's easy handling, durability and long battery life will help people who have just started foraying in the world of Airsoft Rifles.
Also Checkout the Reviews of Other Airsoft Guns: