The airsoft gun of model 16105 FPS-328 has got a shiny feel to it with a weight to match the perfect realistic look. The closeness that it has got to an actual gun makes it highly appealing amongst airsoft enthusiasts. It is also widely used in hunting and keeping animals off specific areas. Let us have a look at the features which make it so appealing amongst the customers.
Specifications
It has got 6mm metal slide as the caliber.
The mechanism behind it is spring powered which accounts for its high accuracy.
If used with .12 gram BBs, it can give a maximum shot velocity of 328 FPS.
Manual cocking has to be done before each shot.
A functional safety is present as a precautionary measure.
In order to increase the long range shooting accuracy a BAX hop system has been included in the assembly.
A 12 round magazine is provided in it for continuous firing.
The prime attraction is that it weighs 1.4 pounds and gives the feel of an actual gun due to its weight being on the heavier side as compared to the other airsoft guns in the market.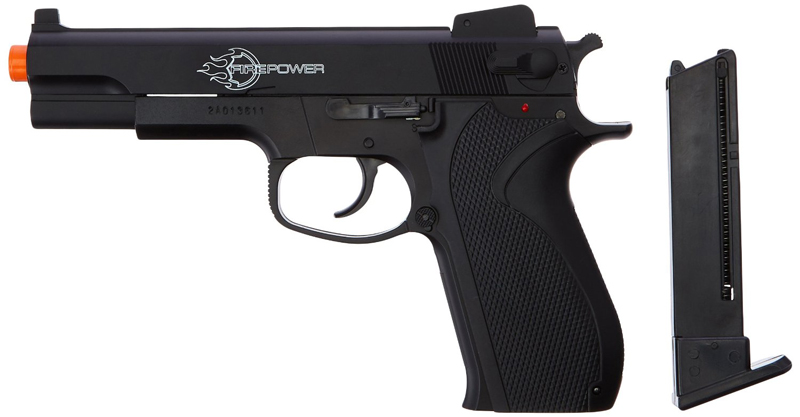 Construction and Design
The 16105 FPS-328 has got the body made out of ABS plastic and metal with the slider being made of metal. This is what contributes to its ergonomic design and helps it get the weight that is its most attractive feature. The barrel is of smooth bore type with the rear side fixed while the front side is bladed. The shiny black color helps get the realistic look. In all, the high end finish makes it a perfect toy to own and have fun with. Moreover, it has got a fluorescent orange colored tip to distinguish it from normal guns which should not be removed at any cost.
Pros and performance accuracy
The best part is that it does not need CO2 cartridges and shoots straight at the target while not having to worry about battery or gas as a source of power.
This can be used even by younger kids wanting to learn to practice shooting due to its safety features, under proper guidance.
It has been found to even pierce cardboard targets and certain types of cans with a great level of accuracy.
The sturdiness associated with it is best when it is used with .20 gram BBs. This is in comparison to .12 gram BBs. The weight of the gun is better suited for the heavier BBs.
Since it is made up of the least number of components as compared to the other airsoft guns, it is less prone to damage and can give a long life.
Tips for Better Handling
While using .20 gram BBs, it is found that a speed of 248-255 FPS is achieved without any reduction in power.
The accuracy is quite high with 2 inch groupings at 50 feet.
The grip cover can feel a little loose and can take some practicing to get used to.
Lube it often with silicon oil to prevent it from wear and tear.
Can it meet your expectations?
The 16105 is perfect to satisfy the needs of anyone looking forward to skirmish around with a group of friends or practice on various kinds of targets at different distances. The weight, along with the BAX system contribute to a worthy accuracy, make it the right choice in the market. So just go forward and order it without any second thoughts if you want to make sure your money is well spent and that you enjoy using it thoroughly without any kind of mishaps.
Don't Miss Out the Following Airsoft Guns As Well: