"Forced to work, but born to paintball"
Paintball, a perfect sport for a weekend loner eying to make it fun and for others as well seeking out higher levels of sport battling. It is an opportunity server to all. Recommendations and invitations from players to friends, friends to friends is what that has kept paintball ever growing. The thrill of the sport lets you forget all about your bad grade, your ruined plans, your break-ups or even your losing out on your job. Without experiencing it, you are far away from realizing the true inner beauty of this amazing sport.
Revolutions are a part of life, be it business, sport or any other field. When it comes to paintball, Empire Paintball Mini GS Marker stands out as a legend, offering superior facilities and unrivaled performance than its contemporary counterparts. It validates its presence in the complete range from the beginners to the seasoned paintball players in their choice. Being precision engineered from high quality aluminum, the small size yielding monstrous performances and output is worth owning and meets the absolute demands of competitive teams, players and climate around.
Made from the toughest and most reliable materials and parts, the marker exceeds our expectations and allows us to play with free will, with all its internal components and contact surfaces anodized hard.
Specifications
Model is Empire MINI GS.
1-piece barrel is 12″ aluminum ported.
Caliber is of .68 inches.
Action is Semi auto, PSP and Millennium Ramping, and NXL Full Auto.
Air source is compressed air.
Cycle rate is 20 BPS.
One battery of 9 volts.
Aluminum is the main body material.
Accuracy range is 150+ feet.
Weight is 1.90 lbs.
12″ barrel (.688 bore), spare parts, barrel sleeve, hex keys and one 9-volt battery in installed form are included along with Empire MINI GS.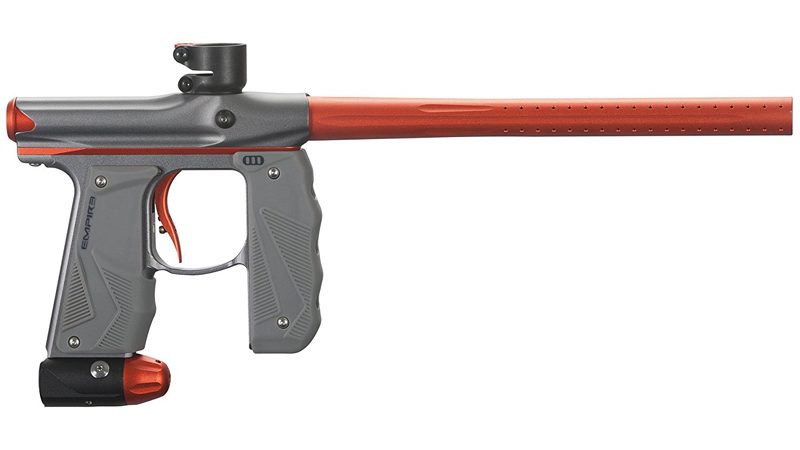 Features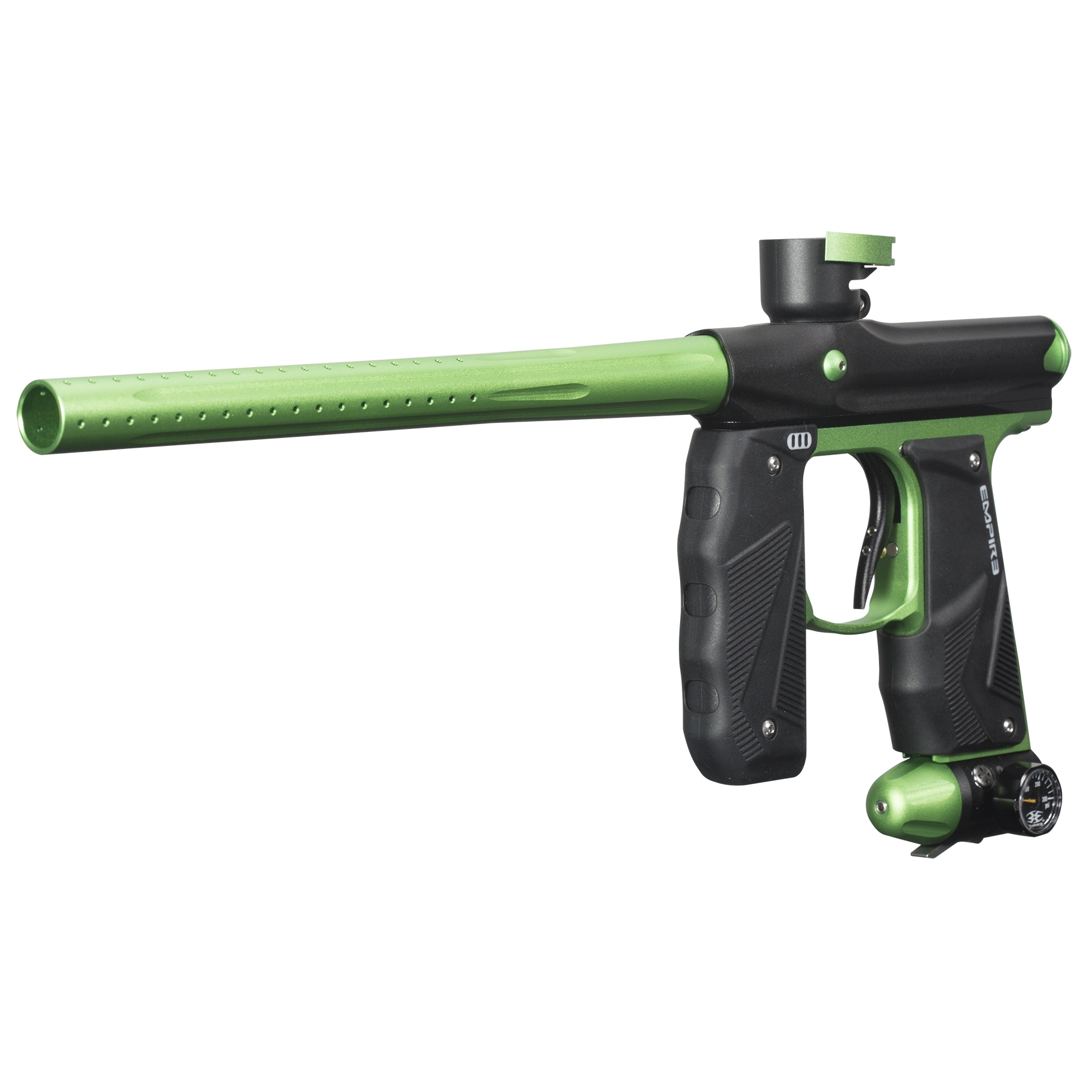 Poppet engine controlled by pressure.
A clamping Feed-neck is stronger for new glass-filled nylon composite feed neck, providing dual advantage of lightness and strength over metal necks.
It also has multiple firing modes and is adjustable in nature.
It also has an adjustable trigger.
Rubber foregrip is also wrapped around entirely enhancing grip control.
Redline OLED board is also acceptable.
Venting on/off lever with ASA regulator.
Allen keys required are only two in number.
A through grip air transfer without any hoses.
Aluminum barrel cocker, micro-honed ported.
Performance
A few minutes of warm up may get your marker from 275 FPS to a straight 293 FPS. It is extremely convenient to handle and easy to alter its velocity with the aid of Allen wrench tool. Quieter and consistent in nature, this marker fires about 11 pods from 45/4500 HPA tank which is approximately 11,000 paintballs in total before emptying out. Irrespective of you being a left or right hander, this marker beats any other in terms of look, price, quietness, consistency and variability altogether.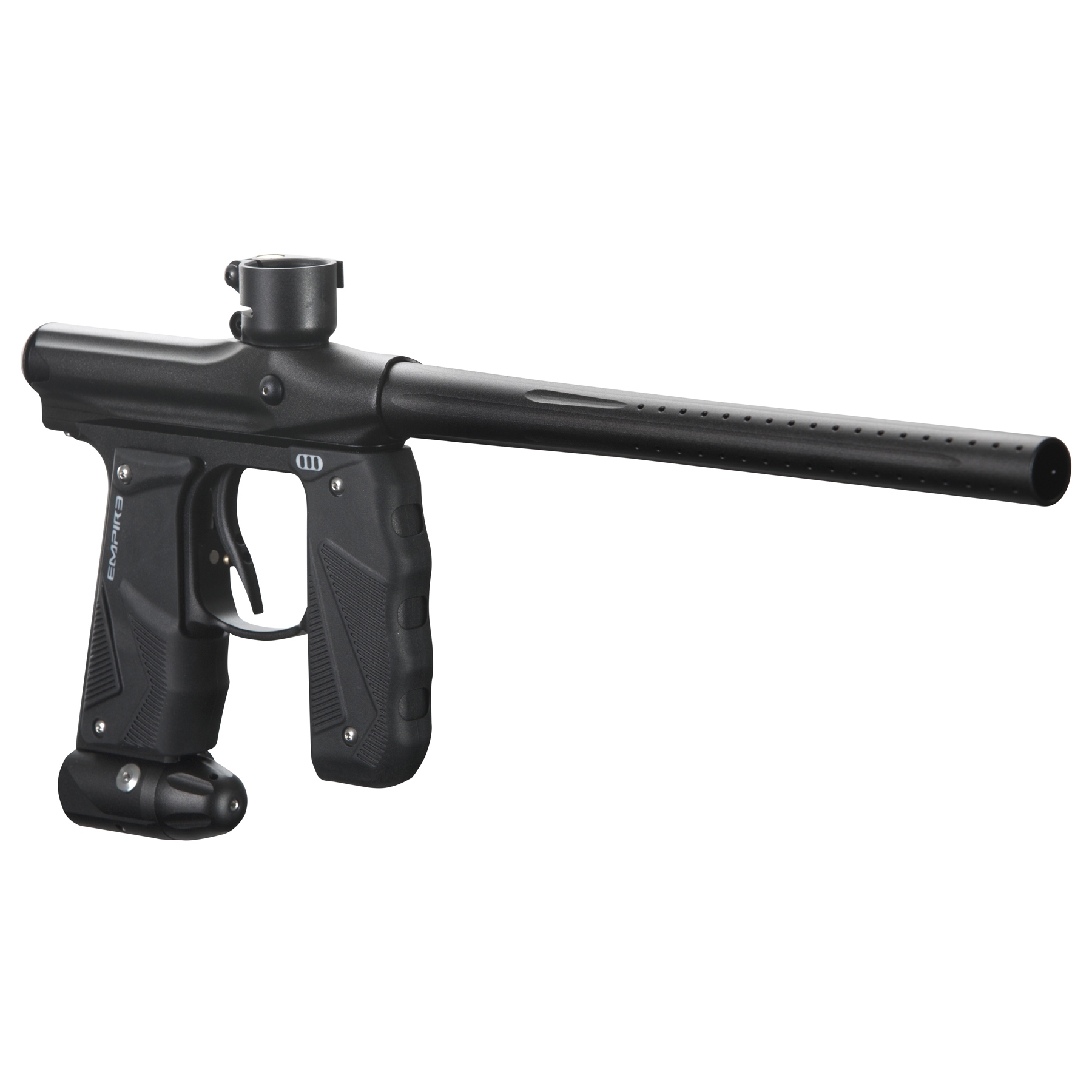 Tips for Easy Handling
Carrying paintball marker without its proper case anywhere other than playing field may be dangerous as distinguishing between the marker and firearm would be difficult for the authorities concerned.
Looking down the paintball marker is not advisable.
Until all set to shoot, the marker must be in 'Safe Mode' and the barrel blocking device under in/on mode.
Use designed ones specifically for the operator and other persons within range.
Read the complete manual provided before operating it.
Do buy it today and feel the pleasure in heart pounding, adrenaline rushing fun of paintball with Empire Paintball Mini GS Marker!
Some More Paintball Guns To Try Out: