Want to buy a new Paintball Gun? This Tippmann 98 Custom Series Paintball Gun is one of the finest paintball shooters in the market due to its sturdiness and amazing durability. Even for the beginners and learners of paintball, this gun is sure to make your learning, even more, fun because you don't have to worry about breaking it or getting a new one!
Tippmann 98 Custom Series comes with upgrades as well which is a great feature added to this series by Tippmann and is really what makes this gun special and a favorite of paintball champions!
Specifications
Semi-automatic marker designed for this paintball gun makes it simple to use and can be upgraded easily.
Another specification of this Tippmann shooter is that the split receiver devising through which you can upgrade and customize the gun in a hassle-free way.
Picatinny rail is also added to the gun for the players to handle it easily and also to carry several other mods.
The receiver design for this paintball gun is made of aluminum.
The inline bolt devising is present in the making of this gun.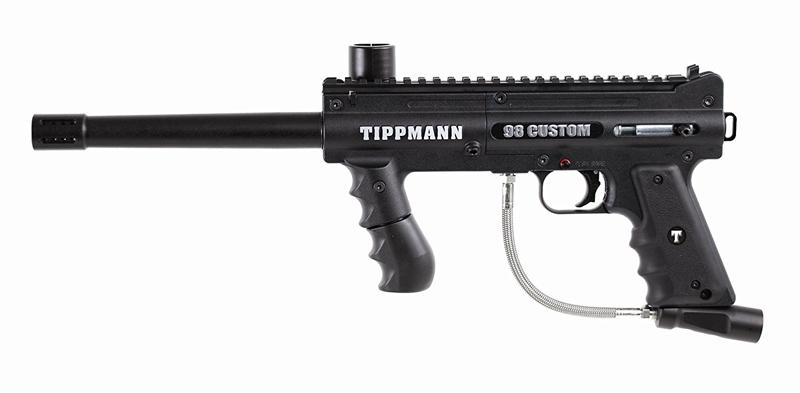 Construction and Design
This Tippmann gun is built of superior quality metal due to which the durability for this gun is quite a long one and you can keep using it for a long time before going for a new one. Plus, the metal is top-class which makes the handling soft and smooth as well. You can also open the marker and take a look at the inside parts of this gun but make sure to keep all the screws with you while opening it. Further, the inline bolt structure is also a thumbs-up and the new features of Picatinny rail and aluminum receiver add to the better performance of this shooter.
Pros and Performance Accuracy
The upgrading technology with which Tippmann 98 comes with is inherently an add-on to its performance as there are tons of new upgrades that you can search on the internet and augment to this gun making the shooting fun and amazing.
Talking about the shot, this gun shoots quite well and accurately. The marker can trigger almost 8 shots for a second the stock barrel is around 8 inches.
The range for the shots is more than 150 feet which are pretty satisfying for paintball enthusiasts.
The semi-auto maker is also a wonderful feature in this gun.
Tips for Safe Handling
Since there are numerous mods and upgrades available for this gun, make sure to add them as per the instructions and be cautious.
Also, the centered elbow is the tool through which you can open to see the inside opening of the marker but keep all the pins and screws together to be sure that you can close the elbow opening as it was.
Can it meet your expectations?
Yes, this Tippmann paintball gun is amazing in itself, be it the performance, price or features, it will actually tempt you for learning paintball. This gun is quite satisfying in all terms and with tons of upgrades that you can add to it, there is seriously no end for customizing it on a large lever. Hence, Tippmann 98 has been a champion for paintball lovers meeting all the expectations that we generally want from paintball shooters.
Also Checkout the Reviews of Other Paintball Guns: