When it comes to buying an air-soft pistol with considerable amount of accuracy along with a standard design, the Stinger P9T Airsoft Pistol kit is a very good choice. The sturdy design of this gun along with the grip on the handle and the magazine release makes the entire shooting experience much easier for any player – whether it be a beginner or an expert.
There are many other similar pistols available in a lower price range, which also provide a standard shooting distance of 30 to 40 feet. But this pistol provides a higher FPS than other pistols, and a better accuracy.
Specifications
6 mm plastic calibre
Up to 275 FPS Velocity
Spring-powered magazine
Length of 8 inches
Weight of 0.84 lbs
Compatible with .12g airsoft BBs
Uses repeater mechanism
A total of 15 shots in one clip
Fixed Front and Rear Sights
Safety Lever on the side
Made with Synthetic Materials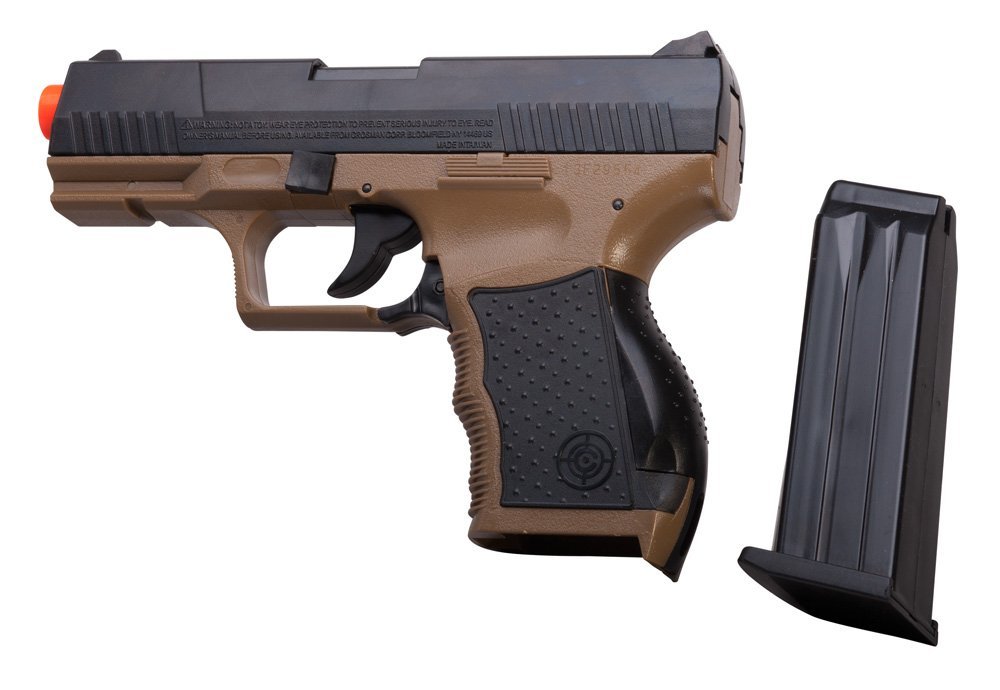 Construction and Design
The feel and look of this airsoft gun is quite similar to a real pistol like Glock 22.40, and uses. 12-gram airsoft pellets as ammunition. The design is quite simple, and several parts of this pistol such as the grip, slide, barrel, muzzle, etc. imitates the components of a real pistol. Also, other important components that are similar to an original pistol's design includes rear sight, front sight, magazine, etc.
Pros and Performance Accuracy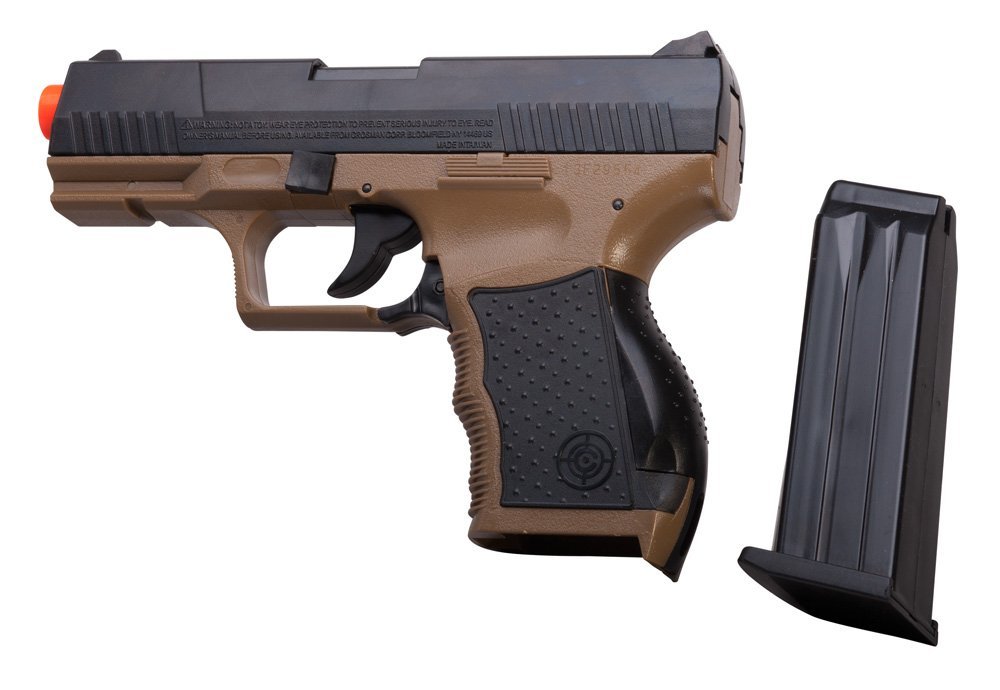 The shooting accuracy is the main advantage of this pistol and is the reason why this airsoft pistol is a must-buy for every airsoft gamers out there.
The front and rear sight in this pistol provides a very good aim and helps to hit a target located at a considerable distance quite easily.
The grip on the handle of this pistol is also quite similar to that of a real pistol, which further helps in a better stability while taking an aim in the game.
Gamers are quite aware of the phenomena called "curving" of the shots, which actually is a term to indicate the bending or deviation of a shot away from a straight path. However, this pistol does not have this problem at a smaller distance, which adds to its accuracy. For the standard size of BBs, the pistol provides a straight shot for around 20 feet, after which slight deviation occurs. Hence, players use varying sizes of BBs as a solution.
The smoothest part of this pistol is its magazine release. Unlike the standard pistol designs, the magazine release is provided on the trigger guard, which makes it easier to release the magazine after removing your finger from the trigger.
The player also has to cock the gun after every single shot, i.e. pull the slide back to load the bullet from the magazine.
This pistol is also quite heavier compared to other pistols, which can be a challenge for some players in the game.
Also, there have been many cases in which the holster provided with this pistol does not hold the pistol properly.
Tips for Safe Handling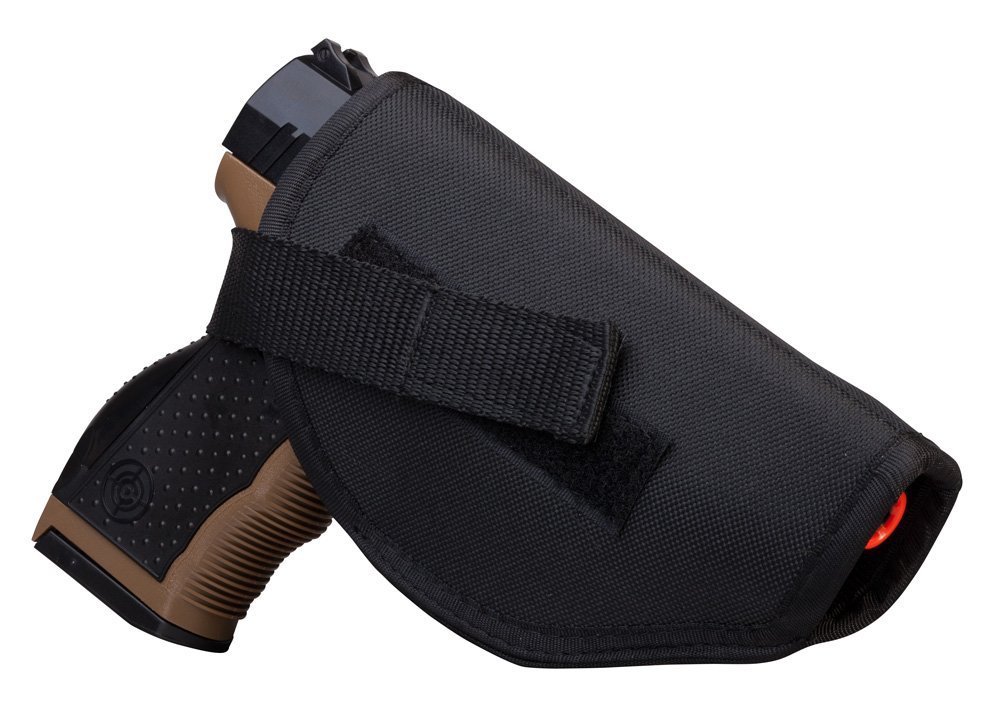 The entire pistol comes in a black colour, which makes it hard when you are shooting into the dark. An easy solution to this is adding white dots to the front and rear sights of the pistol.
Loading the magazine with the airsoft pellets, i.e. BB's can be quite difficult, because you will have to load every pellet one by one into the magazine manually. This takes a lot of time for the loading process. An easy solution for this is using a "speed loader", which can be purchased along with the gun. The speed loader makes the loading process much easier, because all that you have to do is push a loading switch repeatedly.
Also, a safety lever is provided on the side of this pistol, which further contributes to its safer handling.
Can It Meet Your Expectations?
This gun is perfect for many types of airsoft games, and is quite helpful when you want good number of hits in close encounters. This pistol proves to be useful in several airsoft strategies and game types, which includes Team Deathmatch, Escort, Close Combat, Prison Break and much more. The reason behind the popularity and demand for this gun is due to two main factors – design and efficiency. It might be a bit hard for beginners to enjoy long range shots with this pistol, but it is quite easy for any player to get a good shot at a closer distance to the target.
Checkout the Reviews of Other Airsoft Guns: