Taurus Millennium PT-111 Spring Powered Pistol is a high-quality airsoft gun which is reliable and has a good range. There are very limited number of airsoft guns which are of such high quality at such cheap price. If you're planning to buy a gun, then this is the best choice out there.
It is a spring powered gun which doesn't need to use CO2 or batteries to work. Instead, it has BAXS hop-up unit which aids in long range shooting accuracy. It also shoots at a velocity of 180 fps. Moreover, it weighs around 172 grams. Therefore it feels handy and you will be surprised to know that it is a pure replica of its original counterpart.
Specifications
Strict replica of its real counterpart
Product dimensions: 7.5 x 5.2 x 1.3 inches
Item weight: 7.8 ounces
Ammo: 6mm .12g .20g
Compact Design
Spring powered single shot
Included magazine holds 20 rounds
Spring-powered-No CO2 needed
BAXS hop-up unit present
shot velocity of 180 fps
Slide of this gun is fully functional
Easy to carry, handle and fire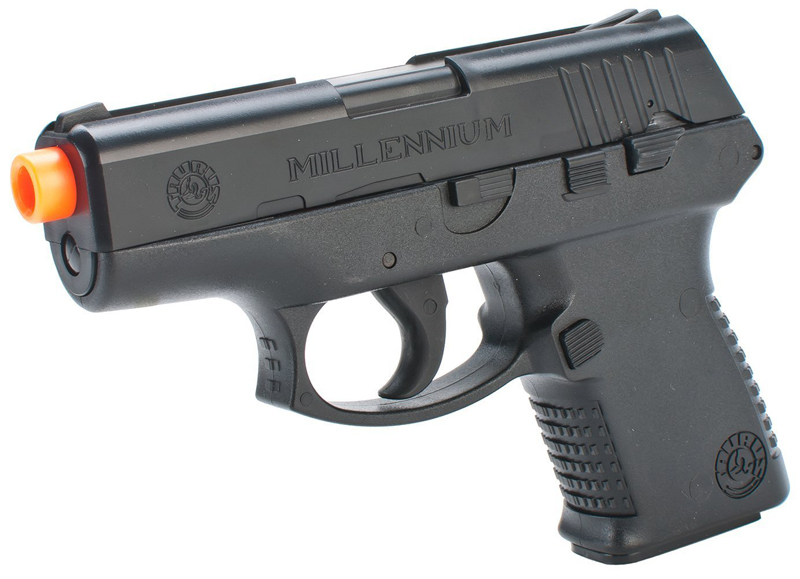 Construction and Design
Taurus Millennium PT-111 is one of the best and reliable airsoft gun which will never disappoint you. The construction of this gun is using the high-quality polymer and it has a compact design to it. It is a high replica of its original counterpart in the ratio 1:1. The highly durable pistol is equipped with thick handle and anti-slip grip which enables the person to have a firm grip over the pistol and can hold it comfortably. A working safety is also provided along with it to prevent unwanted fires. You can only make out that it's not a real gun using its orange tip and the airsoft pellet it fires. The BAXS hop-up unit enables the pistol to have a higher degree of range and optimal accuracy.
Pros and Performance Accuracy
The pistol is equipped with the best quality plastic and provides good range and accuracy which is the most needed specification in an airsoft pistol.
The plastic is heavy with 7.8 ounces which is the reason why it feels just like its real counterpart.
This pistol can only be bought by people above the age of 18 and children can use this while elders have an eye on them. It can be used for recreational purposes or even for practicing or training to use the real pistol with no chances of injury.
It can be used fast and can be easily maintained.
No batteries or gas is used to operate the pistol which makes it much more inexpensive to maintain.
Due to the application of BAXS hop-up unit technique, the gun delivers a reliable, sharp and accurate shooting.
It also comes with 50 pellets which are cleanly and properly packed.
Has got a safe mode and a fire mode which you can use interchangeably according to your needs.
It locks itself when the magazines are empty.
The polish applied on the pistol is super shining and does sport a good look, just like the real one.
It does not have a noise while you shoot. So, it helps in focusing more and train better for beginners.
The size of the pistol is also small and hence it feels nice to hold it.
Magazine holds 20 rounds which is pretty much impressive.
Tips for Safe Handling
It may jam, though rarely, due to the excessive amounts of bb's inside. But, you can fix it soon easily. You just need to leave it cocked back and take the magazine out and some bb's will fall off and it'll work again like a boss.
Use and handle the pistol carefully. Don't cock it back too hard or don't throw it down or bang it.
Use 12 gm bb's to work perfectly.
Use proper safety equipment to prevent from any damages, although, this gun cannot cause injury as such.
Magazine holds 20 rounds. So, you may stock more of it because when it gets over, you can use it.
Can It Meet Your Expectations?
It is a compact pistol which matches the size and shape of the real pistol. This airsoft gun is pretty much impressive in doing the task assigned to it. You can rely on its sharp shooting, degree of range and accuracy. A game of airsoft can be played with your son/daughter, family or friends with this small, yet high quality reliable airsoft gun. Only thing you need to keep in mind is that you can shoot only up to 25 feet range. So, pull the trigger, only when your aim is under that range.
Checkout The Following Airsoft Guns As Well: