There is no limit when it comes to the first person shooting games lovers. Isn't it? The craze of first person shooting has been so high in the gaming world that you ask each and every gamer whether he has played Project IGI in his life at least once and the answer will always be yes. So, don't all those gamers feel like trying all those gaming world things in real life? Of course, they do. And this is the reason why LAZERTAG Multiplayer Battle System was made, to make their dreams a reality.
LAZERTAG Multiplayer Battle System is a perfect combination system for you if you want to enjoy the gaming experience in the dark of night. Darts can be played in day but the real enjoyment of first person shooting comes when the lights go off and that is the reason why this LASER technology enabled guns have been designed by LAZERTAG. So, you can enjoy the experience in single player or multi-player mode using this device.
Specifications
LAZERTAG Multiplayer Battle System is a battle system with both single player and multiplayer mode.
Two Phoenix Guns.
Contains two Shot Blast attachments.
Two Pinpoint Sight targeting units.
Contains video game module.
Does not contain the AAA battery required for video game module.
Video game module is only compatible with CRT TVs. It is not compatible with LCD and Plasma TVs.
Health Status is available.
Guns resemble like a Star War Blaster along with recoil.
The system has to be assembled properly before being used.
No tools are required for assembling.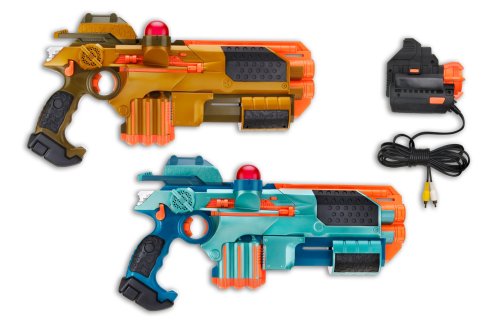 Construction and Design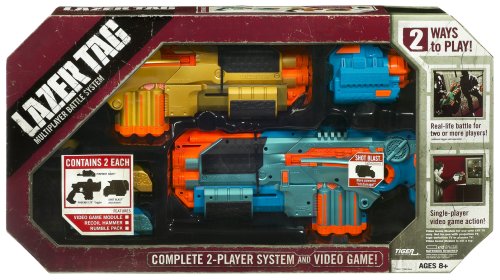 The LAZERTAG Multiplayer Battle System has been designed to bring back the childhood memories of Laser tag battles but with the enhanced feature of tracking your development in the form of a battle system. The guns are same as all other laser guns without any firepower but there is special function of tracking the health. You can either play it with an opponent or can use the assembly in your TV to turn it into a video game. The construction allows it to be used only with CRT TVs and not with LCDs or Plasma TVs.
Pros and Performance Accuracy
The biggest pro of the device is its ability to be used for single player as well as multiplayer games. This adds to the versatility of the device and makes it a great system to have.
LAZERTAG guns come with a light system which makes visibility good during the night time. So, the game can be enjoyed in full flow in dark.
There are options of rumble, recoil and manual reload in the Phoenix LTC guns which enhances your experience to a great extent making it look like a 21st Century game rather than the childlike laser tag of old days.
The Pin Point Sight feature helps the user to aim at the opponents more precisely.
The Shot Blast attachment helps in multiplayer targeting.
Tips for Safe Handling
The best use of the guns can only be made when all the attachments are in place.
Make sure Phoenix LTC and Pin Point Sight equipments are attached so that your gaming experience is enhanced to a certain extent.
Put off the batteries when not in use to save the product from unnecessary damage.
Also, make sure that the batteries are well charged and have been put properly in place so that you can use them instantly when the game begins. If the batteries are not in place, you will be on the back foot from very onset of the game.
The video game attachments need to be properly taken care of and should not be attached in TVs with irregular levels of electric supply. This may lead to the system being damaged.
Can It Meet Your Expectations?
The first and foremost question which comes to your mind the moment you are about to click the order button is that is this product going to meet my expectations? So, be sure that LAZERTAG Multiplayer Battle System will not let you down in this respect. The product serves the purpose of both a battle system and a video game making it a big hit among the teenagers and college students. So, order one for the Christmas or birthday gift of your son or graduation present for your daughter and get ready to be immersed into the battle-like environment.
Some More Laser Guns To Try Out: