Bored of your work and school? Want a much-needed escape from your professional and mundane schedule? Be ready with your Airsoft battling skills for here comes the perfect blaster that lets you dominate the whole battling scene out and out!
The Nerf N-Strike Elite Rampage Blaster comes as an upgrade to the famed Hasbro's famed Raider CS-35 and is one such product that lets you excel at the battle and it comes with an awesome and long range of 75 feet! It features a 25-dart drum magazine and it also has the slam fire capabilities so that you can shower your targets with darts after darts.
Specifications
An effective range of around 75 feet.
The Elite Rampage Blaster now comes with improved accuracy and firing capabilities.
Features the slam fire capability so that you can fire continuous shots by just holding down the trigger.
The Elite darts that come with this gun are compatible with most N-strike blasters and Elite blasters available in the market.
Includes 25 dart drum magazine.
Includes 25 elite darts.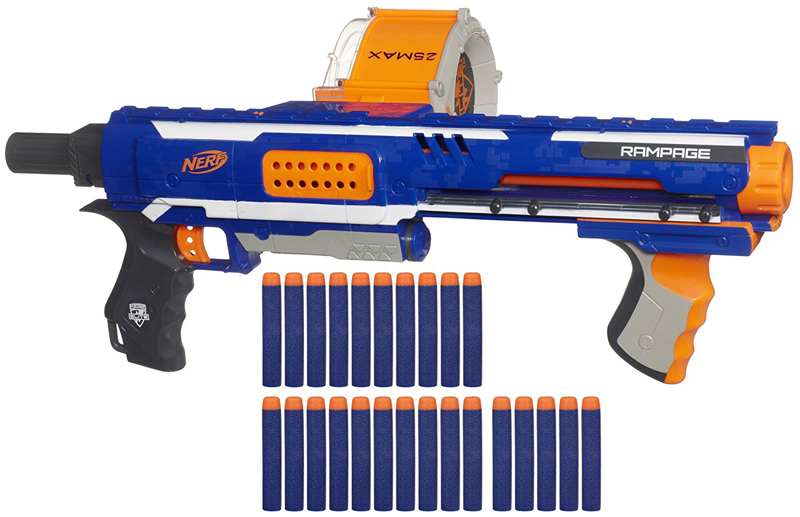 Construction and Design
There is little to complain in the design and ergonomics of this gun. It has been designed splendidly and the colors used are vibrant and eye catching. The 25-dart drum barrel is now smaller than that of the Raider's and is pretty easy to attach. The overall weight of the Rampage is now lesser than the Raider and it sports a transparent barrel design that lets you see the darts as they go. The barrel can also be swapped for a 35-dart barrel and it works just fine. The handle is designed nicely and the weight seems evenly distributed. The overall grip of the handle is pretty decent and convenient.
Pros and Performance accuracy
One of the main attractions in this gun is its super long range that reaches up to 70 feet easily at low angles. It can reach up to 45 feet when used parallel to the ground and this makes it a good choice for long range aiming and shooting.
The accuracy too is pretty decent and hits the target almost always when used in mid-range combat. Its long range too gives it an edge over other blasters.
The Slam fire ability is what that truly makes this gun a beast in this segment. It lets you fire darts continuously by holding down the trigger and you can literally rain darts on your target without a pause.
It is compatible with all the Elite darts and N-strike barrels available in the market and supports all 12/18/25/35 dart barrels.
Tips for safe handling
Removing the magazine and pushing the trigger can solve the problem of jamming if it ever arises.
The new firing mechanism gives extra power to the darts and so it is advisable to wear protective gear and be careful with the shots.
It is also advisable to carry extra magazines since the original barrel holds only 25 or 35 darts at the most.
If you want more range or accuracy at shorter range then you can improvise on the stock spring with the 5kg or 7kg variant and that can increase the range and accuracy significantly.
Can it meet your expectations?
The Nerf N-Strike Elite Rampage Blaster surely packs a lot of punch for its size. It is a fresh upgrade to the previous Raider Blaster and it has surely improved on many fronts this time. The new and improved firing mechanism gives that extra power in your shots and the range too is significantly improved and can reach up to 70 feet at small angles and 45-55 feet when used normally. The accuracy too is now a lot better than before and the long-range accuracy is decent too. Overall, this little beast is your best bet when facing off against your enemies. Just make sure you carry extra magazines with you and this blaster will never let you down.
This Elite Blaster will be a fine addition to your collection of Nerf guns and this product is hands down the best Nerf gun out there with longer range and better accuracy. The overall cost is relatively lesser when compared to other products in the market so what are you waiting for? Get your own Blaster today and rule the battlefield!
Don't Miss Out the Following Nerf Guns for Exciting Play Wars: