Hasbro's brand Nerf needs no introduction in the world of action toys and it impresses yet again with their new product. The Nerf N-Strike Modulus ECS-10 Blaster is a big and powerful toy gun. It shoots semi-auto rounds. Its accuracy is impeccable. The unique part of this gun is that it provides great flexibility. You can arrange the gun in a whopping 30 different combinations. It can hit very long-range targets (up to 90 feet) with extremely high precision.  Boys of age 8 plus will particularly enjoy this gun.
Specifications
A drop grip makes things easier to handle and provides a better control.
It also has a Dual-rail barrel for higher performance.
A storage-stock is provided to keep those extra darts.
A set of Banana clips also comes with the blaster.
There is a targeting-scope for better aim.
The blaster has more than 30 combinations through different accessories attachments.
The blaster can launch the darts at targets up to 90 feet away easily.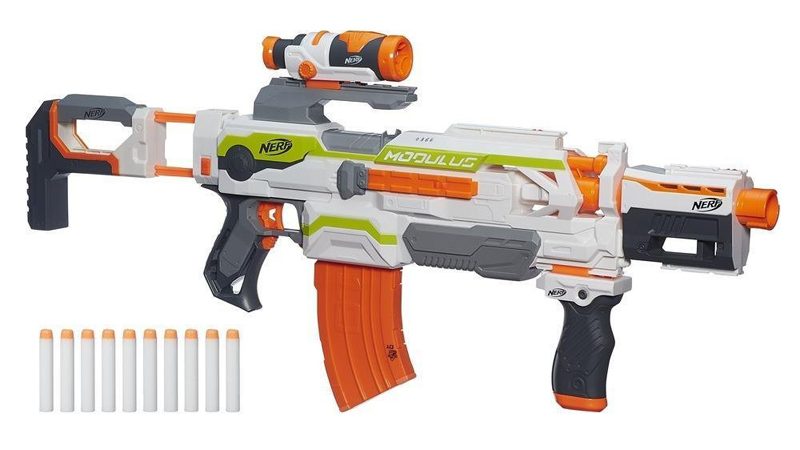 Construction and Design
The blasters dimensions are 3 x 30 x 15 inches. It weighs 2.5 pounds. It is made of high-quality plastic which makes it break-free and lightweight. This Nerf blaster includes removable drop-grip, dual-rail barrel, storage stock, targeting scope so that kids can customise the blaster with more than 30 different combinations.
Pros and Performance Accuracy
The Nerf N-Strike Modulus ECS-10 Blaster has a highly efficient targeting scope. Precise and accurate shots are guaranteed. The scope is ingeniously designed to achieve very high accuracy when shooting distant targets of up to 90 feet. Also, the scope commands a wide viewership. This gives the user a great advantage in competitions.
The Nerf N-Strike Modulus ECS-10 Blaster has two tactically placed rails. One at the bottom and one at the top. This allows the user to attach multiple extensions on the blaster. The capacity of the toy gun is a lot because of the dual-rail barrel. But limiting the number of extensions to a level which is comfortable is advisable otherwise the accuracy of the shots will be greatly compromised. An overloaded barrel may wobble and bend, slowing down the shots and reducing accuracy.
The shooter will be able to hold the gun in a comfortable position while shooting. The drop grip is a unique feature which gives the user a lot of support while ducking and shooting while in a gaming zone. This ensures a firm grip on the gun which in turn improves accuracy greatly.
The capacity of the Nerf N-Strike Modulus ECS-10 Blaster to discharge powerful shots to the range of 90 feet depends on its powerful motor. The motor in turn depends mostly on the batteries. To get the motor running to its fullest capacity and efficiency, four genuine AA batteries are required. The motor and battery capacities are what make this gun a best seller.
The Nerf N-Strike Modulus ECS-10 Blaster has a robust construction which can withstand any drops without breaking. It has a solid housing that protects the internal intricacies. It shields the delicate parts of the gun from mechanical shocks. Bottom of FormThe recoil effect of the gun generally produces a lot of shock. The strong housing of this gun can easily withstand such sort of recoils.
Tips for Safe Handling
Not suitable for children under 3 years.
Do not aim at face or eyes.
Use darts that are designed specifically for this product. Do not modify darts.
Can it meet your expectations?
All in all, the Nerf N-Strike Modulus ECS-10 Blaster looks amazing and those who are NERF curious will definitely like it. With features like being able to launch the darts at targets 90 feet away and the flexibility of 30 different combinations, the Nerf Modulus Blaster is the perfect companion for your kids intense battlefield gaming sessions. It is also a great addition for those who already have some office warfare arsenal in place.
Checkout The Following Nerf Guns As Well: