A very playful and powerful gun, perfect for your girl. Let your kid show his shooting talent in style. Win every battle with your friends with the 4Victory blaster and show them how good you are at spying with secret message darts.
The product is quality checked and highly durable. It can be used in a rough and tough manner and does not at all require high maintenance. The Nerf blasters comes along with many useful accessories and makes your child ready for the next mock battle.
Specifications
The blaster is very safe for children to play with as it is made of high quality material approved and tested by one of the most famous toy company- Hasbro.
The Nerf Rebelle 4Victory gun fires 4 bullets at a time.
There is no need of reloading the gun every time you fire the bullet.
The gun is very powerful and the darts can achieve a distance of up to 75 feet, once fired.
The blaster also comes with a holster to hang your gun while you are on the game.
The gun has 1 message dart and three collectible darts.
There is a decoder tagged along to decode the encrypted message on the message dart.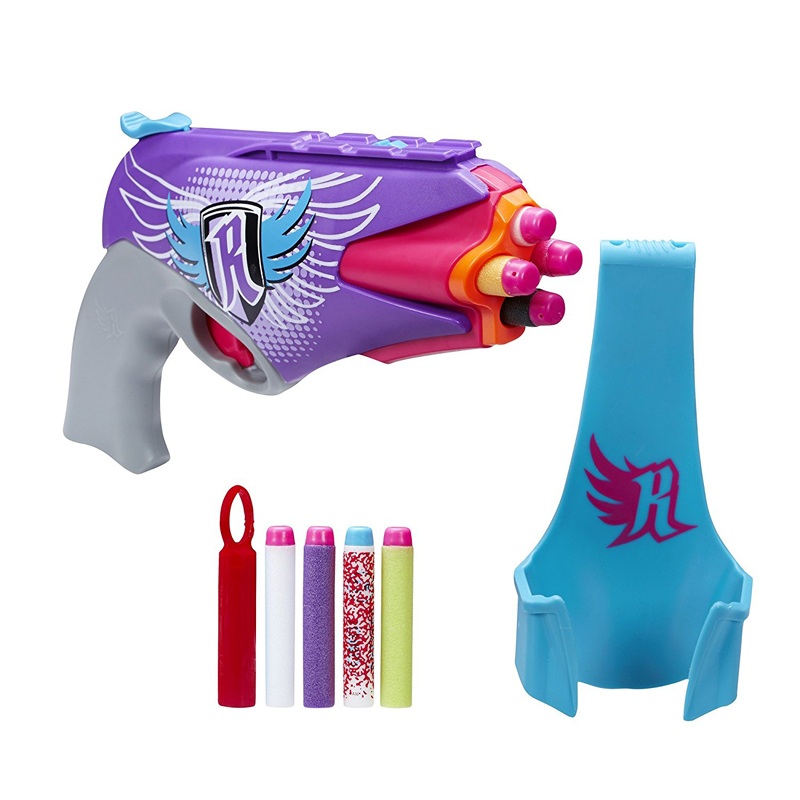 Construction and Design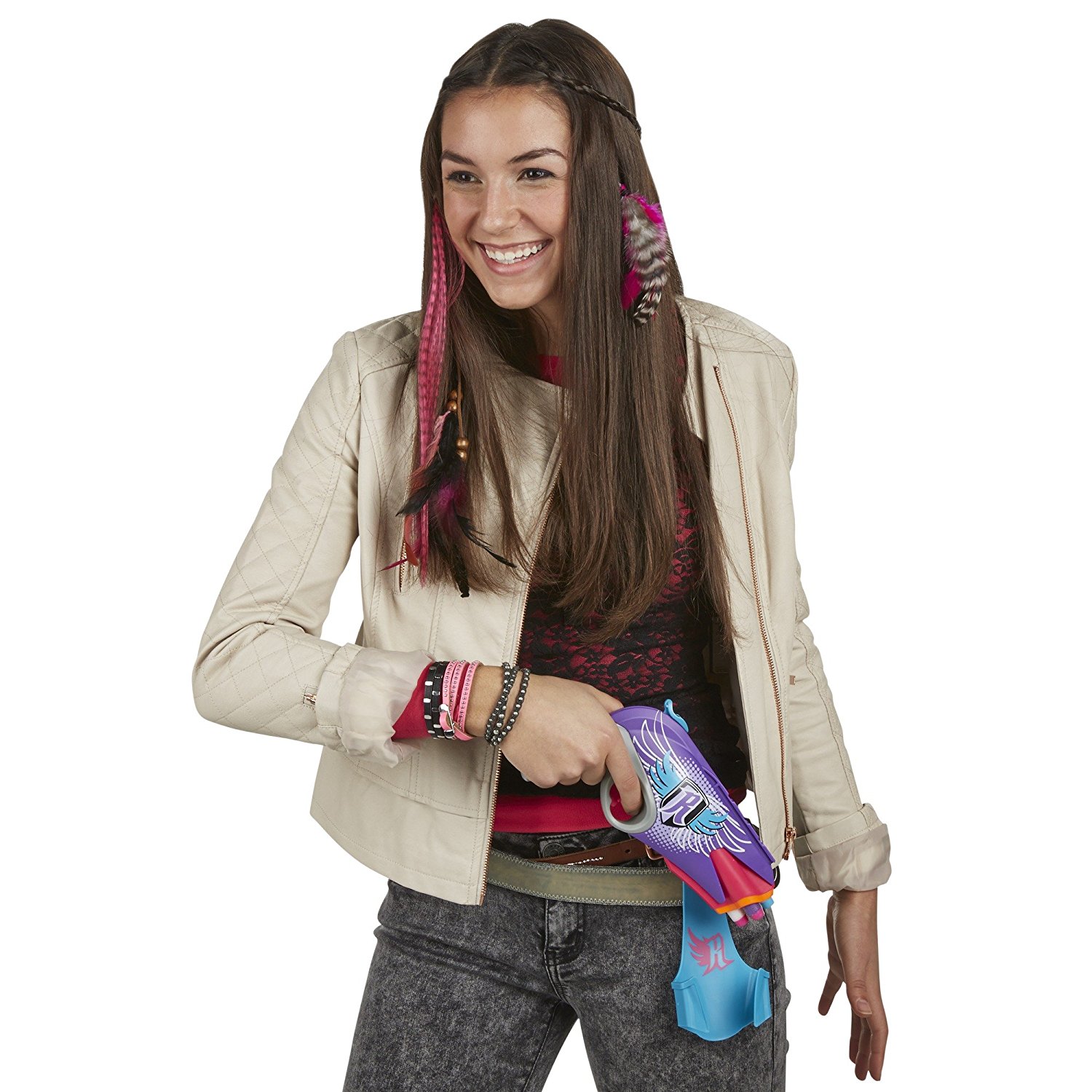 The blaster comes in a very handy and considerable size for kids, the dimensions are 2.6 X 13.5 X 9 inches.
The weight of the gun is very apt for children above the age of 8 years, as it weighs around 15.2 ounce (430 grams approx.)
It can be easily carried and ported by the kids during their play.
Specially made for girls, the product comes in very lively and happening colors and is sure to attract anyone who loves to play with dart guns.
Load the gun just once by pulling the blue loader at the top last of the gun.
Write your secret message on the red and white message dart.
Decode it by putting it inside the red colored decoder and read the spy note sent by your partner.
Store your gun in a specially designed blue colored holster and be the favorite in the game.
No need of batteries, the product is completely battery free and spring loaded.
Pros and Performance Accuracy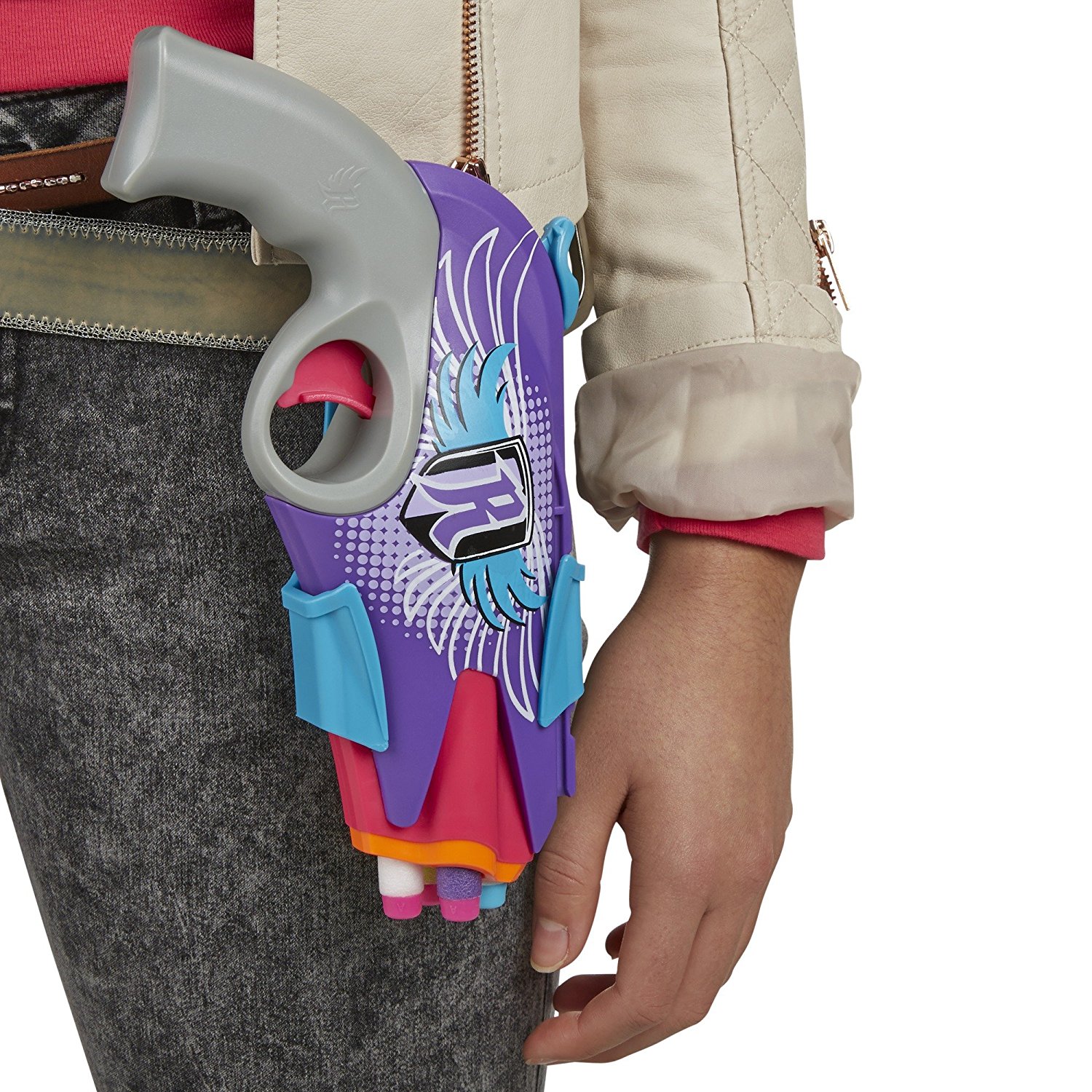 The gun is very easy to operate and handle.
The loading hammer is a little tight to pull at once, but then you will get a hang of it and it will not be difficult to load at all.
It shoots the darts with a good power and at a speed of 75 feet per second.
There is no need of reloading each time you fire the dart, all 4 darts can be fired back to back.
Rets the gun for a while in the specially made holster hanged in your belt, it gives a good space and grip to hold the gun.
Another good part about the gun is that it does not requires to install any batteries, which makes it even handier and the game will not stop in-between.
Tips for Safe Handling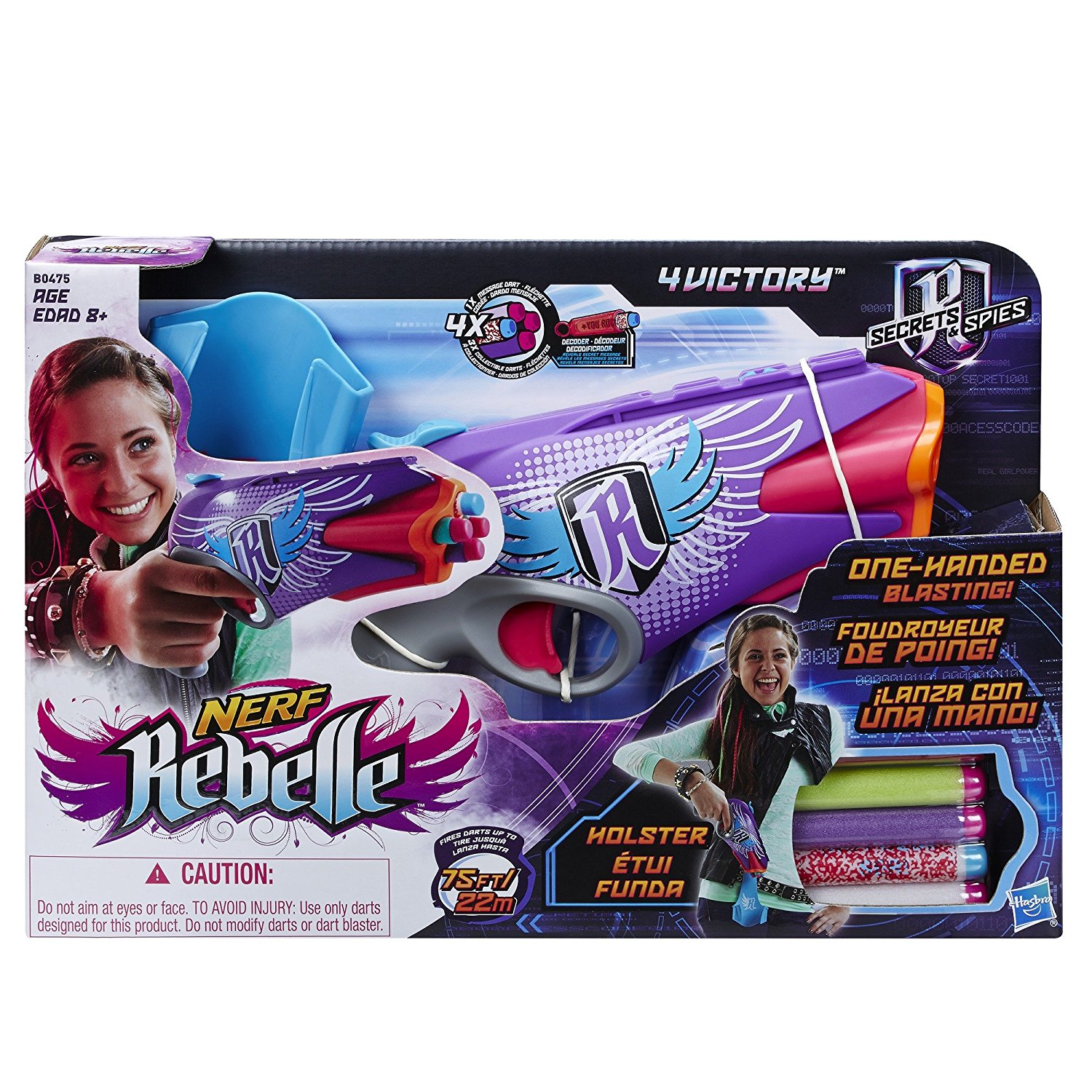 The product is recommended for children above the age group of 8 years.
It is advised not to shoot on living things, as the shots may be painful.
The hammer on the top may require parent's help in pulling for first few times. As it is little strong to be pulled by a younger kid.
The darts can be fired up to a range of 75 feet per second, so the targets can be set to a good distance.
Other darts can also be accommodated in Nerf Rebelle 4Victory dart gun, like Nerf N Elite Strike darts.
You can very confidently keep your gun in the holster as the darts do not fall out when hanged.
If you are willing to change the look of your gun a little bit, then you can spray it with a plastic adhering paint primer and flaunt the new look of your gun.
Does It Meet Your Expectations?
This blaster is definite to make your kid fall in love with it at once. It comes with lots of accessories with it and that too in such a good price. The product is battery free and relies on spring load for firing. Has a good firing power of 75 feet per second. Make your kid a great shooter and a spy by entering the secret coded messages and show them how to decode the same. Make use of the holster while your play is on pause and restart with a boom!
The product is measured for its safety, durability and quality as it is made of high quality material, which is not harmful. The colors and design is un-canny and your kid may feel like a warrior while playing with the same.
Don't Miss Out the Following Nerf Guns As Well: