The Nerf Zombie Strike Hammershot Blaster is a strong, powerful and fast Handgun that can be the perfect sidearm you were looking for. It can hold up to 5 Zombie Strike darts and can be fired single handedly. You just have to cock the hammer and off goes the Zombie strike dart and it has a splendid range when it comes to long distance shooting. Use it and see for yourself! It is really easy and fast to reload this gun and that makes it the perfect choice for a sidearm.
The blaster package contains 5 Zombie Strike darts with a fun Zombie Strike Stencil and a Instruction manual. It excels at close quarter combats as well as long range shooting. Also, the normal darts that are sold separately in the market are compatible with this gun. The only difference is the color of the darts. This powerful, easy to use weapon with fast reloading is all that you need to rule the battle scene!
Specifications
Longer range of around 90 feet.
Has five Strike darts in the handgun.
Faster reloading capabilities.
This blaster has a hammer action shooting. You just have to pull back the hammer and leave it to fire shots. This makes it really easy to use this weapon single handedly and with better accuracy.
Practical design for better handling in combat.
Is compatible with the other elite darts available in the market too.
Comes with a Zombie Strike Stencil.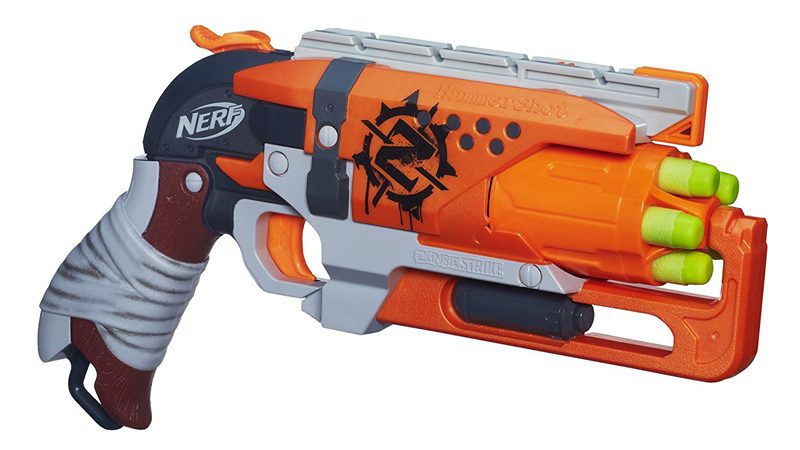 Construction and Design
It is lighter than the other handguns available in the market like Strongarm and others. It features Vibrant color combinations and a practical and convenient design that makes it really easy to fire it with one hand. The handle boasts of a faux-wood finish on the outside. There's also a tactical rail on top of the blaster that has a strapping point. The trigger is pretty sensitive and the gun fires shots as fast as the user can shoot. The overall design is quite ergonomic and handy for a sidearm.
Pros and Performance accuracy
The main advantage of this blaster is that it can be operated single handedly without any extra efforts. You just have to pull back the hammer and press the trigger. This allows the user to even carry two blasters at once and they can shoot simultaneously if they want and this gives you a important tactical advantage over your target.
The range of the Zombie Strike Blaster is really long and it shows when you engage in long distance shooting. The range indicated on the package is 90 feet but in real life situations it easily crosses 80 feet without any drag.
The trigger is really sensitive and this allows the user to shoot from the gun as fast as they can. The gun is really sensitive and responds really fast.
The practical design makes it really easy to reload the blaster and so it can be reloaded quickly and conveniently during battle. This always comes in handy when you need to move and aim or when you move and reload.
Tips for Safe handling
The trigger of this blaster is too sensitive and so it often results in accidental fires from the blaster even when you don't want to fire. It is advisable to handle the trigger more carefully so that the trigger doesn't misbehaves in between.
Though there are no jamming issues but you should still avoid using darts that are not compatible with this blaster. They often tend to interfere with the working of this blaster due to its design.
As there are only 5 shots in the blaster, it is advisable to keep some extra darts with you for emergency or a extra magazine of 5 darts so that you can attack your targets nonstop and give them a tough time.
Can it meet your expectations?
Its easy handling and the capability to be fired single handedly is a big plus in combats and the practical design provides a superior grip while shooting. Just cock the hammer back and shoot. The sensitive trigger literally allows you to go all trigger happy and the blaster can shoot as fast as you want it to shoot. Its long range provides you the advantage over your targets and is surely one of the longest range that is offered in a sidearm blaster. It will definitely surpass your expectations and will let you dominate in the battle.
Overall, it is a well-rounded and efficient Blaster that will dominate over your enemies for a long time to come in the Nerf battle scene!
Also Checkout the Reviews of Other Nerf Guns: