LIVE UPDATE: Zombies are in power. Zombies are on the attack.
Get out there, and finish all the zombies with your new Blaster Set. It's a World War against the zombies and you have to win over them to survive. Otherwise, all the people of the world will turn into zombies and you will too.
Save yourself and your people using the Nerf Zombie Strike Sledge Fire Blaster. This Nerf blaster will kill all the zombies in a second. Don't let them bite you and finish them before they get near you.
Specifications
The box of the blaster contains a sledge fire, 3 reloadable shells, 9 zombie strike darts, ammo storage, zombie strike stencils and instruction manual.
One shell holds 3 darts at once and the stock holds 3 shells (i.e. 9 darts). The sledge fires 3 darts at once. The gun is non-electric meaning there is no need to charge it.
Construction and Design
The Sledge fire blaster is made of plastic and weighs 2.4 pounds. The construction of the sledge fire is very well done and is sleek. It fits perfectly in the hands of the user. The neon colours of the gun give it a very cool and extraordinary look. The small details that have been put on are amazing. The small details like the screws, the Zombie Attack sign, the kill count markings and the stock all look amazing and it feels amazing to hold. The designing and the construction all fits perfectly well.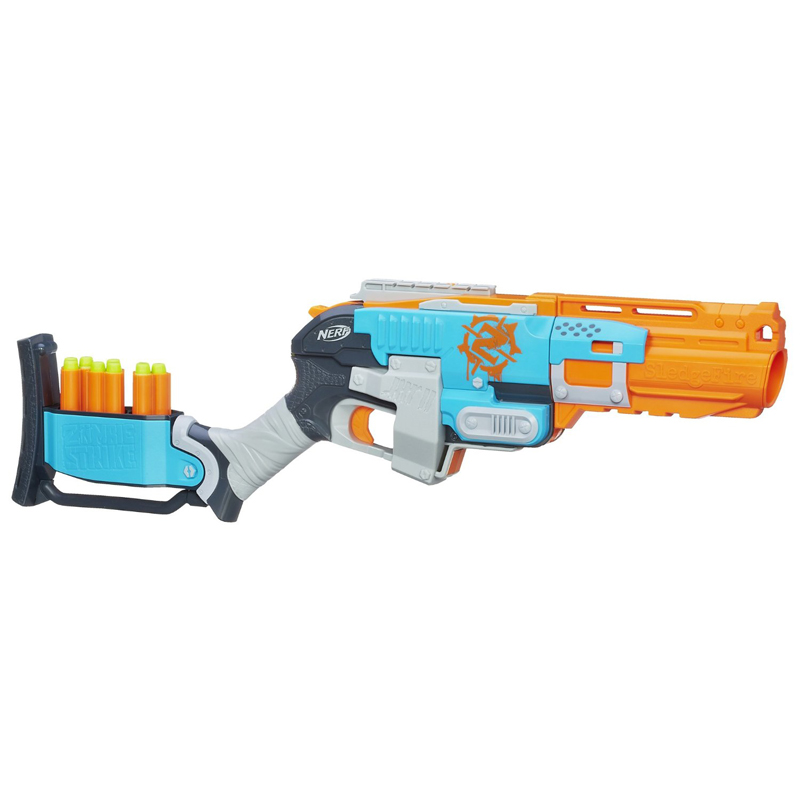 Performance
Kids above 8 years of age can play with this sledge fire blaster. It is very easy to use and to play with.
You can fire 3 shots at once and reload once your cartridge is over. This whole experience feels so real and when you are out there in the battle, it feels surreal.
Advantages
The best part is you can never lose the shells because they don't eject out entirely. Fit your darts perfectly in the shells and you will be able to fire just right, but if they aren't fitted perfectly into the shells, they will fall out or you may just misfire.
As the sledge fire blaster is non-electric, it doesn't need to be charged like other toy guns. It just needs to be reloaded which gives the actual feel of a blaster.
Have a match with your friends and show them the power of your new sledge fire blaster.
Tips for Easy Handling
Read the instruction manual before use.
Do not aim at the face or in the eye.
Fire from a distance.
Only use the sledge fire strike darts and no other normal darts of some other blaster gun.
The Nerf Zombie Strike Sledge Fire Blaster is an equipment you should own for a Nerf attack. Even if you want to goof around in the house, buy it. It is super cool, easy to handle, and seems powerful.
Don't Miss Out the Following Nerf Guns As Well: