To win a battle, weapons of a fighter makes a lot of difference, apart from the skills he/she possesses. This doesn't only apply in all those intense battle scenarios but also in airsoft battles which is a brilliant source of fun, especially for the teenagers. With an unprecedented growth in demand of airsoft rifles, manufacturers have never failed to cope up. They have kept the supply at equilibrium with the growing demand.
Nowadays, in the purchase of an airsoft weapon, there are many options to choose from. Weapons go a long way to determine the result of a battle and if you are an airsoft battle enthusiast, the 'UTG Sport Gen 5 Airsoft Master Rifle' which has been introduced recently in the market is destined to take your enthusiasm to a higher level. Carry this rifle in the battle arena, and you will be a serious threat to your opponents. This product of high accuracy and long range coverage, endorsed by its precise design is worth a buy.
Description
UTG has introduced the brand new generation 5 airsoft master sniper rifle in some style as it has gone down to be known as one of the most popular one in the market. Why will a product not be popular, when it is equipped with all the best features? Quality matter and it matters big time. Here, the primary focus of the manufacturers has been to keep the quality top notch. The product includes reinforced safety, spare magazine, double picattiny rails, a UTG rifle sling, UTG shortly picatinny foldable bipod and a spring operated speed loader.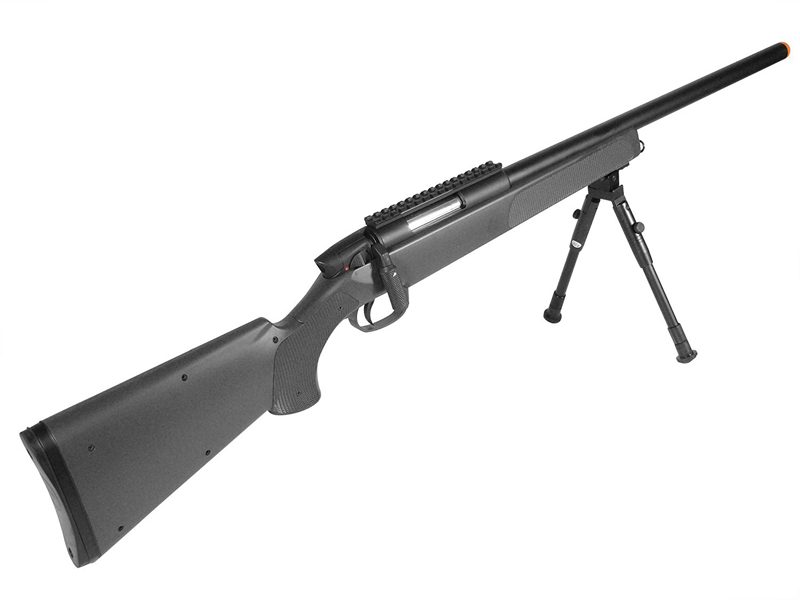 The weight is around 9 pounds when accessories are attached to it. However, the body is 5.9 pounds. The outstanding strength of this gun is accounted by the fact that metal makes up the most of it. Barrel, receiver, bolt, bolt handle, RIS rails and trigger are metal crafted whereas the stock and trigger guard are ABS. Performance is improved by adding a coating of rubber to the bolt handle and the adjustable stock length which can be done by the accommodation of spacers. Posi-Lock feature is also added.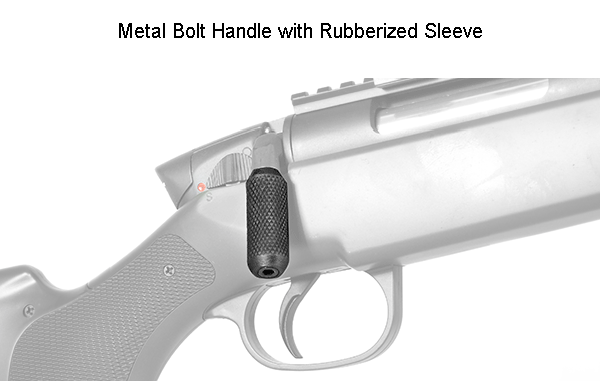 Features
Non-availability of long range coverage in any rifle is always a big disappointment. But, you need not worry here as this master sniper has a maximum coverage of 50 yards. Now, don't tell me that you do you require more coverage range for airsoft shooting. This is more than enough.
The accuracy is pin-point. Like, you can literally hit the bullseye and believe me, you don't really need to be highly skilled.
It comes with functional adjustable hop-up switch which ensures a better back spin effect.
In some rifles, a lot of twisting and turning has to be performed for cocking but this product stands out even here. Cocking requires just one finger and it's absolutely smooth.
Noise always makes people aware of the surrounding, even if it is created unintentionally. And you cannot afford to make noise when you are on your shooting campaigns, especially sniping. This is where this product makes a difference with its low firing noise and silent bolts used in it.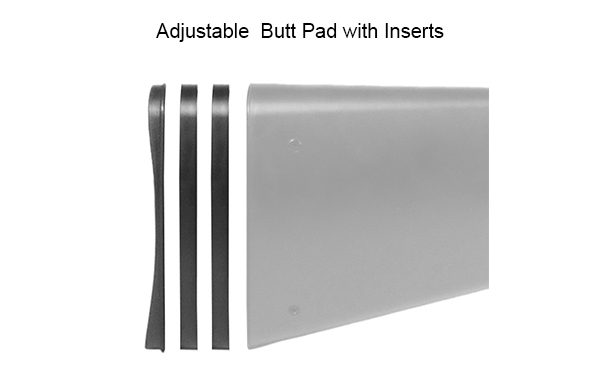 Included Out of the Box
All machines need to be taken care of and well maintained. A cleaning rod of sufficient length is provided to keep the interiors clean, increasing the durability and the performance of the rifle.
It comes with tactical bipod which supports the rifle and keeps it steady even during firing.
A strong sling which gives you the feeling of a military person and makes the portability very simple.
3 butt pad inserts made out of rubber so that the shooter's shoulder is least effected by the recoil of the gun. If not adjusted properly, the recoil can cause damage to the shoulder.
2 detachable magazines to hold the airsoft BBs.
A speed loader which will always keep you ahead of the rest as the loading barely takes few seconds.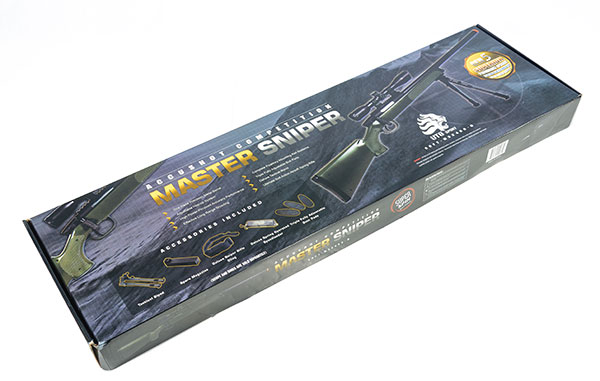 Specifications
Product Dimensions: 13.4 x 4.1 x 4.3 inches
Item Weight: 5.9 pounds
Shipping Weight: 8.8 pounds
Department: unisex-adult
Manufacturer: UTG SPORT
ASIN: B000E7PFEU
Origin: China
Manufacturer Reference: SOFT-M324S-B
Pricing
The price of a product is one of the most significant factors to consider for its purchase. On Amazon, the UTG Sport Gen 5 Airsoft Master Sniper Rifle has a price tag of $119.97 and there is always some sort of discount available. Without any doubt, the price for this high quality product is economical. In $119.97 and further discount, you are getting a fun-filled package of a powerful airsoft rifle. This product has a high value for money.
Should You Buy?
If you are a person who uses airsoft riffle for professional purposes, then there is no giving it a second thought. This product will satisfy all your professional endeavours. If you are a teenager who is involved in any of those friendly airsoft battles in groups, then this is a must buy. Certainly, you will dominate once you get it. If you just want to practice shooting for recreational purposes, then why not practice it using one of the best airsoft rifles available. A good rifle will bring out a good shooter in you. In simple words, if you are need to buy or update to a new airsoft rifle, then this product is a must buy. It is a beast in its own ways.
Also Checkout the Reviews of Other Airsoft Sniper Rifles: