Marines Airsoft SR01 rifle is a spring powered rifle which is a pure replica of its original counterpart. You will be amazed to see its quality build and the weight. It is one of those perfect airsoft rifles out there in the market. Since it's a spring powered rifle, it doesn't need CO2 or batteries to work on, which solves half the hectic. It has got a powerful velocity of 325 fps with accurate and reliable shooting capabilities. It also features an adjustable hop-up which increases the accuracy of the rifle. The military styled rifle is a perfect choice when it comes to airsoft rifles available in the market which is flawless in the task it performs and you'll never be disappointed.
Specifications
Powered by string
Folding stock is present
Flip-up sights can be removed
Velocity is 325 FPS which is tremendous
350 airsoft BB's can be held in magazene
Product dimensions: 2 X 1 X 1
Item weight: 1.7 Pounds
Adjustable hop-up
Military styled
Official USMC logos & colors
Caliber: 6mm
Stock: Synthetic
Plastic construction

Construction and Design
The construction of Marines Airsoft SR01 Spring Powered Rifle by Crosman uses hard quality plastic which is reliable and has got good range. It is a replica of its real counterpart rifle which carries the same dimensions. The gun is a spring powered airsoft rifle which means that it does not require gas or batteries to work. So, it must be cocked for each shot that you take. It has a removable flip-up sights. The high quality build is the reason why it is durable and that's why it has a range of 75-100 feet with perfect sharp shooting capabilities.
Pros and Performance Accuracy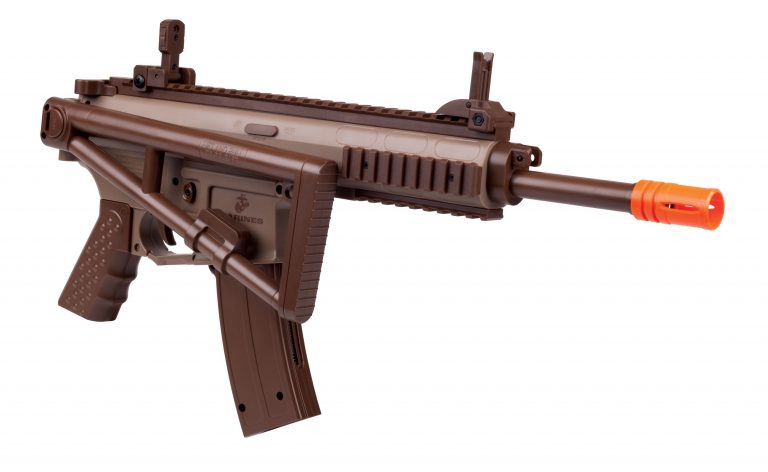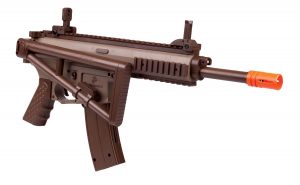 The rifle is constructed with high quality hard plastic which gives the same feel as of its real counterpart when you hold it in your hand.
The performance of this airsoft rifle is tremendous. It has got good range and accuracy.
It has got 6mm caliber and velocity of up to 325 fps.
The magazene of this rifle can hold 350 BBs at a time which is magnificent.
You need to hold the rifle with both your hands in order to support it firmly and to shoot accurately, just like a normal rifle.
Folding stock, flip-up sights and a quad rail mounting system which the gun possess makes it the top notch selection when it comes to airsoft rifles.
It has a synthetic material build which makes it durable and high quality one.
Since it completely work on spring technology, you don't have to worry about refilling gas or batteries. The maintenance cost is also low because of the same reason.
For urban combat situations, this is the ideal rifle to use because of its qualities.
A quad Weaver rail can be used to attach it's accesories.
The rifle comes along with USMC dog tag, cleaning rod, field guide, and manual. So, its a pretty good catch at this price.
Tips for Safe Handling
If you over fill the magazene with BBs, it might get jammed at times, but it can be corrected very easily. You just need to leave it cocked and take out the magazene and pull out the extra BBs, then it'll work in a smarter way again.
Take care of the rifle. Don't throw it to ground, bang it or pull out the cock too hard.
Use only 12gm BBs for an efficient way of it's working without any hassle.
Use protective measures while you have a game of airsoft. Even though, you won't get major injuries by using this rifle, but, it's always better to take prevention. So, using protective measures to avoid even minor injuries is always recommended.
The magazene holds 350 rounds of 6mm BBs. So, it's better to have a backup of stock so that you'll not end up finishing of BBs easily.
Can It Meet Your Expectations?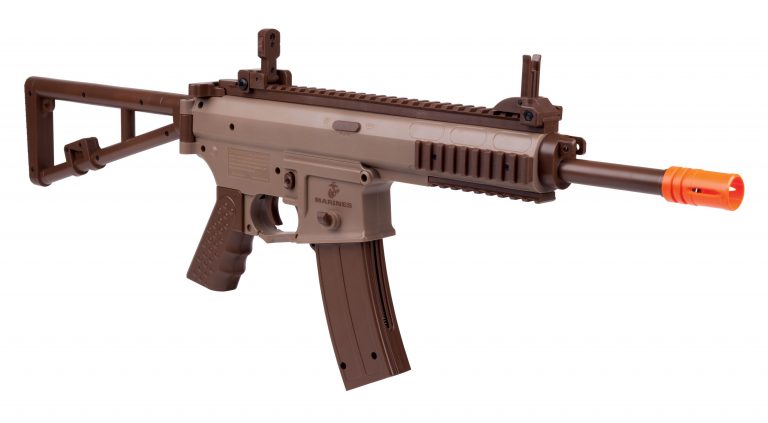 Marines Airsoft SR01 Spring Powered Rifle by Crosman is a spring powered airsoft rifle which has polymer build, which is highly durable, having high quality. It will impress you with its accurate shooting capabilities and range. You'll get the real feel of holding a rifle when you'll hold this airsoft rifle because the build quality, the weight and other features are just the replica of the original gun. The velocity of 325 fps is just tremendous. Just keep in mind to pull the trigger only when you are in the range 75-100 m because that's the range this rifle possess. Rest, have fun with it. It's awesome and will provide you with more than what you've expected while you bought it.
Cost Considerations
The rifle costs you around 50 dollars but it's worth it. It has an amazing build quality with reliability, durability and accuracy. The reviews of the past customers who've used it is extremely positive and they are glad about the choice that they've made. A lot of people order an airsoft rifle which is 2 or 3 penny less than this, but later they happen to regret the decision they've made when it doesn't work according to the expectations they had regarding the product. So, it's always better to order the most reliable equipment considering the reviews and specifications. The advantage of this rifle is that, it is completely spring powered. So, you don't incur any charges on gas/CO2 like that in a gas airsoft rifle, not even batteries, like that of, in a battery powered airsoft rifle. Don't wait for the right moment, go on and place the order. It comes neatly packed and you just need to unbox it and use it as soon as possible.
Don't Miss Out the Following Airsoft Guns: