Lead your army to glory, enter the world of war, live the dream of yours and ensure the safety of your fort. Sounds enticing, doesn't it? This is what the world of paintball is all about.
A great way to live a few moments of thrill, paintball is a sport which will make you feel extraordinary even if it is for a few minutes or hours. Get hold of the exquisite Azodin Kaos Semi-Auto Paintball Marker Gun and bask under the rays of glory as you begin hunting down your enemies and safeguarding your fort against any attack.
Specifications
A great gun for any beginner this semi-automatic marker is easy to use and operate. Some of the prime features of this gun are:
Low rise twist lock feed neck.
Rubber Panels for Enhanced Grip.
Full Delrin Bolt which is self-lubricating
Light weight body allowing easy operation and handling
12″ one piece barrel.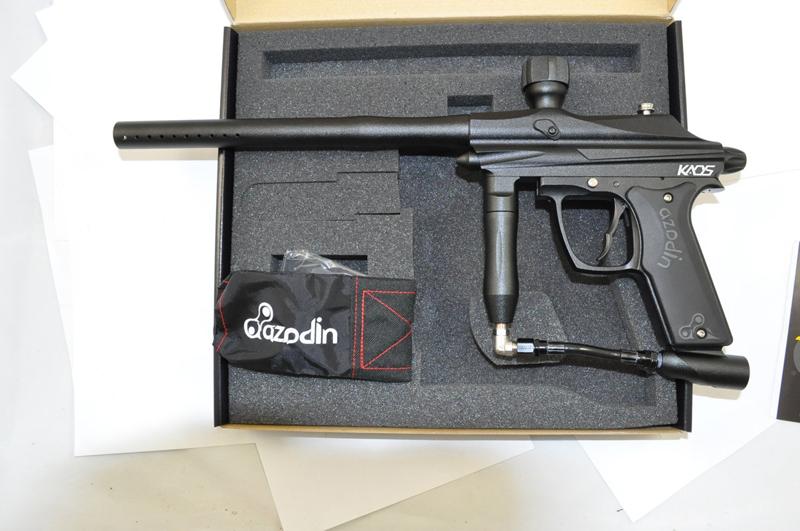 Construction and Design
Azodin is a new company which is starting to make a quick mark in the market with its durable products and designs. This lightweight marker is one of the few products which has brought this company to race with potential market leaders such as Tippmann and Spyder.
Talking about the design, this gun looks fairly basic. However, it is the complete black color of this marker which gives it a look of a lethal weapon. Based on the standard blowback mechanical model, this paintball gun does have a complete aluminum grip. It has a self-lubricating Delrin bolt. Therefore, this gun does contain very little drag, and a negligible weight. There is also an additional dual ball detent in this marker. This ensures that no ball slides down the barrel.
This gun is available in five different grip colors each of which is in manners special to other and does operate on HPA and or CO2.
Pros and Performance Accuracy
This paintball gun manufactured by Azodin is a great entry level machine which does offer you a greater comfort while enjoying a thrilling game with your friends. Although the design is a bit simple, however, this gun, when picked up, doesn't in any manner feel as if inferior to its counterparts. Some of the other pros of this gun are:
One of the best features of this gun is its light weight which allows you to hold this gun for hours without having any kind of pain due to weight.
The trigger of this gun ensures exactly the right amount of sensitivity. This makes aiming and hitting the target easier, and users do feel that this is one important advantage that most high-end guns need an upgrade to achieve.
This gun has proved to be quite efficient in long range shots, and one can safely aim and hit the target to almost fifty feet behind. The small size of this gun ensures that people are able to move around tight spaces swiftly and hence do have the edge over their opponents.
This gun in terms of performance has clearly outsmarted many models made by paintball gun manufacturers, and the double triggered marker is an added benefit.
Tips for Safe Handling
There is a very simple method for cleaning the gun in case of it being choked by a paintball and or paintball accidentally bursting within the marker. You simply need to pull up the pin on the top, and the bolt will slide out leaving the barrel behind. You can then clean up the barrel and or wipe the bolt after which put it back in place and continue your thrilling quest.
The gun shouldn't be used to shoot objects other than paintball. Also, ensure that sufficient distance is maintained from a person before shooting at him or else there may be cases of serious injuries.
Can it meet your expectations?
This gun definitely does suffice the expectations of any beginner and will help him feel confident from the first shot he takes. The design is elegant, and so is the overall look. Available in five different shades you can choose the one which does suit your requirement and taste.
The gun is extremely lightweight with negligible recoil, thereby offering ease of handling. If you are looking for a simple paintball gun with good accuracy as well as handling, then this product is something worth spending dollars on.
You Can Also Try These Amazing Paintball Guns As Well: