For all the lawyers, banker, brokers out there, here is a gun which will give you a chance to plan your escape from professional routine and live the Terminator or Predator Dream you have always wanted to!
BBTac BT-M82 Airsoft Gun Fully Automatic Electric Rifle is an exact replica of its real-steal counterpart, SG-552-style AEG rifle, with a decent shooting velocity of 200-250 fps. This is a rechargeable weapon with very long battery life and comes equipped with all the tactical accessories, red-dot sight and flash light you will need to excel at airsoft combats.
Specifications
Strict Replica of SG 552-Style AEG Rifle
Double Eagle Airsoft Rifle
Fires 6mm BB Plastic Pellets
Fully Automatic and Semi-Automatic Mode
Switch modes: Single, Safe, Continuously
Powerful Battery Powered Motor
Ni-card Battery Powered
Adjustable, Electric Red Dot Sight
Flashlight
Adjustable Hop-Up System
Foldable Stock
Battery Charger and 3AAA Batteries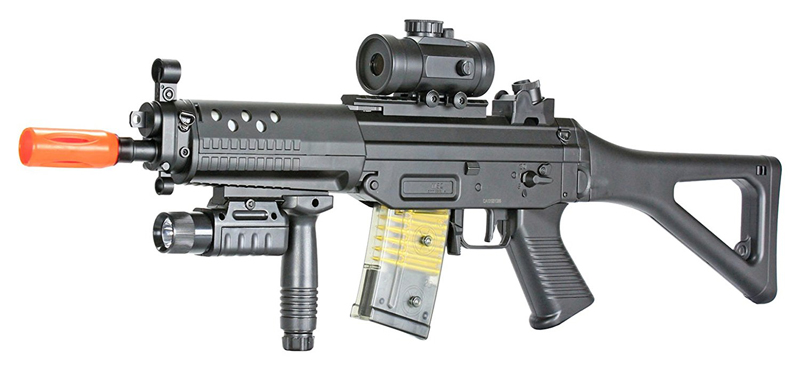 Construction and Design
BBTac BT-M82 Airsoft Gun is built with heavy, good-quality polymer, which weighs and looks alike its real-steel counterpart. Only way you can tell an airsoft gun from a real SG 552-style AEG Rifle is through the tip, which is blazing orange, and the 6mm airsoft BB pellets it fires. The barrel is short and the stock is foldable, making it perfect for manoeuvring in tight spaces.
Pros and Performance Accuracy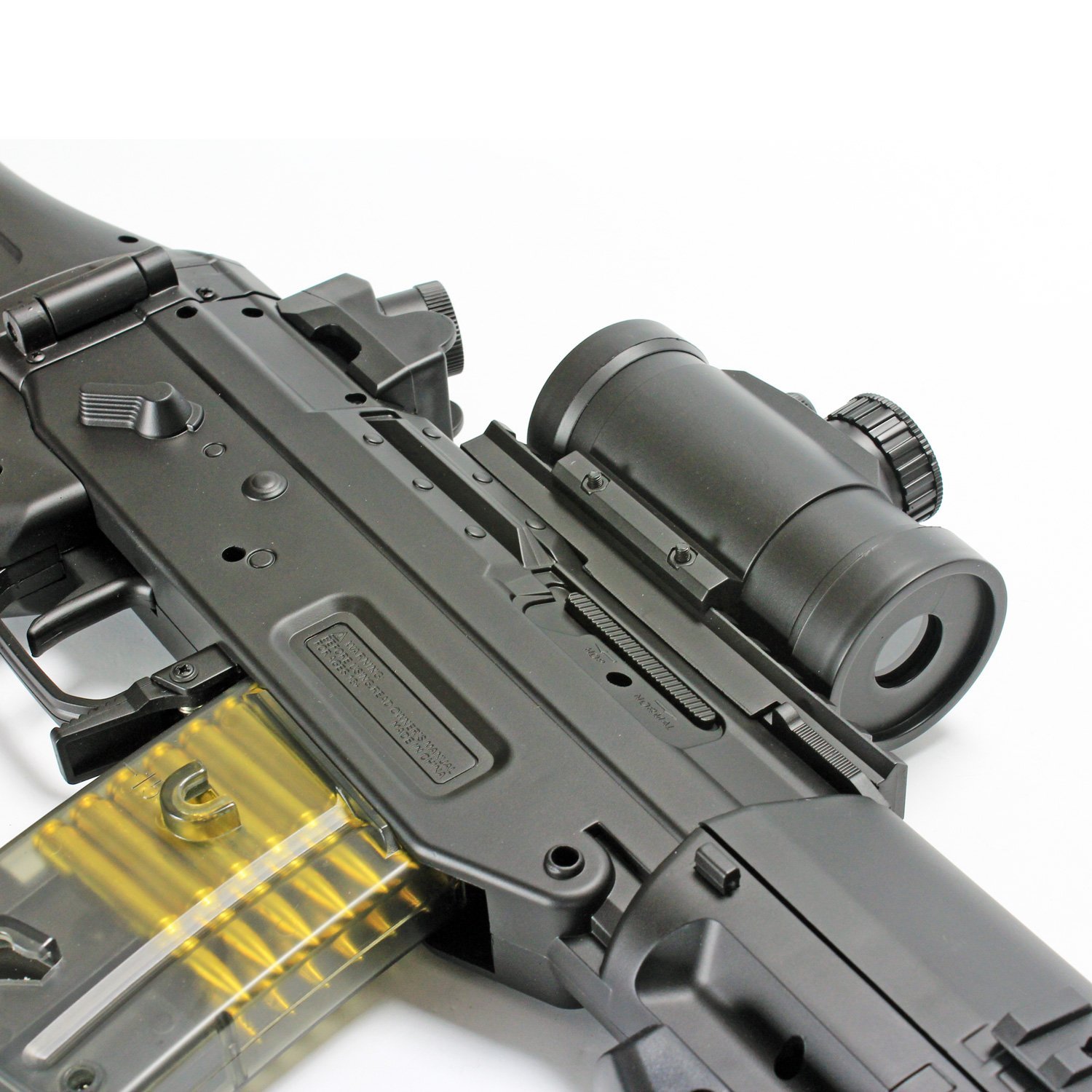 The high-quality, sturdy plastic, giving it the realistic look and feel, keeping it safe from damage and helping it last longer. The plastic is kept heavy enough to weigh exactly the same as the real-steel rifle.
Built for casual recreation, this replica is designed especially for Close Quarter Combats and can be used for training or playing without fearing any serious injury.
It runs on a ni-cad rechargeable battery, which is quite good, as it requires only 3-4-hour charge which lasts longer than expected. Also, it comes with 3 AAA batteries and a charger.
The semi-automatic and automatic modes allow you to shoot single or multiple shots. The gun has a switch which allows you to decide whether you want to go for safe mode, single shots or continuous shots.
The package that arrives is Fully Loaded and 'ready to play', hence, you can take it out for a test run or in the battle-field as soon as it reaches your doorstep.
If you face a situation where you have to get through a narrow space, you can compact your gun with the adjustable stock and the shorter barrel saves you from getting into trouble.
It comes equipped with a flashlight making it easier to spot the targets in a dark field.
The GS-11 Red Dot Sight makes aiming much easier. And the point and shoot mechanism is a guaranteed win!
Tips for Safe Handling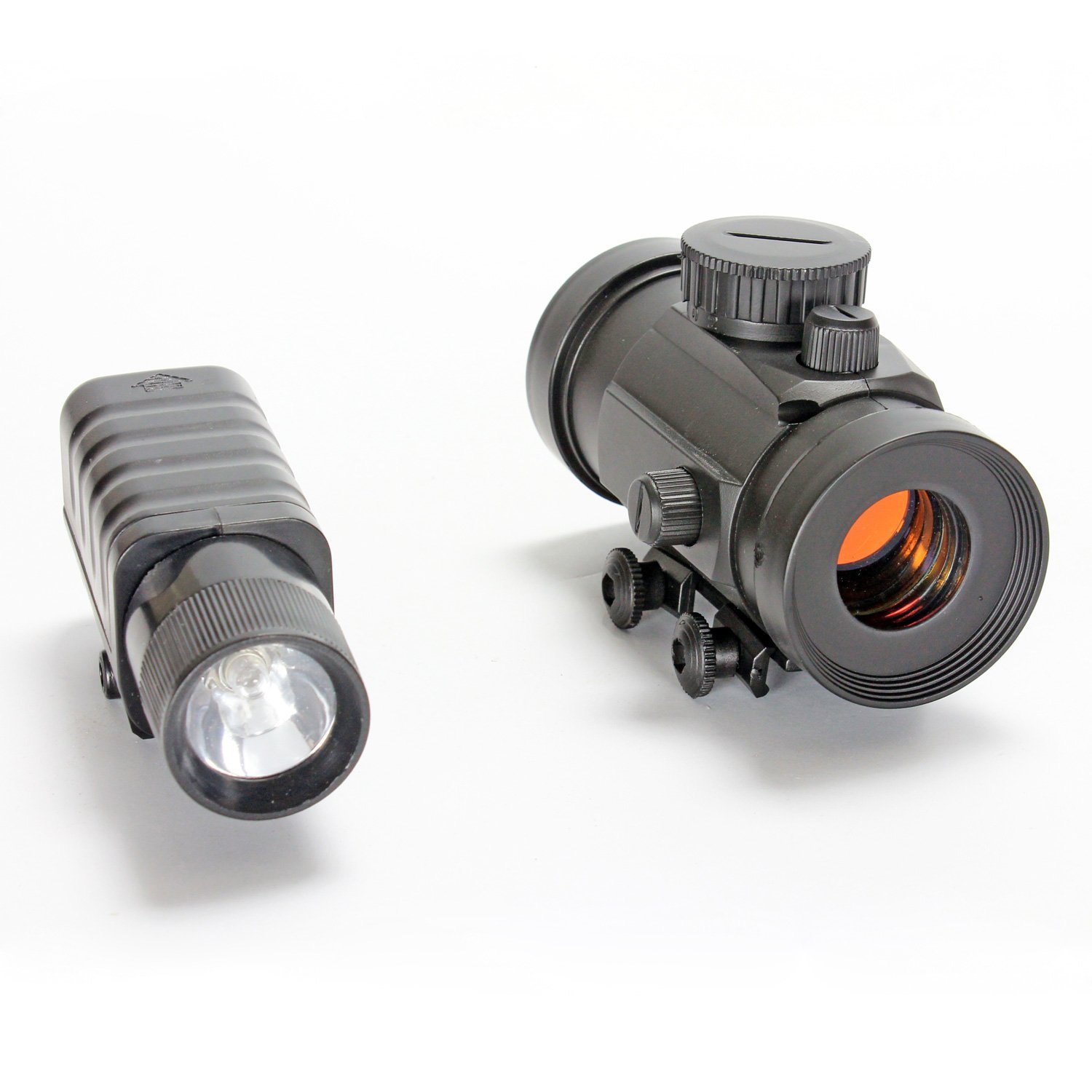 Sometimes the gun is noticed to shoot upwards, which has nothing to do with its accuracy but happens because the muzzle is lower than the top ridge of the gun.
Only use .20/.25 gram BBs with the gun to make the most out of 20 feet range.
You can avoid the use of silencer for a better target.
Sometimes semi-automatic mode might not respond due to continuous use. But that is temporary.
It offers 45 rounds with the only mag, therefore, it is advisable to stock up some mags as you might run out of them quickly.
Can It Meet Your Expectations?
If you want to live your combat dream, wait no more and order BBTac BT-M82 Airsoft Gun Fully Automatic Electric Rifle which is a realistic replica of the original, is durable, battery lasts for as long as you can hold yourself in the battle-field and is perfect for Close Quarters Combats where you can fight with your peers. All you have to do is make sure that your target is not more than 20 feet away for the perfects fetch and bring plenty of mags with you.
You Can Also Try These Amazing Airsoft Guns As Well: