Attention all first-time shooters! If you have no idea about shooting and want a good start, the Crosman Stinger P311 Airsoft Pistol is the ideal one for you. Close your eyes and blindly buy this one and it will be the best decision you have made. This pistol is designed to suit novice shooters. Read on to know a little more about its various features, pros and cons.
The Stinger P311 Airsoft Pistol looks deceptively similar to the famous Colt 1911. The block iron sights and the simple look of the gun resemble it a lot.  Priced at 17$, this pistol is a steal. The uniqueness of the Crossman pistols is in the hammer. Usually pistols of this size do not come with hammers but lately the Crossman manufacturers have been adding this as an added feature. When you slide is pulled back, the hammer gets cocked back too, just like a real gun. Unfortunately, the hammer is just there for decoration purposes.  This is because, when you manually pull back the hammer, it just snaps back in place when you pull the trigger. It does not fire when you do this. The slide has to be pulled back when you do this.
Technical Specifications
Velocity: Up to 325 fps
Calibre: 6.0 mm
Barrel type: Smooth Bore
Front sight: Fixed Post
Rear sight: Fixed Notch
Material: Synthetic
Powerplant: Spring
Safety: Lever
Product weight: 0.50 lbs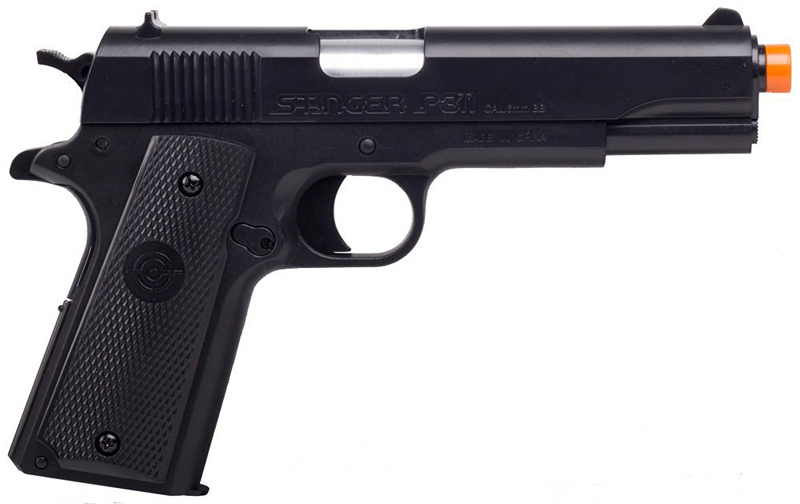 Main Features
Has an easy to load magazine with 12 shots. The total length is 9 inches and it weighs one pound.
Is also available on most online stores, including Amazon.com and can be procured easily.
Offers an excellent utility at a very low price.
The shooting accuracy of this airsoft pistol is exceptionally good.
Advantages
It has the ability to shoot multiple BBs in one shot.
This air soft pistol has a very good feel and has a great style.
Also, the steel spring is made of very high-quality materials and is very hard to beat.
Those who are looking for an ideal pistol for target shooting, the Crosman Stinger P311 Airsoft Pistol is the best option in the market.
Tips for Easy Handling
The hop-up is non-adjustable. The tightness with which it was wound in the factory is what you need to deal with.
The pistol tends to shoot straight for about 20 feet and then drops down. This is the case with most pistols of this size. A solution to this problem would be to use either a 0.20 gram BB or a 0.25 gram one.
This pistol is very big for a jeans pocket. Hence, it cannot be carried around easily. This is not a big issue since holsters are available for just 10$. In order to have a good FPS, a big gun is inevitable.
Extreme care needs to be taken while loading the BBs. If the side button is accidentally touched, all the loaded BBs will shoot put immediately.
Can It Meet Your Expectations?
The Stinger P311 is a great sidearm for both target shooting and air soft matches. Like most pistols, it can only be used within the 30-40m range. But its high FPS gives it an edge over the other. Judging by the value for money, the technical specifications and the overall feel, it is a great entry level pistol and can be used as a fun gun just to shoot around the house.
Safety
The safety bar is located on the left side, right above the grip. One thing to note is that it is in the shape of a triangle. Therefore, it pivots on one of the points. Consequently, it has to be flipped up and down to turn on and off safety. Since the design is unusual, many people do not use the feature at all. Others may be used to it and use it regularly. It depends on one's personal choice.
Checkout The Following Airsoft Guns As Well: