The Empire E-Flex Paintball Goggle System, the first one of its kind to replace the Pro-Flex variety of goggle systems, is every paint ball fan's dream come true. It comes with a proven vent system that allows you to rapidly exchange lenses without a lot of hassles. The thermo foam ear pieces taken from the E-Vent Paintball mask of the same company, provide so much relief to the person wearing the goggles.
The Pro flex had a wonderful feature of flexible skirt along with a tiny glint of comfy spectra foam which has been taken down here. Maximum panoramic viewing angle and clarity of vision are guaranteed with the dual pane design feature along with the most comfortable fit. The mask ensures that the person wearing it has no issues of breathing or suffocation and voice projection has also been taken care of. They come along with e-flex goggles and clear lenses. Reliable protection, amazingly light weighted and with supreme optical systems are prime features now.
Specifications
Weighs about 11.2 ounces which is extremely light weighted and wearable for all without creating problems.
The foam coating around the eye area of the mask is replaceable which makes it great in case of damage due to paint ball attacks.
A dual buttoned secure tough chin strap in the mask along with a buckle makes sure that the mask stays perfectly in place while you march around the paint ball battlefield. It is optional though and can be easily removed.
The mask comes along with a clear, non-tinted glass. If you need tinted glasses you need to buy separately.
Real foam ears exist that make it extremely comfortable to wear.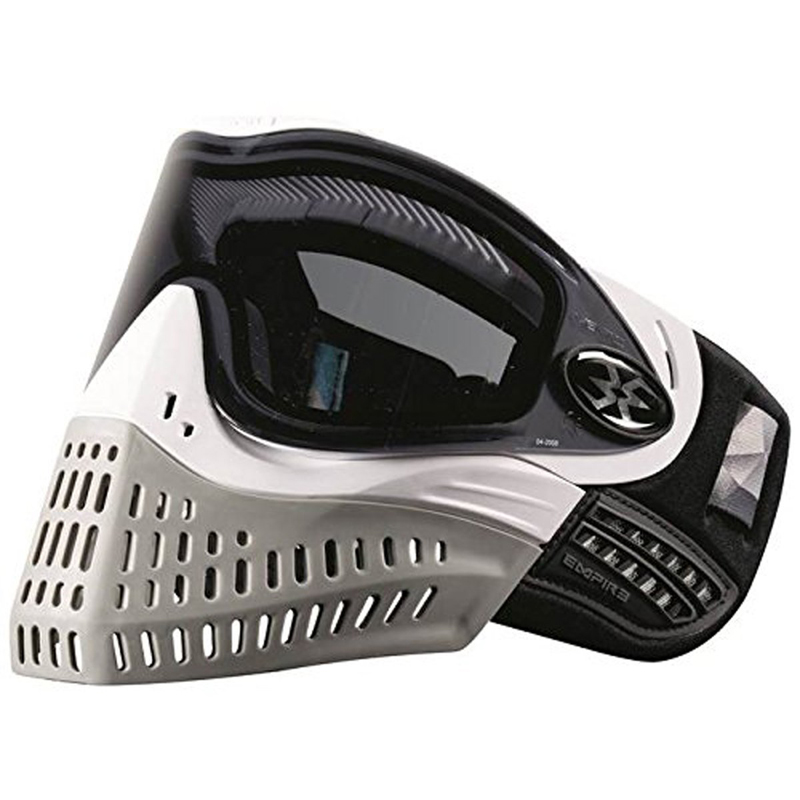 Construction and design
The mask has been designed in a way to become the favorite masks for all paint ball players. It is extremely light weighted at 11.2 ounces thus being easily wearable. The front of the mask has the super duper soft flexible yet stiff face skirt that is a huge benefit from the crooked design of the Pro flex. Reinforcements have also been added uplifting the face value of the mask. The sides have been given true thermo foam to form ears. The glass is clear non-tinted glass enabling panoramic view.
Pros and Performance Accuracy
The tops and bottoms of the E flex are completely and entirely interchangeable with the tops and bottoms of the Pro flex which is extremely useful for the regular players.
The thermal lenses along with extremely well venting system along the eye region make it very viable for everyone.
The Spectra foam that is pushed along the eye piece is an amazing feature because it allows for an extremely comfortable and at ease experience throughout the day.
An easily changeable lens system also makes it the go to mask for every player.
It will last you a very long time if you just care for it a bit. This mask will see a lot of paintball seasons and events with you.
Full face protection guaranteed with it.
Now some paintball contests disqualify you for safety helmet buckles. Do not worry here, as these come along with detachable chin straps. This completely solves the problem and ensures safety.
Its superb design ensures zero sound interference and echo inside the mask. You can yell your lungs out and hear perfectly fine wearing it.
Tips for safe handling
The lens come with amazing optical clarity so you need to take care of them for a good few seasons so that you do not spoil it. Cost of replacement of these lenses is considerably high.
If you want tinted or smoky glass lenses you'll have to buy one along with this as there is not one included with this.
Although the mask has enough room inside, it is best advised to avoid wearing spectacles along with it.
Make sure you go to the store once and check the mask out by wearing it before making a purchase. This will make you absolutely sure that there is breathability for you.
Can it meet your expectations?
This mask at the time it entered the market was the most awaited product and it still is the favorite of all paint ball players because of its comfort fit, nice design and rigid tough protection offered. You will definitely not be disappointed with this one purchase and it will easily last you a few seasons.
Some More Paintball Masks To Try Out: