The Kingman Spider Victor Paintball marker is an excellent entry level marker that is sturdy, lightweight and a true performer in all aspects. If you are looking for a cheap and sturdy marker that you can use as a backup or if you are new to the paintball field then this marker is one of the best paintball markers out there for your needs.
Spyder is known for making products that are sturdy and affordable for all players and the Victor is one such paintball marker that delivers performance as well as durability while remaining affordable. The new version is now lighter and compact owing to its design and sports an all-aluminum body with matte finish. It operates on compressed CO2 or air and allows the user to customize a lot of features in the marker like the velocity of the shots and it also comes with a one year warranty from the manufacturer against production defects or any issues in the material of the marker.
Specifications
Extremely light bodyweight of only 2 pounds.
The body is an all-aluminum body sporting a matte finish for smooth and sturdy grip.
The barrel is 10 inches long and micro ported.
Comes with an external velocity adjuster to control the velocity of the shots fired from the marker.
The marker runs on CO2 as well as compressed air.
There's also a grip panel that isn't too slippery and imparts a better grip on the marker in all positions during the combat.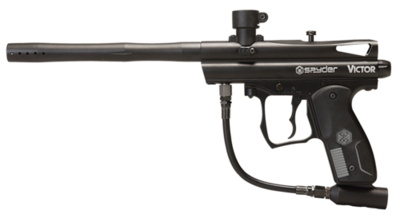 Construction and Design
The Vector paintball marker sports a durable and lightweight aluminum body that makes it a lot sturdier than before. Its new design makes it a lot more compact and lightweight than its previous version. The grip panel provides a better grip on the marker and it also features an external velocity adjuster for better control over your shots. The hose line is braided with steel and is more durable than before. The barrel is micro ported and 10 inches long to provide better stability and handling while firing shots.
Pros and Performance accuracy
The light bodyweight of this marker is a big plus when it comes to close shooting and this can be your perfect sidearm or the first paintball marker as it is quite convenient to carry and maneuver this marker in the field.
Its innovative design makes it really easy to use and customize this marker according to your own needs.
The fire rate and accuracy of this gun is also quite impressive and is a perfect backup marker for paintball battles. It mostly shoots straight and that too with a good velocity that is helpful in close shootings in the field.
It is also really affordable and is a good performer when it comes to entry level markers and delivers good value for money at this price point.
Tips for safe handling
The trick for keeping this marker in perfect condition is its regular cleaning after each playing session. It will increase the life of this marker.
An electronic hopper would be a fine addition to this marker and it will increase the performance of this marker by a significant amount.
Proper safety gear is a must when playing with this marker.
The user manual comes with all the instructions to assemble and de-assemble this marker so it is advisable to always refer to the user manual when performing these actions to avoid any issues in the working of this marker.
Can it meet your expectations?
The Spyder Victor is a sturdy and affordable paintball marker that ticks all the right boxes at this price point. It has a durable body with an ergonomic and unique design. It is really handy and has a good grip for better stability. Its fire rate is also impressive and remains stable with minimum kicks when fired. It delivers what you pay for and it is an excellent choice for a first paintball marker. It can also serve as a reliable and durable backup marker in the field.
If you don't mind lack of heavy customizations or looks then you should go for this marker as it provides excellent performance and durability in this price bracket and serves as an excellent backup marker or an entry level marker for new players who are looking for their first marker at an affordable price.
Also Check out the Reviews of Other Paintball Guns As Well: