Do you love to play with colors? Do you also love to be fighter in disguise? Then this one is absolutely for you! For a whole new experience, the Tiberius arms T15 paintball rifle is a perfect weapon to kick start you paintball game. The rifle is a perfect imitation of an original Air Rifle, which is more than enough to make you feel like a battle warrior.
Make lots of customizations and make the rifles truly yours and vaunt your way of shooting with this model of an Air Rifle. Trust me, you are going to fall in love with this marker in the very first sight, once it comes out of the packaging and you would never ever want to get apart from it. Yes, it's that addictive!
Specifications
The rifle is made of Aluminum and is a 2 piece cast.
You can disassemble the rifle quickly with the 2 pin quick dissembles.
Charge the gun with its functional charging handle.
You also get the 19/19 continuous feed first strike magazines, which need not to be loaded again and again.
There is a feeder where you can feed the magazines and the hopper.
The rifle is accompanied with 2 magazines.
The packaging of the rifle is very proper and is packed in durable side rifle case.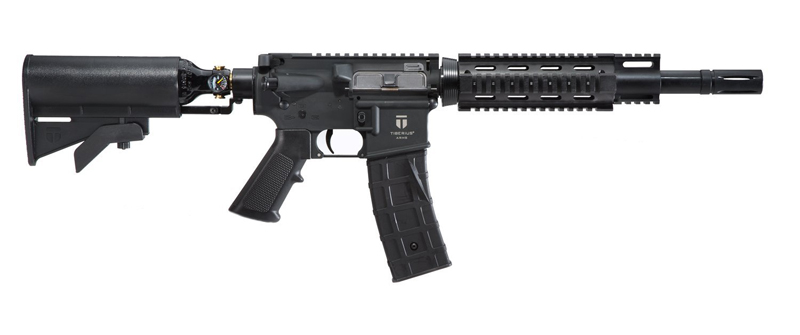 Construction and Design
The color is black, material is aluminum and the look is exactly like an original air rifle.
The product is very light weight and easy to port. It weighs around 4.4 pounds (1995 grams approx.).
The size of the rifle is ideal for anyone to carry it around easily. The size of the barrel shroud is 8.5 inches and the length of the barrel is 12.5 inches.
One mag can hold 19 rounds of paintball.
It can fire around 150 shots before refilling the tank.
The rifle has a good grip to hold and fire the shots.
It also comes equipped with sight optics and it works great even with red dot, holographic or telescopic sights.
Do go through the user manual once you open the product, so as to know how to use, assemble and dissemble the rifle properly.
Pros and Performance Accuracy
This marker gives an exact feel of an actual air rifle by its weight and looks.
The material is strong and durable, handy for a fighter spirit.
It withstands harsh conditions and maintains the quality.
It comes with 2 magazines and is very easy to install and use
The trigger is easy to fire and gives a great shooting power.
Tips for Safe Handling
Have the compressed air filled once it goes out of air.
You may want to buy some extra magazines or paintball fires for a continuous use.
Wear a paintball suit to avoid the color spoiling your best dress.
You may put on glasses and helmet for an advanced safety and a battlefield warrior look.
You can make your gun go running for years if you do a proper maintenance of the product. Dismantle the rifle every time after use and give it some rest.
Does It Meet Your Expectations?
The Tiberius arms T15 paintball marker is made to make your fascinations come true. Lots of advance technology is employed during the manufacturing of the rifle, so that you can enjoy your game and calm your fighting soul fully. The rifle brings you everything that you want a paintball to do for you, right from a mag and hopper feed, a sight optic, perfect grip, fantastic looks, strong bod to a perfect mimic of a real air rifle. The performance of the marker is unmatchable and the accuracy is unbeatable. This is a seamless package of fun, all in just one pack!
So get set and get going with the paintball air rifle that you always dreamt of!
Some More Paintball Guns To Try Out: