The Thompson M1928 AEG Air Soft Gun is a prestigious glory among its towering contemporaries and will immensely assist you to take the match statistics on an all together stupendous level. Thus, break off your composite shackles and indulge in this lethal sport for recreational and leisurely purpose.
Specifications
The Thompson M1928 AEG Air Soft Gun is an enchantress and displays the following advantages and performances.
The fire selection comes with three options such as Safe, Semi- Automatic and Full Automatic.
The approx velocity of the gun is 370-410 FPS.
It serves an approx range of 150+/-Feet.
It has gearbox magazines made out of metal.
The hop up is adjustable.
It has a full metal body with 1:1 scale and weight.
An RPM of 800.
A calibre of 6mm.
High durability.
The weight of the gun is 10.6 pounds.
It comes with a 30 days warranty.
It has a BAXS system.
The loudness is of 3 -medium.
It has a shot capacity of 450.
It has an adjustable rear sight.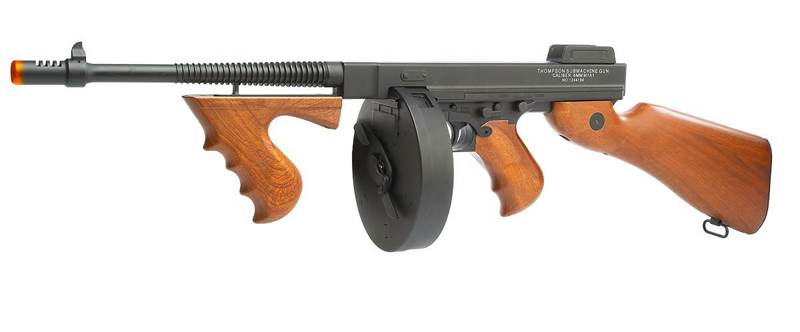 Construction and Design
Thompson's M1928 AEG Air Soft Gun has metallic exteriors and is an automated electric gun. The metallic exteriors render it a professional outlook and can turn heads seamlessly. The metallic design of the gun also makes way for an elegant appearance and wonderfully resembles a real gun. It is designed keeping in mind the the aspect of durability. M1928 is magnificently matted with black and screams nothing but panache. The overall length of the air soft gun is 34.05 inch.
Pros and Performance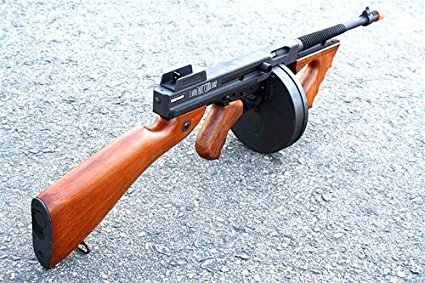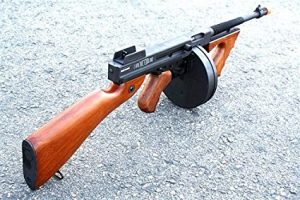 Thompson's M1928 AEG Air Sift Gun shoots at a speed of 456 feet per second and settles for advanced accuracy. This helps to target your rivals at one go during the ongoing tournaments.
The Gun offers a vertical fore grip and lends an optimal balance and control of the weapon. This aids in transporting the gun in any possible direction without any discomfort.
The BAXS system enhances the velocity and authencity of every triggered shot. This mechanism helps in elimination of minuscule errors usually noticed in some guns.
The metallic gears and the gearbox succours to shoot off the ammo at an amazing figure of 1000 rounds per minute.
The 8.4 V 1100 maH Ni-HM battery helps to save time as they run on a rechargeable mechanism. They don't need to be pumped every time like the spring powered air soft guns.
The non-metallic spherical projectiles called as BBs are just of .12 gram and registers for swift velocity.
The front and rear optical sights enhance the convenience for short and long-range usages.
The light weighted nature of the air soft gun helps to carry it around for a prolong period without causing any soreness to the otherwise sensitive shoulders.
The splendorous submachine type of body assists the combaters to hegemonize on the battlefield.
The full scale metallic body catalogues for elevated resistance and owes their longevity to the wood pieces.
Tips for safe handling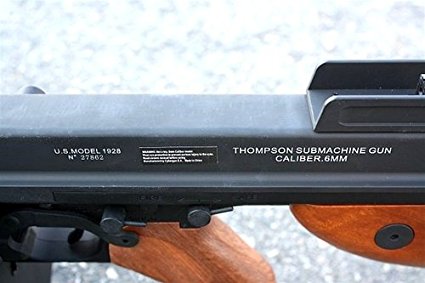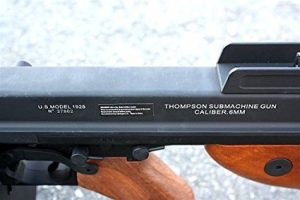 The Thompson M1928 AEG Air Soft Gun is the far-flung aura and is endowed with all the unimaginable pros. However, some safety tips are also to be kept in mind while handling this gorgeous ogre.
Do not over wind the magazine as it might lead to its breakage. It is advisable to rotate the keys in the direction of the arrows.
Never forget to wear Ballistic Eye Goggles to protect your visions from any kind of fatal injuries.
It is judicious to use the air soft gun in legal backdrop.
Always keep your gun unloaded until you are geared up to use it for the matches.
Always keep your your gun on "Safe" mode to intercept unexpected triggers.
It is profitable to always point the gun in a safe orchestration.
Can it meet your expectations?
This monumental bequest will arouse your bewilderment and will coerce you in vanquishing every single match. Quite transcendently furnished with all the consular trinkets, Thompson M1928 AEG Air Soft Gun is incontestably a mechanical majesty. Go and harbour your battle and entrench the ceremonial fanfare to dislodge your competitors like an unflinching warrior.
It is a gripping bombshell and can reshuffle your air soft venture into some distant reverie. We bet, this air soft gun is well worth your every single hard-earned money.
You Can Also Try These Amazing Airsoft Guns As Well: