There is always that guy in the class or office who loves to play the zombie games. These people find zombie amazing, the imaginary and dangerous creatures are more than enough to excite them. So, think how delighted they would be when they get a chance to play those zombie games! Do you know any of them? Then this is a perfect gift for them. Or rather, are you yourself one of them? Then here we have a perfect thing for you.
Nerf Zombie Strike Doominator Blaster is a perfect weapon for you if you want to be a dominating force in these battles. The ability to hold four dart drums is what makes this blaster an amazing choice not only for children but also for the adults. So, here is a tool for you using which you can plan your mission and dominate all those zombie battles courtesy the 24 darts which are there at your disposal with a single reload.
Specifications
Nerf Zombie Strike Doominator Blaster is a revolver style blaster
Capacity to hold four dart holders at a time
Each dart holder can hold 6 darts at a time
Each holder can be flipped once its empty
The Nerf Zombie Strike Blaster includes 24 Zombie Strike darts
The weapon has to be assembled before being used
No tools are required. Parts can be assembled without using any tool.
Can be modified
Barrel Extension Available
Can fire one dart at a time in flip fire mode and all one after another in slam fire mode
Removable Dart Holders
Customizable
No batteries needed
No charging needed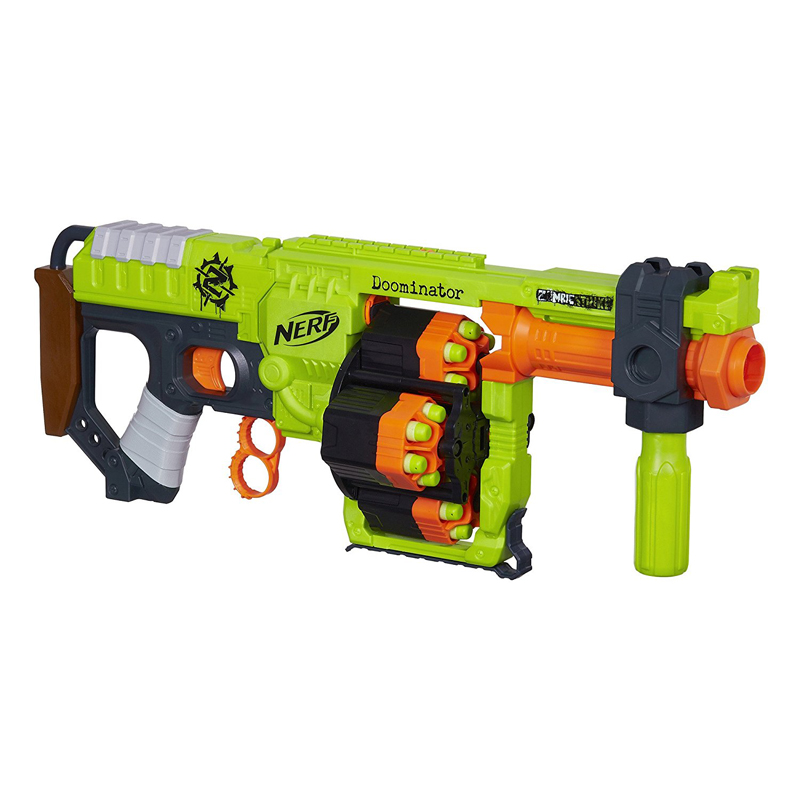 Construction and Design
The Nerf Zombie Strike Doominator Blaster is a revolver type of gun which comprises of primer mechanism and has ammunition in the form of four barrels holding six darts each. The specialty of the blaster is that it can be flipped in the midst of firing, which allows you to fire the darts at your will. It consists of a tactical rail and two fixed points. The blaster has been designed in such a way that the handle can be fixed at three points, making it as per your comfort.
Pros and Performance Accuracy
Among all the Zombie Strike Blasters available in the market, the Nerf Zombie Strike Doominator Blaster has maximum dart-carrying capacity of 24 darts.
The options to change the position of handle according to the situation and comfort makes this weapon a class act.
The blaster can fire a single dart at a time in flip fire mode and is useful when the zombies are scattered. It can also fire all 24 darts one-by-one in the slam fire mode.
The blaster does not require a battery, killing of all the chances of power dysfunction.
Tips for Safe Handling
On many occasions, there have been reports of the product being primed while being still in the box. In such case, the performance of Nerf Zombie Strike Doominator Blaster goes down by a certain extent due to the faulty spring compression. So, try to make sure that the blaster does not get primed while inside the box.
For best results, use the barrel extensions provided with the blaster or the barrel extensions from the same company. The design of the product makes it difficult for other barrel holders to function as smoothly as the original ones with this device.
Each barrel holders contain six darts with a total of four holders making it 24 darts at a time. Although it is fairly large amount of ammunition, still use them wisely so that you don't run out of ammunition during the games.
Try to empty one barrel before changing or flipping on to the next one. Continuously flipping barrels without keeping count of the darts left in each of them may lead to confusion and false firing when you actually need them.
Make sure the blaster in fully primed after reloading before you make a shot. Firing a non-primed weapon can be really dangerous and lead to undesired consequences.
Can It Meet Your Expectations?
This is the biggest question which comes to a person's mind before buying any product. Can it meet the expectations? Well, let's answer the question in a different way. The product has been especially designed for those people who have the utmost desire of dominating the zombie battles and is definitely one of the best nerf guns available in the market. In case you had been in the search of that perfect salvo to dominate those combats and fights, then your wait has come to an end and the product is in front of you.
Don't Miss Out the Following Nerf Guns As Well: