If aiming and shooting have been on your child's mind for far too long, it is time to hone those skills, with a whole lot of whole some fun using the Nerf N-Strike Blazin' Bow Blaster. This tremendous product helps your child to channelize that boredom into a product sharpening of vision and aim.
The twenty-inch wingspan gathers all the force put in by you into a tremendous thrust that sends each arrow shooting through the air. The foam arrows are both fun and safe with their soft contact. The Nerf N-Strike Blazin' Bow Blaster is the perfect gift for a child of all ages or even for adults who like to enjoy a spirited game of aiming and shooting.
Specifications
Comes equipped with three foam arrows so you are never out of ammunition against an enemy.
The bow fires like a realistic one, complete with an arrow storage compartment so your ammunition is never far from your reach.
The bow has a twenty-inch wingspan that gives you the full force to unleash your power.
The large wingspan gives you the ability to fire as far as forty feet away to a target.
The Nerf N-Strike Blazin' Bow Blaster has a stylish body that makes your archery practices that much interesting.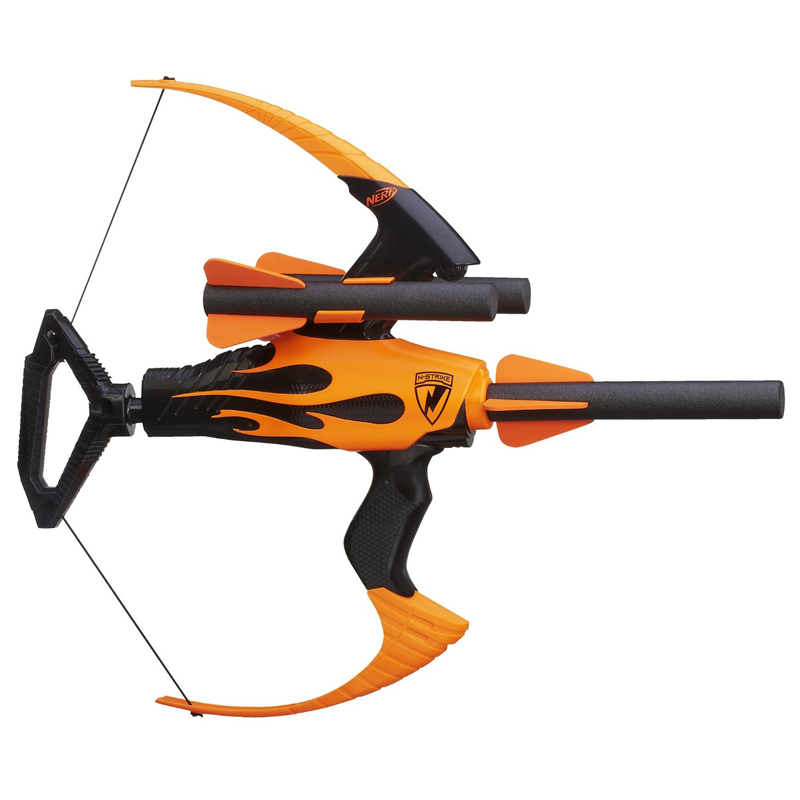 Construction and Design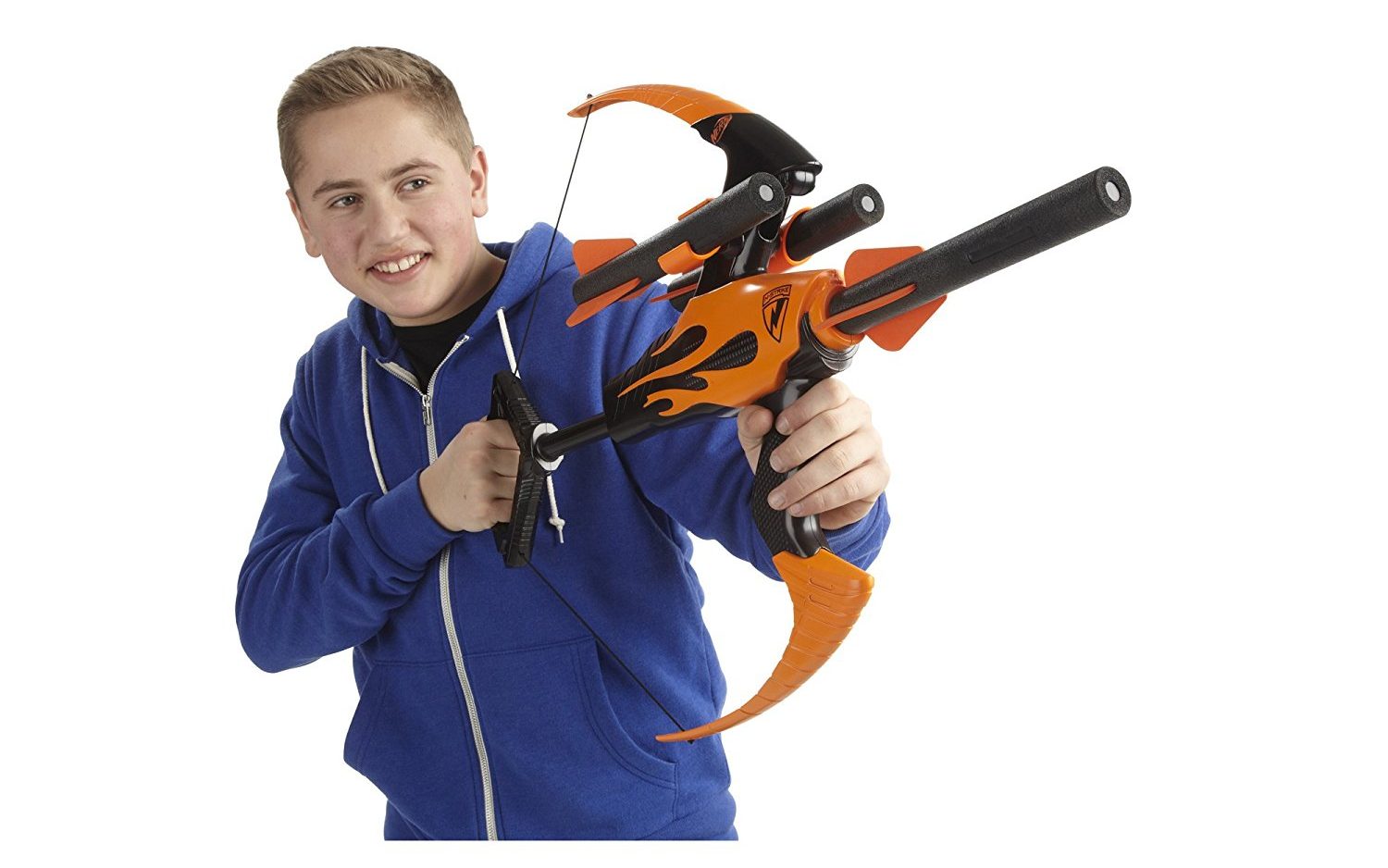 The Nerf N-Strike Blazin' Bow Blaster has been made with a durable plastic material that provides the strength one needs for achieving the archery skills one desires as a child. After many testing, it has been made available to the market making it one of best toy bows for kids. The sturdy design and strength of the bow help one to keep their balance even with the force of a twenty-inch wingspan bow. The bow has been designed to be appropriate for children from 6 years onwards, hence the pulling action of the bow is easy to use and comfortable enough for a child to operate. The colorful style and design also appeal instantly to kids who can enjoy hours of fun playing a game of archery using safe and sturdy materials. The foam arrows make it safe for children to target each other without hurting anyone.
Pros and Performance Accuracy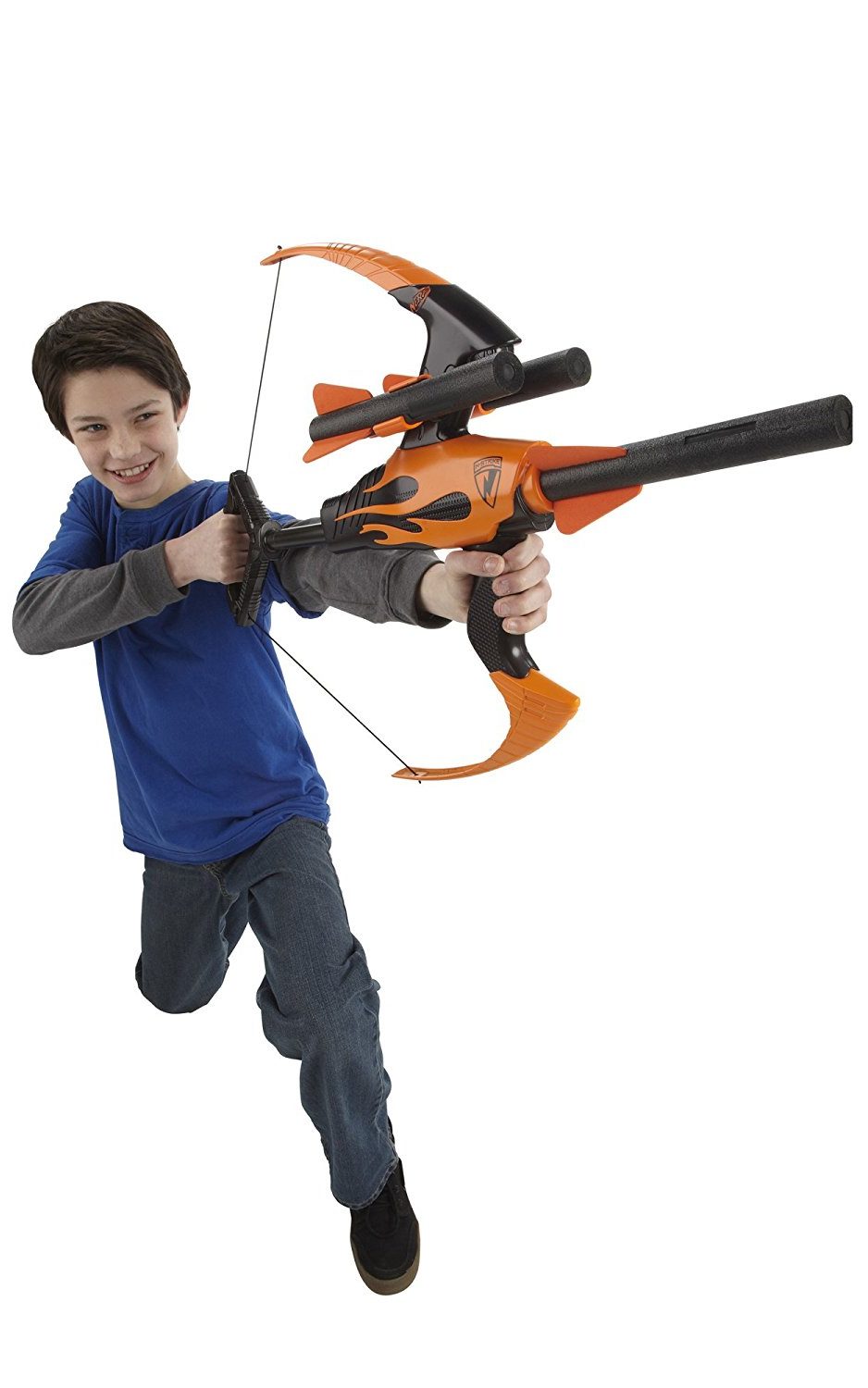 The plastic body is of strong and sturdy material.
The arrows made of foam are super comfortable and safe to play with and parents need not worry about the safety of their child when playing with these arrows.
The bow mechanism works perfectly and helps improve the aim of your child, as far as forty feet. The twenty-inch wingspan facilitates this process. One may use their full force on the bow and expect to achieve some tremendous feats in terms of distance covered and target locked.
Overall the product serves its purpose well by helping children practice archery at home or in the backyard. It also serves as a good stress buster for adults.
Can It Meet Your Expectations?
The Nerf N-Strike Blazin' Bow Blaster is exactly what you hoped for, hours of fun for your little one and possibly yourself. It is a realistic row and arrow set designed for ease of use with the help of an easy pull back mechanism and an arrow storage compartment. There are zero complaints in terms of durability, design, and ease of use. Make the most of this product by practicing your aiming skills so that you can train your little one to be a full-fledged archer! Also, the foam arrows are extremely soft and do not hurt on contact.
The product also comes with an arrow storage compartment so that your five-year-old does not have to carry the bow as well as the arrows in his or her two tiny hands. The storage compartment makes it easier to carry both the components with ease. Overall, the Nerf N-Strike Blazin' Bow Blaster is well worth the money that you are investing in the quality, design and fun component of the toy.
You Can Also Try These Amazing Nerf Crossbows As Well: