Star Wars is an unforgettable legacy that has surpassed generations and entertained each one thoroughly. Bringing yet another masterpiece from the legacy of Star Wars is the Star Wars Nerf Episode VII Chewbacca Bowcaster, a thoroughly entertaining toy to fulfil people's dreams of being the heroic Chewbacca and fighting the First Order villains. What happened in a galaxy far, far away can now happen right in your backyard- an intense crossbow battle among your children and their friends. Let them enjoy the excitement of shooting Nerf darts through a crossbow, by pulling the string and releasing the trigger. This high powered product sends them ripping through the air at distances as far as 65 feet.
Immerse yourself in the fantastical world of interspace wars and let this Nerf bowcaster work its magic.
Specifications
Experience realistic crossbow action with this unique product.
Fires foam darts up to 65 feet (20 meters).
Has removable scope and built-in dart storage.
Package includes bowcaster, dart holder, bow arms 5 darts, stock, scope and instructions.
A magnificent safety feature that prevents release of crossbow until it is far back enough in the hole.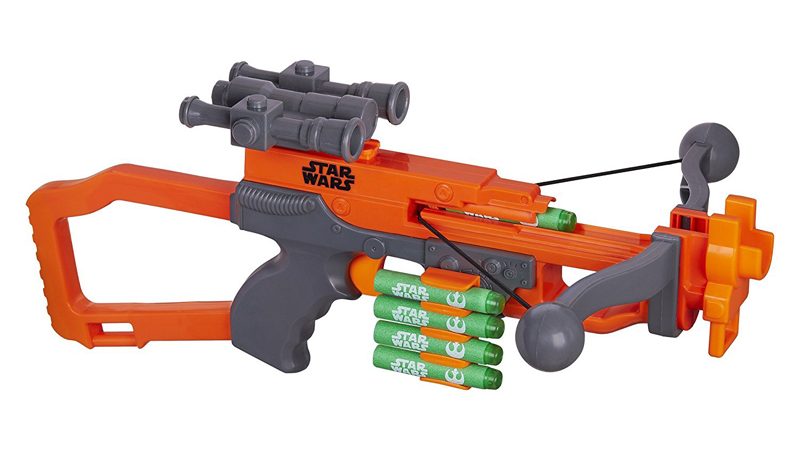 Construction and Design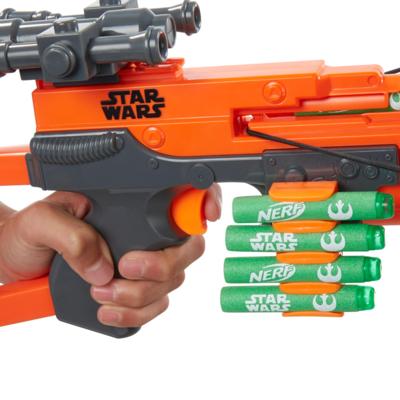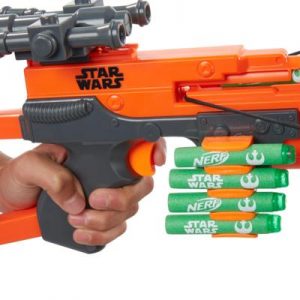 This quality delivery from Nerf surpasses all quality tests to emerge as glorious as the lovely movie of Star Wars. It has been designed to resemble Chewbacca's bowcaster in the hit movie series and so, the kids can always play the heroic Chewbacca while engaging in some real time crossbow action. The bowcaster can fire up to one dart at a time, and to make up for lost time, includes a storage space for users to store the darts for faster reloading of their arrows. The users may also enjoy real cross bow action by pulling back the string and releasing the trigger, sending the darts shooting through the air. Another feat of this product's design is in its strength and sturdiness. The darts can go as far as 20 meters; that means opponents on the other side of the backyard would be your easy targets, through accurate aiming.
Pros and Performance Accuracy
The crossbow action is an exceptional piece of art by Nerf. It perfectly mimics real crossbow action and is for young children.
The pullback string mechanism and subsequent pulling of trigger to release the darts work wondrously without interruption and obstruction. The dart is sent whishing through the air.
The storage pocket can be used to hold more darts for faster reloading, another great feature that aids of ease of use for this product.
The darts are sent at a magnificent distance of 65 feet, good enough to enable fighting in huge grounds. The strength and durability of the product is highly commendable and recommended.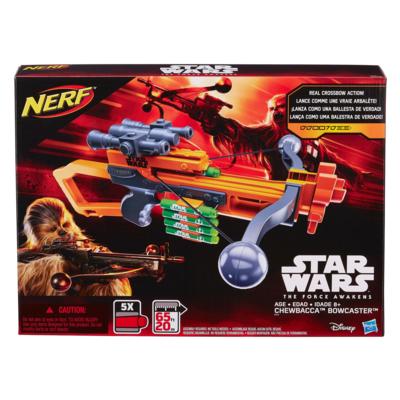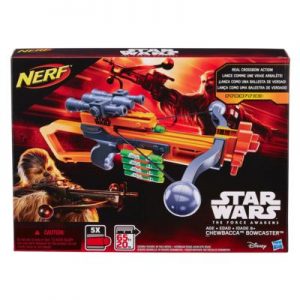 Tips for Safe Handling
Recommended for use by children 8 years and above.
Avoid shooting directly at eyes or face.
Can It Meet Your Expectations?
The Star Wars Nerf Episode VII Chewbacca Bowcaster stands tall in all criteria of what makes a great toy- it is designed to be ease of use, it fires at an exciting distance and lastly, it has been adapted from the most beloved movie series of all times. Children and more often than not, adults from the Star Wars generation would be in love with this toy, as they get to live out their childhood fantasy of playing the heroic Chewbacca. Now with the Star Wars Nerf Episode VII Chewbacca Bowcaster, this dream comes true like never before. Enjoy real crossbow action through this bowcaster and release the trigger on the First Order enemies.
Checkout The Following Nerf Crossbows As Well: