This is one of the most exciting and latest experiences for the general public. It is a fantastic BB air gun. This CO2 powered BB gun is all you need for a fun family time! It is a great way to have sun fun with the Sunday grill in place! Just be a little careful with the ammo, as they can do some serious damage. But apart from that it is a great package of envy!
Umarex Heckler & Koch MP5 2252330 BB is a robust and compact submachine gun with all the right features! It is made in the close likeness of the infamous HK MP5, the model K-PDW. This beautiful machine has a pretty good shooting velocity of 400 fps, which actually quite impressive. What makes it more desirable is the fact that the original gun is very hard to get because of stringent checks. But the BB version is exempt from such issues and hence the intensive demand.
The original version is favored in its different version by the US Navy Seals. Major difference was that they used it for 0.22 calibers.
Specifications
Good copy of HK MP5, the model K-PDW.
Body type: Submachine gun
CO2
Requires 12 gm CO2 cartridges
Shot capacity 40
Caliber: 0.177"
Foldable stock present only in 0.177 versions only
Good suited forward grip
Barrel: Smooth bore
Velocity: 400 fps
Has a Walther PS 55 red dot light
Ambidextrous safety
Lightweight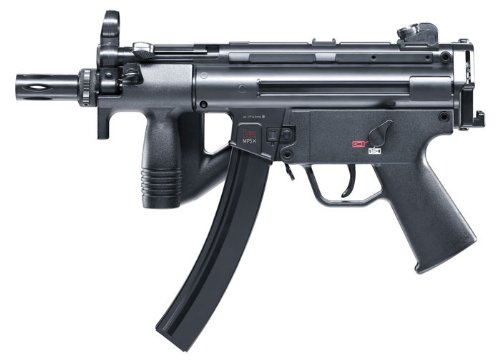 Construction and Design
This BB gun is authentic to the last detail. It handles the same kind of ammunition. Weighs around 57 ounces or 3.71 lbs. It has a barrel extending upto 6.0". With stock unfolded it has an overall length of 24.5" and with the stock folded 15.25". It even recoils like an actual firearm of this kind.
Pros and Performance Accuracy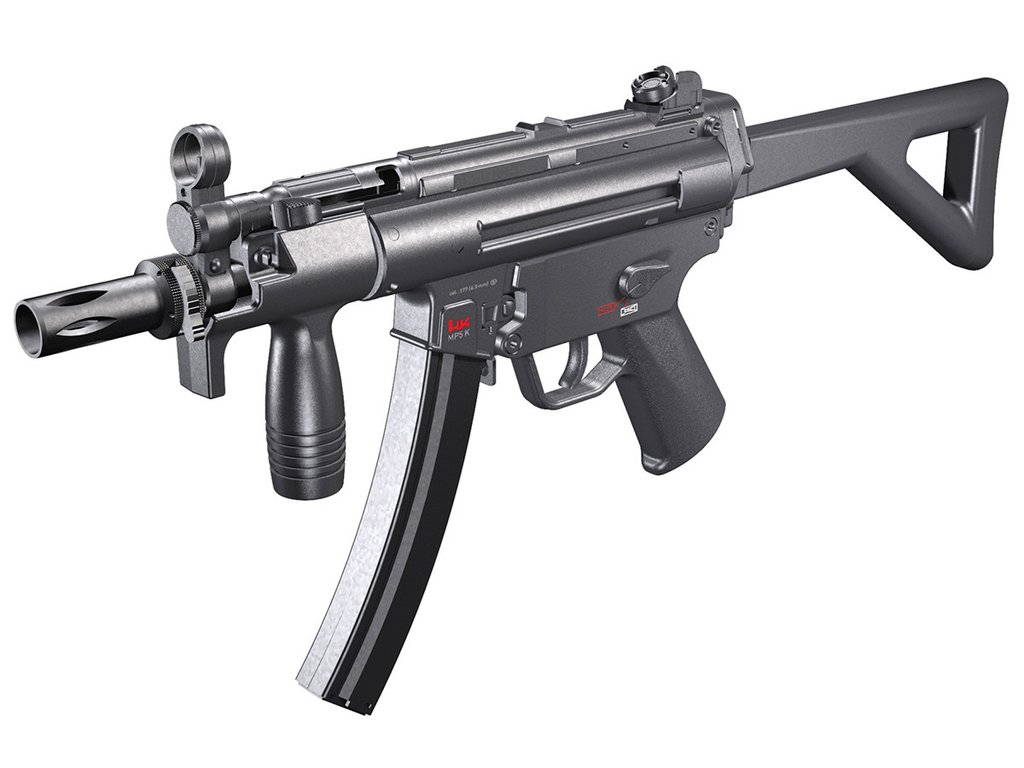 Fashioned out of synthetic plastic, it is not a flimsy toy. It has the sturdiness and toughness of the actual firearm.
Suited for simple recreational activities, it is a great Airsoft Sniper Rifles to have on you! This semi-automatic is perfect for short-range skirmishes. It can also be utilized as a great training tool.
The CO2 cartridge can be easily fitted into the gun. You can accomplish this by simply releasing the shoulder stock retaining pin and lowering the stock. Then the cartridge can be loaded.
The deadly piece of weaponry spits out 40 pieces of terrifying steel balls that are best for plinking!
Unfortunately the MP5 design does not have rail that needs to be added to give you the added bonus of optics. Strike Systems MP5/G3 Series rail is the answer to it.
That specific rail has all the best features or fixing optics and a tactical light. Optics are the right choice for this BB, because of the low visibility of the notches.
It also has a brilliant Walther PS 55. Now that is an exquisite piece of tech that suits this gun. It is a military-styled red dot with 30 mm objective lens. With seven brightness settings and a Weaver mount, it is an integral part of the gun.
The Weaver amount allows for quick attachment and de-attachment of the PS 55. It is a perfect fit in a 0.177 caliber H&K.
Its foldable stock is a great asset to the user especially in the tight corners in shooting areas. The additional flashlight is another major plus point for the person.
With all these amazing features, you are now equipped with an amazing gun that should suit all your needs.
Tips for Safe Handling
Since gun packs quite a punch, you might need to hold it in a better position to keep it stable. The recoil is very similar to the original one so be careful with the way you handle it.
It is pretty accurate in the 10 feet region and hence makes for a great target practice. But this is usually for an expert individual who is used to handling these kinds of BB guns.
Loading the CO2 cartridge is another tedious task which needs some careful handling. You don't want to mishandle the gun in any way.
Silence is not a very crucial piece. You can work without it. As long as there is no issue of noise pollution you should be able to do without one.
In a heated game or session, 40 bullets isn't much of a start. You would definitely want to empty a couple of magazines so it is better to carry some extras.
Semi-automatic guns can face some technical snags with rapid use. They are usually a temporary problem.
Can It Meet Your Expectations?
Yes! Of course. It is made to meet your expectations. In the technical aspects it will not disappoint you. It has all the right qualities you need in a short range fighting weapon. You can even go into customization by creating some vivid skins to give it a crazy look!
Don't think too much, just go out and get one for you.
Some More Airsoft Sniper Rifles To Try Out: