Airsoft Rifles are populary used in place of guns because of their versatility, accuracy, ease of operation and accessories. Though there are many rifles available in the market, the following are the best airsoft rifles, based on their popularity on various e-commerce sites.
1. BBTac BT-M82 Airsoft Electric Rifle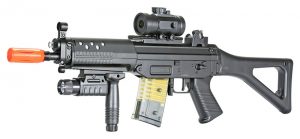 With the look and feel of a real rifle, BBTac BT-M82 is an airsoft electric rifle with many great features. It comes fully loaded, so that you can start playing right away and also comes with many accessories like a flashlight, red dot target marker etc.
2. BBTac M4 M16 Replica Airsoft Gun M83 A2 Rifle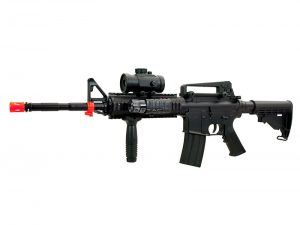 BBTac's M83 A2 Electric Rifle is similar to BBTac's BT-M82 but with a few design and feature changes. It's ergonomic design and easy grip makes it different from its predecessor. You will also get this at a cheaper price, without any compromise on either its features or accessories.
3. Black Ops Tactical Sniper Air Rifle Combo air rifle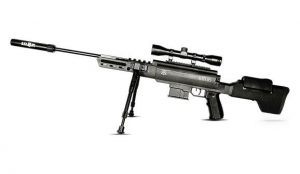 Black Ops' Tactical Sniper Air Rifle has a heavy built and comes with accessories like bipod, scope, etc. It can fire 10 single shots at a time and has a very high accuracy. Only recommended for experienced air rifles users because of its strong features, that might be a little difficult to handle for beginners. Not for Airsoft play.
4. Black Ops B1155 Junior Sniper Rifle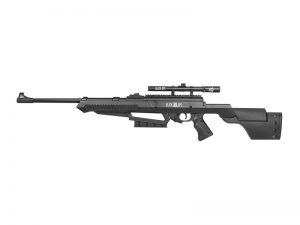 Another air rifle not recommended for Airsoft play, Black Ops's Junior Sniper Rifle comes with less features than the previous rifle by Black Ops but is equally powerful. It fires single shot metal pellets at 800 fps and has a pneumatic action.
5. Crosman Marines Airsoft SR01 Spring Rifle

Marines Airsoft SR01 is a spring powered airsoft rifle by Crossman and comes equipped with an adjustable hop up for better firing projectile. It fires up to 325 fps and has excellent accuracy. It is definitely among the best spring powered airsoft rifles out there and the best part is that, if you buy this, a percentage of your money will be donated to the Wounded Warrior Project, an initiative for wounded US military veterans.


Crosman's Air Rifle Kit comes with a lot of things which guarantee a good value for money. It is not meant for Airsoft play but mainly for target shooting as the pellets used here are copper and alloy based. You will get a pair of shooting glasses, Two sets of 100 pellets and five paper targets.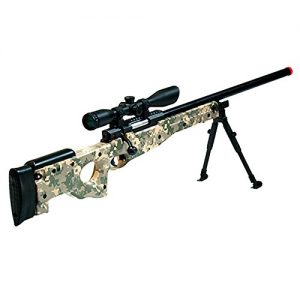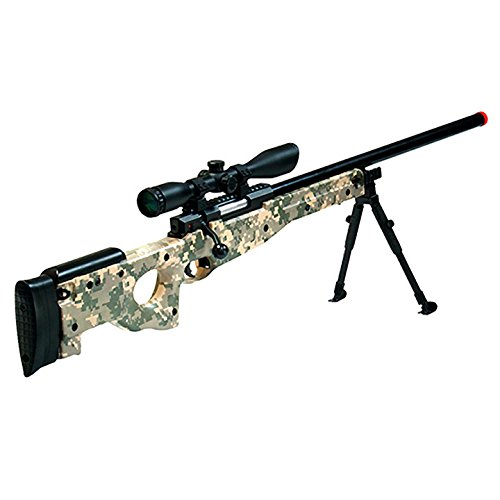 UTG AccuShot Competition Shadow Ops Sniper Rifle is spring powered and has mainly metal parts. The built is a little heavy but its metal body ensures more durability than its plastic bodied counterparts. It fires at a fps of about 480 and is really easy to operate.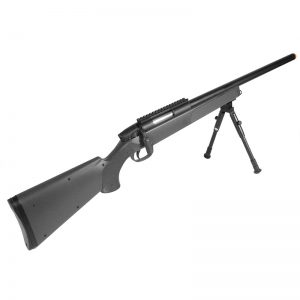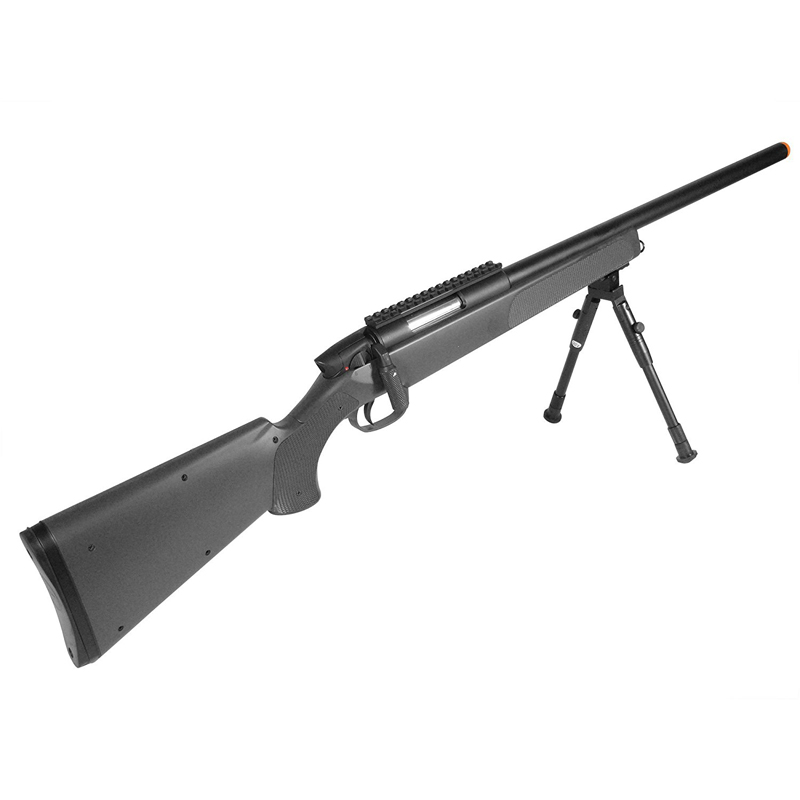 UTG Sport Gen 5 Airsoft Master Sniper Rifle gives you a great value for money. It comes with a bipod, two magazines, extra screws, butt-pad stock extenders and a sling. It is the best airsoft sniper rifle and it fires at 450 fps and has an adjustable hop up for greater accuracy.
9. Double Eagle M85P Airsoft Rifle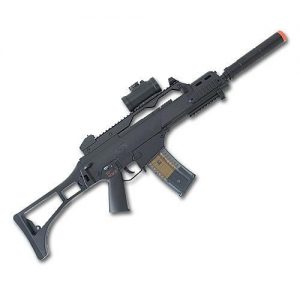 Double Eagle M85P is a little cheaper than other airsoft rifles but comes equipped with many features and is a good deal at its price. The rechargeable battery can last up to 8 hours, it has a good durability, a folding stock and a superior grip.
10. Umarex Heckler & Koch MP5 2252330 Air Rifle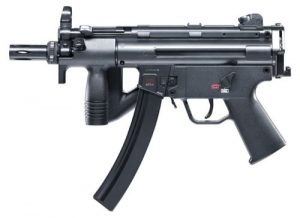 Umarex Heckler & Koch MP5 2252330 is a CO2 gas-powered air rifle. It is made of plastic but has the look and feel of a real metal gun. BBs are at 400 fps and has a semi-automatic action. Not meant for Airsoft play and the safety manual needs to be studied thoroughly before any use.
11. Soft Air Thompson 1928 AEG Airsoft Gun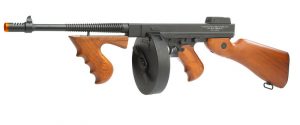 Soft Air Thompson 1928 is an electric/ battery powered airsoft gun. Electric airsoft rifle fires at a velocity of 426 fps and has a high capacity magazine. The built is heavy than other airsoft rifles but it does give a realistic look to the model. Some features might be tricky and need to be assembled properly if you want the best results. Consult the instructions manual properly before use.

GameFace's GF529 Sniper Carbine Airsoft Rifle is spring powered and fires to an impressive velocity of 400 fps. Ideal for long distance shots as the BBs can cover up 70 yards. The BBs used here are a little heavier (0.25 gm), but are great for covering longer distance. It's durability and accuracy are some other great additions.
Types of Airsoft Rifles
Airsoft Rifles are classified in many ways but the broad classification is as follows:
1. Electric Airsoft Rifles
Electric airsoft rifles are mainly powered through rechargeable batteries and give a more powerful performance through full automatic and semi-automatic settings.
2. Spring Airsoft Rifles
These are powered through a mechanical mechanism. It consists of a spring controlled by a bolt action lever system which cocks the gun. The only setback of this kind of gun is that, you will need to pump these guns after every shot.
3. Gas Airsoft Rifles
As the name suggests, these rifles are powered through gas, which is normally CO2. They have a strong recoil and need to be handled carefully. In terms of working, they closely resemble real guns.
Difference Between Airsoft and Air Rifles
Because of the similarity in names, there is lot of confusion between Air rifles and Airsoft Rifles. It will be idiocy to even think that these are even remotely close. Here are the chief differences between these two:
1. Appearance
Airsoft Rifles always have an orange tip, which differentiates them from air rifles, who don't have any markings on them. Also, air rifles tend to be heavier with many additional features as compared to the former.
2. Ammo
Airsoft Rifles use plastic BBs/pellets of varying weights which do not cause much damage. Air rifles use metal pellets which can even penetrate skin.
3. Velocity
Airsoft Rifles fire pellets at a maximum speed of 350 fps while air rifles fire at a velocity of more than 800 fps. Their firing velocities in many cases are above 1000 fps.
4. Usage
Airsoft rifles are safe for Airsoft play, provided all rules are followed as they don't cause any serious injuries to others. On the other hand, Air rifles are not meant for any type of Airsoft play. They are extremely dangerous if operated carelessly and can even land you in ER. Air Rifles are only used for pest control, protection from small animals and target practice in some cases.
If you are a beginner, who has no knowledge of guns, then it is better to stay away from air rifles.
Legalities
Airsoft guns are not classified as firearms and therefore all federal laws governing guns are not applicable on them and they are legal for all ages. However, they can't be bought by people below the age of 18 from any store. Many states have their own laws governing Airsoft guns and these take precedence when there are no central set laws. Some selected state laws governing the Airsoft guns are:
In California, it is illegal to sell any Airsoft firearm to people bellow the age of 18 yrs. The law also states that all airsoft firearms need to have fluorescent marking/ colouration over selected markings
The state of New York has the strictest laws concerning all Airsoft firearms. You will need a preapproved license to carry any Airsoft gun.
Illinois prohibits the shipping and distribution of Airsoft Guns in the state.
In Minnesota, buying of Airsoft guns can be bought without parental supervision by 16 years and above. But many municipalities in the state prohibit the firing of Airsoft guns within the city limits.
These were some of the states which have a defined law for the use of Airsoft. Before selling, buying, using or carrying any Airsoft firearm, do check both state and city laws to avoid any trouble later.
Safety
Airsoft guns are safe only if used properly, with the implementation of all laws. Below are some things to keep in mind if you are planning to possess an Airsoft gun:
Wear all the necessary protective gear during Airsoft play. These include gloves, face masks, body gear and long sleeves.
Do not shoot anyone at very close ranges during play.
Keep the orange tip on the barrel at all times to avoid confusion because Airsoft rifles closely resemble real firearms and the orange tip is the only means to differentiate between Airsoft and real guns.
It is advisable to not carry Airsoft guns freely in public places because they can be mistaken for real guns (even when you have orange tips) because ordinary people don't know how to differentiate between Airsoft guns and real firearms. There have been many unfortunate instances in the past, where people carrying Airsoft guns were shot down due to the confusion.
Always check the legal laws of your city and state before owning, selling, buying or carrying firearms.
Conclusion
Many experienced Airsoft gun users would agree with me, when I say that rifles have superiority over pistols in a lot of ways. Whatever be your experience level, this list has something for everyone. So, do check this out before you purchase any new airsoft rifle.
Last Updated: 13 February 2019